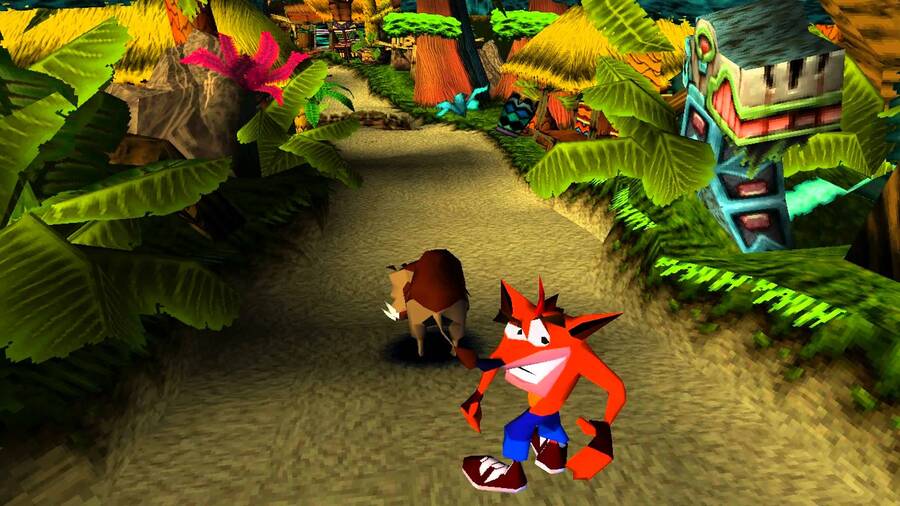 By our reckoning, the three year Crash Bandicoot conversation is about to come to a conclusion, and this saga can end one of two ways: the iconic PSone protagonist has been broken out of his Activision penitentiary – or, well, he hasn't. Whichever side of the 90s baditude camp you currently reside, there's no question that the classic character has been given more attention than ever over the past few years. But is he really about to make a comeback on PlayStation 4? Here are 10 reasons to suggest that he may be on the brink of a re-reveal.
The secret signpost
Sony was playing the nostalgia card hard around the launch of the PS4, and this European television commercial emphasised that. The clip included dozens of references to old PlayStation brands, including PaRappa the Rapper and many more. But one secret that many overlooked was a signpost, which showed Crash's silhouette and an arrow pointing up towards the famous Sony Interactive Entertainment diamond. The first hint of many.
Spinning out of sight
A few weeks later, in late 2013 still, Crash Bandicoot was spin-kicked off Activision's website. It led to a swell of speculation suggesting that the rights to the 'Coot had changed hands, but Sony stood strong and said no. The character's still nowhere to be found on the publisher's website to this very day.
Keeping the door ajar
In mid-2014, following a no-show at E3 2014 earlier in the year, Andrew House assured fans that the company hasn't given up on Crash Bandicoot. He said: "We've started to say that maybe there isn't anything wrong with going back and looking at characters that people still talk about, that were a big part of either their childhood or their youth. I definitely wouldn't close the door on that."
The NeoGAF insider
Alright, alright – no one really believes NeoGAF insiders. But member BruceLeeRoy, who's successfully commented on plenty of PlayStation rumours in the past, thinks that Crash Bandicoot will be back at E3 2016. Take it as you will.
Have your cake and eat it
As part of the 20th Anniversary PlayStation celebrations in September 2015, PlayStation Europe marked the occasion with a specially commissioned cake. The lip-smacking slab of Victoria sponge was designed to resemble a stack of all of Sony's home consoles. Sitting on top with a cheeky grin? None other than Crash Bandicoot.
That f**king t-shirt
'Nuff said.
A toy maker thinks it's happening
At the New York Toy Fair earlier this year, NECA Toys' Randy Falk seemed to innocently confirm that Crash Bandicoot is making a comeback. He later backed away from the comments, with a company spokesperson making up some nonsense about a "faked fan image". Hmm. NECA Toys works with PlayStation on tons of licensed action figures, including franchises like God of War and LittleBigPlanet. Could the platform holder have contacted the toymaker about the possibility of a Crash Bandicoot toy line?
Most wanted
In February of this year, PlayStation Middle East published a wanted posted on social media. The caption: "Most wanted person… Where are you Crash?" PlayStation Latin America posted a similar thing, using touched up artwork of the character. A desperate attempt at getting retweets? Maybe. Or maybe not?
Cortex craziness
Lex Lang, the voice of Dr. Neo Cortex, posted on Facebook a few weeks ago that he's been asked to "resurrect" a "doctor" from a game gone by. He was later contacted by a Crash Bandicoot fan site, who sent him a wink. He simply liked the post. Lang's certainly played a lot of characters in his time – but not a whole lot of video game doctors.
Uncharted territory
Back in 2015, Uncharted 4: A Thief's End game director Bruce Straley said that it was impossible for the company to put Crash Bandicoot in Nathan Drake's final ever adventure. A year later… Those who've played the game will know that's not quite the case. Even more amazingly, there's no reference to Activision in the title's credits – despite Naughty Dog being forced to mention the company in its anniversary art book. What's changed?
---
These are the facts, but the question remains: is Crash Bandicoot about to make a comeback? Sony insists that it doesn't own the character, but surely there's too much smoke here? It's last chance saloon at E3 2016 next week. We'll be sipping Wumpa juice in anticipation.
Do you think Crash Bandicoot will make a comeback? (94 votes)
Yes, it's happening

74

%
Meh, not sure

21

%
Absolutely no chance

4

%
Please login to vote in this poll.