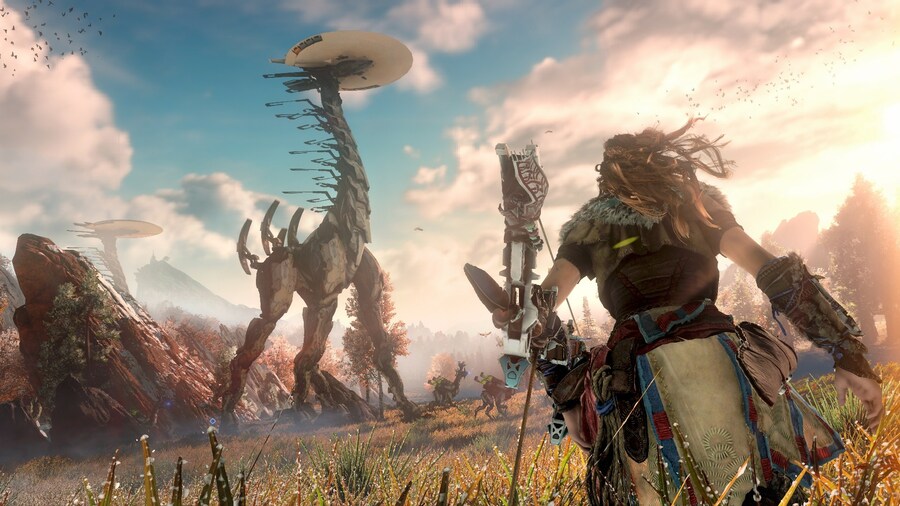 It feels like an eternity, but just 12 months ago we wrote an article in which we named Horizon: Zero Dawn our E3 2015 Game of the Show. After almost stealing the Paris Games Week poll a few months later, we're once again charged with the same task: Guerrilla Games' ambitious open world role-playing release is our E3 2016 Game of the Show. To win two years in a row is an extraordinary achievement – but this is no ordinary game.
We should stress that this was a close-run contest; God of War came incredibly close to perching its toned buttocks on Aloy's throne. But the lure of a pre-historic fantasy world occupied by Dinobots proved too strong for many of you, and we think that you've made the right decision. There were still question marks hanging over the title following its various showings last year, but the Dutch developer used its stage time to delicately swat those aside; this is every inch an RPG, but with the kind of tight, tactical combat that you'd from the creators of Killzone.
There's no question that the game instantly catches the eye, with its imaginative mesh of nature and electronics lending itself to one of the most jaw-dropping art styles we've seen on the PS4 so far. But it isn't just the way that the game looks that's exciting so many of you: the title's thick with atmosphere, dripping with lore, and it appears to have all of the depth that you'd expect of a full-scale RPG – rather than a faux one such as Far Cry.
We saw glimpses of that in this week's latest gameplay trailer. Dialogue wheels enable you to engage with other citizens in order to pick up quests and extract more of the narrative, while a heavy crafting component encourages you to piece together the parts that you collect from fallen foes in order to construct new traps and items to use in combat. You'll happen upon towns which will be populated by other tribespeople and merchants, while there are skill trees to help you to develop Aloy into the kind of warrior that you want her to be.
While there's still some doubt about how the narrative will come together, we can have no such concerns about the combat. The red-headed heroine at the centre of the story is able to scan enemies in order to determine their weak points, and from there it's down to you how you engage. Stealth is a viable option, but between various traps and bow types, it's really down to you how you want to fight. There appears to be an almost BioShock vibe to the way that you approach.
It's all very exciting, then, and it's not far away. Sony's attached a 28th February release date to this one, and while it's disappointing that it won't hit its intended 2016 launch target, a title with this much promise deserves the time to be polished properly. It also sets up a bumper month for both Western and Japanese RPGs on the PS4, with Persona 5 due out on Valentine's Day. You may want to consider booking that month off.
---
Does Horizon: Zero Dawn have you hyped like a caveman with a rack of meat, or has all of the electronic mumbo-jumbo put you off? LARP like you're Aloy in the comments section below.