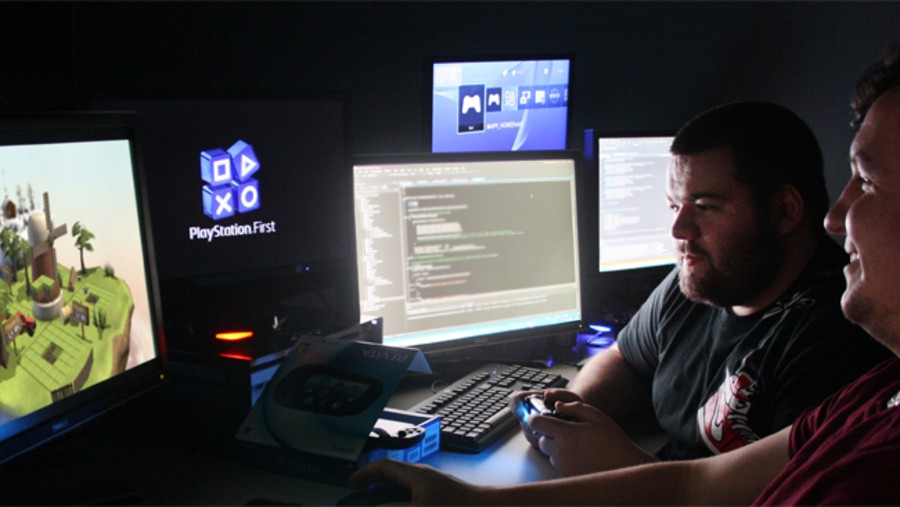 Republished on Wednesday, 30th December 2015: We're bringing this article back from the archives as we look back at some of Push Square's features from 2015. The original text follows.
Originally published on Wednesday, 15th July 2015: PieceFall may look like any other indie PlayStation 4 puzzler on the surface, but beneath its Tetromino blocks and lush three-dimensional play spaces, it harbours an interesting story. This is the latest project by Steel Minions, the Sheffield Hallam University-based studio designed to provide students with real-world game development experience. Long-time readers may recall our report on the academic outfit's previously published PlayStation title BounceBack, which launched as a PlayStation Mini – remember those? – almost three years ago. Its latest endeavour, however, is several orders of magnitude more ambitious – as studio manager and senior lecturer Dr. Jacob Habgood explained when we caught up with the team for a chat earlier in the month.
"It's actually taken two years to develop PieceFall," he laughed. "The students work on studio projects as part of their assessment, but they have plenty of other assignments to do, so it takes us a bit longer to complete games than the average studio." In fact, PieceFall actually started life under a different name – Aspect – and was originally worked on by a different team to the one that wrapped up production on the project. The first version won an award at Game Republic, but wasn't quite ready for primetime. Fortunately, designer Wesley Arthur decided to stay on at the university in order to complete his Masters degree, and so a new team was drafted in to get the title polished for the PlayStation Store.
"The game started out as part of an elective module during the third year of my four year course," Arthur explained. "The brief was to create a simple party game; something that could be created within a short time-frame for two or more players. I went through several existing titles, and explored various Mario Party-style ideas, but eventually decided to try something a bit different. The game's original title, Aspect, was a simple Tetris game, where players would manipulate the same piece, drawn from different perspectives, in order to pass each level."
In the final version of PieceFall, you must navigate several abstract islands, which have been destroyed by a storm. On the ground are squares with missing pieces, and you must rotate Tetromino blocks in order to plug the gaps. Completing multiple puzzles will restore part of the scene, with your overall objective being to earn enough points to unlock the Zen Island, which is the final destination on your do-gooder tour. It's a simple premise, of course, but the experience is well designed; the solutions to the conundrums aren't always as straightforward as they seem, so you'll need to test your grey matter in order to succeed.
It doesn't necessarily look like it's been built by a group of amateur students either. "For the initial art style of the game we were heavily influenced by a game called Besiege," 3D artist Josh Pears told us. "We loved the realistic quality yet stylized texture work, but it was a challenge as we'd never experienced creating hand-painted textures before." Of course, this wasn't the only thing that the developer had to wrap its head around – the PS4 hardware itself presented its own set of challenges.
"I cannot emphasise the effort that Sony has gone to to make our lives as developers as simple as possible"
"One of the biggest challenges I found working on the console was that, unlike when working on a PC or a large commercial engine, there are times you just run into problems where you won't be able to look online for help," said programmer Carl Jones. "This is especially true if you're running into issues with using the PS4 SDK. This typically means spending some time crawling through documentation and stepping deep into engine code."
Despite this, the team is in agreement that Sony's new system is much easier to work with than its more bespoke predecessor. "Sony has done a fantastic job simplifying the development process for the PS4," fellow programmer Steve Hartin interjected. "It's ensured that integration with all the development tools is seamless; programming for consoles has never been easier. I cannot emphasise the effort that Sony has gone to this generation to make our lives as developers as simple as possible."
Habgood affirmed: "PS4 and Vita development is definitely more accessible than PS3 and PSP development. SN Systems has done a great job with the tools pipeline, but I might be a bit biased as one of our alumni at SN had a hand in some of the fancy new features. BounceBack was created with our own 2D engine, but this time we've used the PhyreEngine, Sony's in-house engine that was used for the likes of Journey. It's obviously a lot more powerful than our own engine, and consequently is harder to use, but the students proved more than capable of the challenge."
But what made the students want to get into game development in the first place? Unsurprisingly, they all share a common passion for games. "I've been a huge fan of games for as long as I can remember, but for my age, I was a late starter," Arthur iterated. "I played games on the PSone quite a lot, but it wasn't until the PlayStation 2 came out that I owned my first console. From then on I gamed individually and socially."
He continued: "I used to visit my friend's house almost every weekend to play Gears of War, and it was then that I started to consider game development as a career. I had no prior experience in game art or design, but had a keen eye for details, and a strong interest in psychology. Indie games, like Jonathan Blow's Braid, demonstrated how my interests could be combined into one discipline, and after watching countless online lectures, I decided to pursue it."
And, despite PieceFall only arriving on the PlayStation Store this week, most of the team now find themselves in full-time employment at either LittleBigPlanet 3 developer Sumo Digital or Elite3D in sunny Valencia. Landing real-world jobs at the end of their course hasn't sapped their excitement for PieceFall's release, however. "It feels weird," Jones admitted when quizzed about the title's arrival. "I'm excited to hear how it will be received, and if people are pleasantly surprised that a game that looks and plays as nicely as it does came from a small group of students," added Hartin.
Meanwhile, Habgood and his team of teachers are already looking to the future. "We definitely want to publish more for the PS4, but it's probably too early to say anything definitive about our next title," he said. "A multiplayer game could be on the cards, as could a game that involves flicking snot at monsters with a PlayStation Move controller. We'll just have to see."
Whatever the studio dreams up, though, it looks like Sony's PlayStation First initiative – which provides support for student teams such as Steel Minions – is only going to go from strength to strength. Indeed, in addition to Sheffield Hallam University, the platform holder is working with dozens of academic facilities across the UK – and Europe and Asia. As we wrapped up our chat with the PieceFall team, each member expressed an interest in the upcoming Uncharted 4: A Thief's End. And it's clear that, by cultivating talent at a grass roots level, the Japanese giant has half an eye on nurturing the Naughty Dog developers of the future.
---
PieceFall is available now from the European PlayStation Store for £0.99. You can purchase it for your PS4 through here.