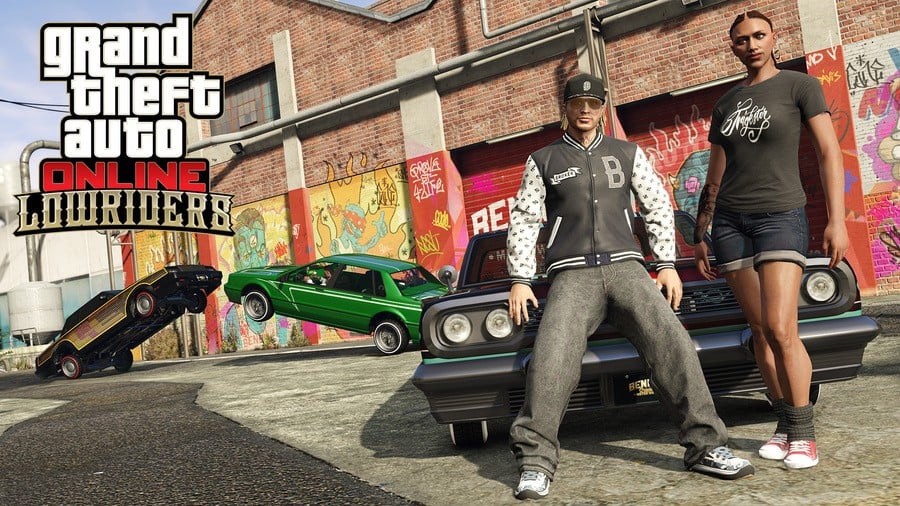 Grand Theft Auto Online sports a pretty self-contained community these days, which we carelessly forget about at times. While we'd have probably preferred Rockstar Games to expand Los Santos with new single player content, it seems that supporting its multiplayer component has become a priority. And thus, Grand Theft Auto Online: Lowriders is set to roll out on the PlayStation 4 next week.
Available from 20th October as part of a free update, the download will add a new establishment named Benny's Original Motorworks to the release, where you'll be able to kit your car out with all kinds of sick new parts. Whether it's hydraulics or a leopard skin interior, this fresh workshop will have you covered – and you'll be able to show off your bangin' ride to others using the Player Interaction Menu.
Of course, that's not all that will be added as part of the download: the fully automatic machine pistol will henceforth be stocked at your nearest Ammu-Nation, as will the machete. Furthermore, you'll now be able to purchase a fourth property, in addition to a bunch of new threads. You may want to stock up on Shark Cards before you return to the release, then.
If that's not enough, Lamar will be reaching out as part of some fresh missions, which rounds out a pretty extensive batch of new content. One thing that's worth pointing out, though, is that none of this will be coming to the PlayStation 3, as Rockstar Games has ceased supporting the last-gen system for now. The company's citing memory issues as the reason; we'd bet that it's probably more to do with the firm wanting to allocate its resources elsewhere.
[source blog.us.playstation.com]