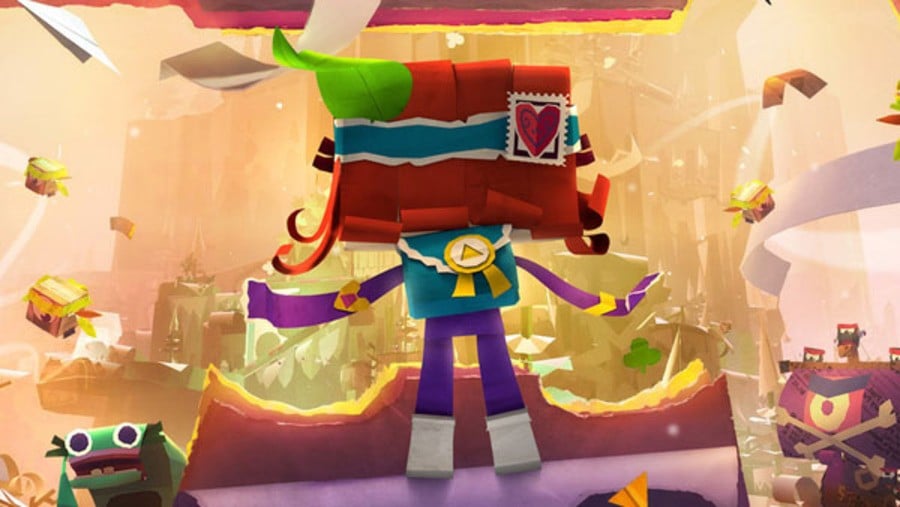 Tearaway Unfolded will fly a paper plane to the PlayStation 4 next month, and Sony has suggested that this is because it has "unfinished business" with the franchise. Speaking at Gamescom 2015, SCEE boss Jim Ryan hinted that the strong reception to the PlayStation Vita original convinced the company to port the platformer to its home console, where it hopes it has a greater shot of success.
"A lot of people know about Tearaway because the game was first published on the PlayStation Vita," he said as part of an interview with PlayStation Germany. "It reviewed really well, but we are really, really happy to bring this game to the PS4. We consider that we have some unfinished business with Tearaway and we want to take this rather niche franchise and turn it into something that's really big and get the full marketing power that's associated with the PS4 behind it."
Despite being one of the best reviewed games of 2013 – it has a Metacritic of 87 – the Media Molecule developed release sold extremely poorly, and was overshadowed by the launch of new consoles. But Ryan believes that this new version – which is more of a re-imagining than a straight port – will help to propel the paper-based property to new heights.
"It's one of the best games to demonstrate the true functionality of the DualShock 4; the things that you can do with the DualShock 4 in Tearaway are very, very cool and very different," he enthused. And it's true: one of the chief mechanics sees you throwing objects outside of your television and into the controller, where a combination of the speakers, gyros, and rumble will allow you to shake them about in your hand. We expect more fourth-wall breaking stuff in the final game, too.
[source News: Gamescom 2015: Tour PlayStation's Booth with SCEE Boss Jim Ryan]