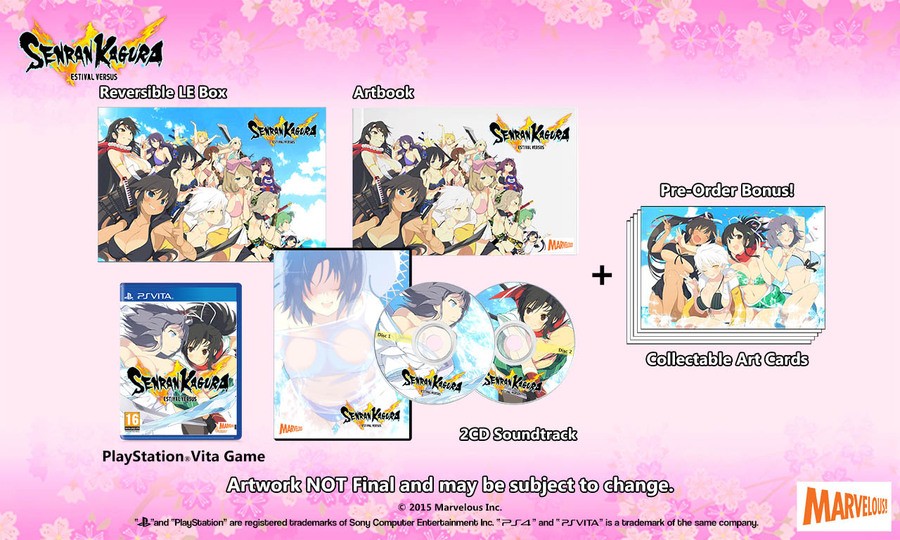 It may have taken a while, but Senran Kagura Estival Versus finally has a European release date. The brawler, which features female ninja smashing the absolute snot out of each other, will launch on PlayStation 4 and Vita in the first quarter of 2016.
It's a shame that we don't have a more precise date, especially given that North America is getting the game near the end of this year, but we're sure that fans will be able to hold back just that little bit longer. What's more, both the home console and handheld editions will be getting physical releases that come with a few extras.
Pre-ordering the retail title will get you some exclusive art cards, while splashing cash on the 'Millennium Festival Edition' gets you a slew of swag, including an artbook, a two disc CD soundtrack, and a limited edition box.
However, things get really steamy if you decide to go for the rather ridiculously named Bahonkas Edition for a hefty £74.99. It includes all of the bits and pieces from the Millennium Festival Edition as well as a body pillow cover that features one of the game's characters. Dream come true?
Will you be emptying your wallet for one of these special editions, or are you just happy to have a confirmed European release? Combo your foes into oblivion in the comments section below.
[source estivalversus.com, via neogaf.com]