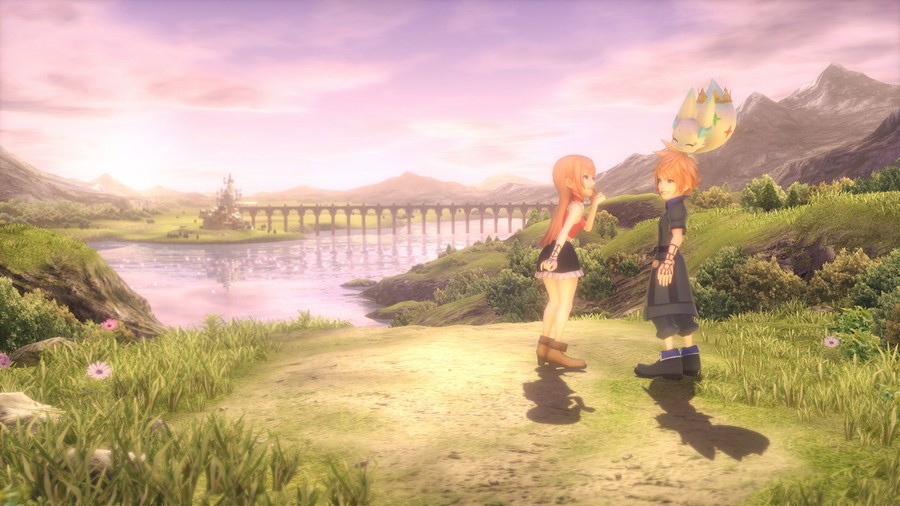 When it was first unveiled at Sony's E3 2015 press conference, no one was quite sure what to make of the cutesy World of Final Fantasy. From what we could tell, it seemed to be a more traditional role-playing game, complete with a colourful world and cameos from various Final Fantasy characters and creatures from the past. Turns out that these presumptions aren't too far from the truth, as producer Hiroki Chiba explained in an interview with GamesBeat.
Attempting to sum the game up in just a few sentences, Chiba said that "the basic play style is very similar to older Final Fantasy games [...] the concept of this game is to befriend all these different creatures that have appeared in the Final Fantasy series." So, it sounds like there might be a bit of monster collecting involved?
Chiba goes on to confirm that the trademark active time battle system will make a return, albeit in a slightly altered form, as you fight beasties and try to capture them. What's more, he says that, as assumed, the game has a lot of references to older titles in the series, hence the role-playing game's name, 'World of Final Fantasy'.
Interestingly, the producer mentions that the title's been developed with accessibility in mind, and that the team "wanted to find a way to draw a younger generation to the world of Final Fantasy", perhaps explaining why the game's so colourfully cute. What's more, when asked about the title's story, Chiba states that "I personally worked on Final Fantasy VI, VII, and VIII, so I'm trying to aim for the volume of story that was in those games", which certainly sounds quite promising.
Moving onto other aspects of the release, Chiba hints that the studio's currently looking into some sort of multiplayer component, but no details were shared. Meanwhile, on the audio side of things, the game will apparently feature original music as well as rearrangements of classic tracks from the series, and it's all being composed by Masashi Hamauzu, who's previously worked on the likes of Final Fantasy X and Final Fantasy XIII. Needless to say, we should be in for some memorable tunes.
How do you think World of Final Fantasy sounds? Are you intrigued? Demand more information in the comments section below.
[source venturebeat.com, via neogaf.com]