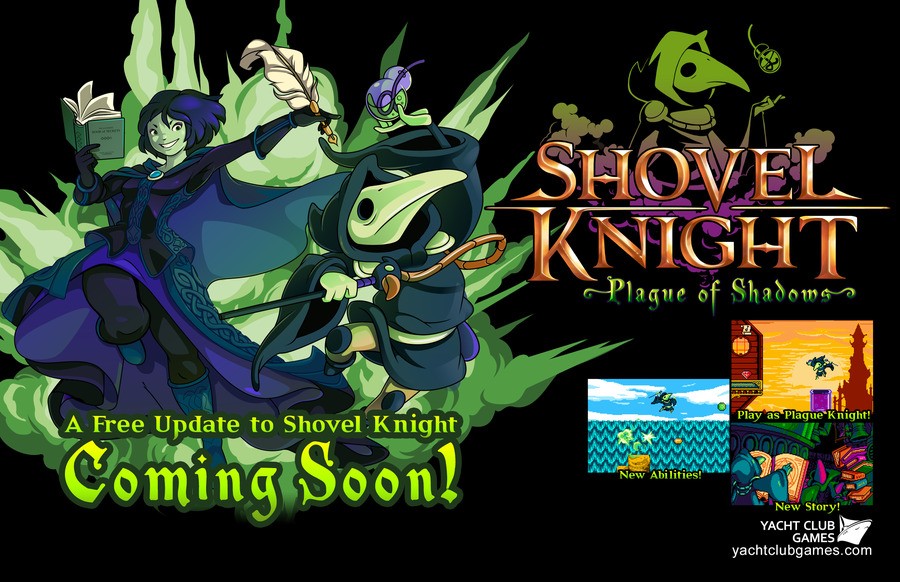 Here's another reason to dig into Shovel Knight when it launches on PlayStation platforms in April: it'll be succeeded by a free expansion named Plague of Shadows. Due out in Q2 2015, the complimentary campaign will see you assume the role of the Plague Knight, a "villainous master of alchemy" seeking to concoct a kind of uber-poison.
The blurb reads: "To retrieve the required ingredients, he must extract them from his former allies… the villainous knights of the Order of No Quarter. World class platforming, music, storytelling, and art all return in Shovel Knight: Plague of Shadows, an explosive quest with a new play style, new story, new bosses, and more."
According to the press kit, the Plague Knight's roster of new abilities will include bomb jumps, crafting, and more. You can't really grumble at free content, can you? And when the game in question's already a multi-award winner, well, it's all a bit exciting. The add-on will be on display at PAX East this week, so expect more footage to emerge over the coming days.
[source yachtclubgames.com, via yachtclubgames.com]