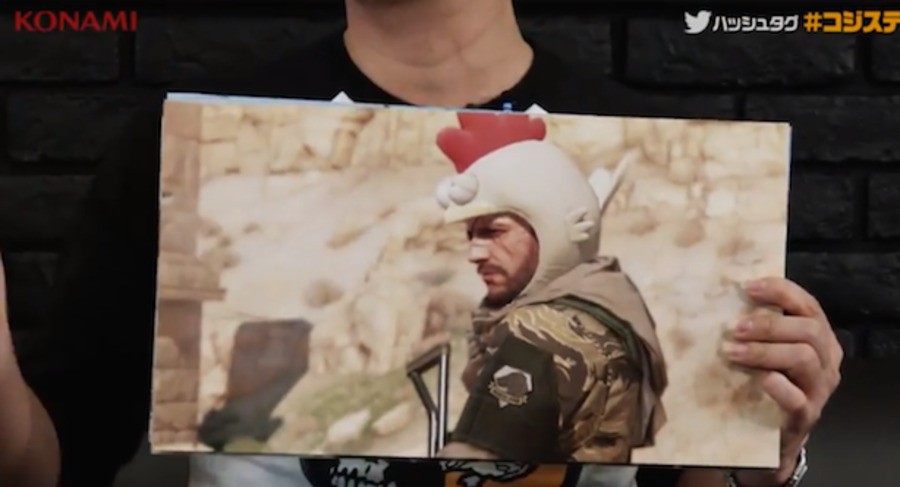 Remember that Christmas Day livestream that Hideo Kojima cunningly revealed as part of a Swedish t-shirt slogan last month? Nah, we were too busy scranning stuffing and reporting on the ongoing PlayStation Network outage in between mouthfuls to pay attention to that – but it did kick up a little tidbit worth mentioning on a desperately slow Sunday.
During the holiday broadcast, the aforementioned auteur announced the pictured poultry headgear for Metal Gear Solid V: The Phantom Pain, which will be awarded to those of you who keep mucking up. The rooster helmet will prevent guards from spotting you so quickly, making the PlayStation 4 and PlayStation 3 sequel a teensy bit easier to beat. We've no idea how dressing as a giant bird makes you less noticeable, but we suppose that this is Kojima logic.
The best part is that the birdie bonnet will appear in cut-scenes should you equip it, punishing/rewarding you for your rubbish stealth skills. There's still no word on when the hotly anticipated espionage escapade will deploy, but it's expected at some point later this year. Are you chicken? Bawk, bawk, bawk in the comments section below.
[source youtube.com, via kotaku.com, joystiq.com]