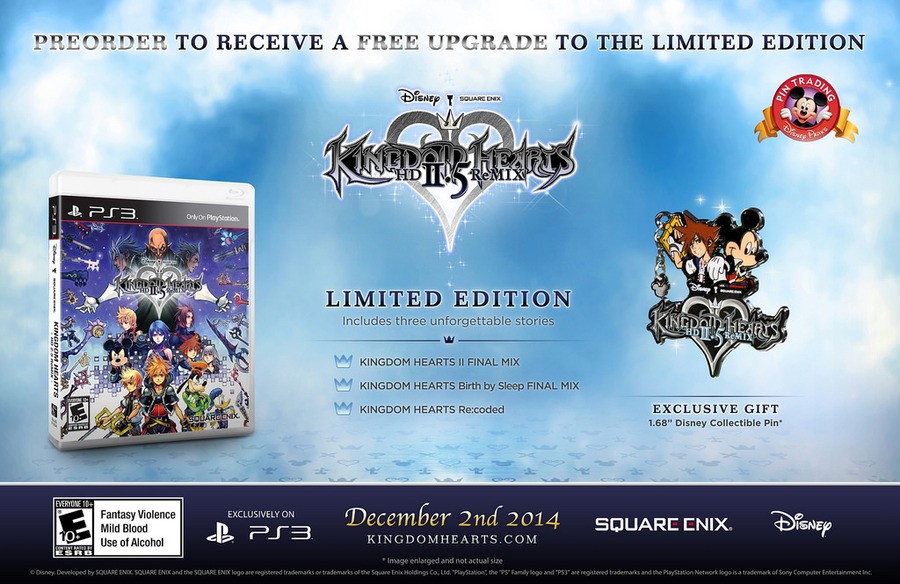 You didn't think that upcoming compilation Kingdom Hearts HD 2.5 ReMIX was going to release without some kind of collector's edition, did you? Just like the Genie out of Aladdin's lamp, Square Enix has helped all of your dreams come true, by confirming that all copies of the forthcoming collection will come with a pin badge featuring Mickey Mouse and Sora.
This isn't just any old brooch, though – it's a real classy one. "We've looked at every curvature of the pin from the expressions of the characters to the Keyblade with the Mickey Dangler," product manger Kaori Takasue wrote on the PlayStation Blog. "The pin badge is made out of a soft enamel coating on metal and at its height it stretches out to 1.68"." That's, er, 4.27cm by the way.
The good news is that you won't have to do anything special to grab the gift – just pre-order the game and you should net the pin. For those out of the loop, the title includes Kingdom Hearts II, Kingdom Hearts: Birth by Sleep, and the cinematics from Nintendo DS release Kingdom Hearts: Re:coded. The package will battle its way onto store shelves in December.
[source blog.us.playstation.com]