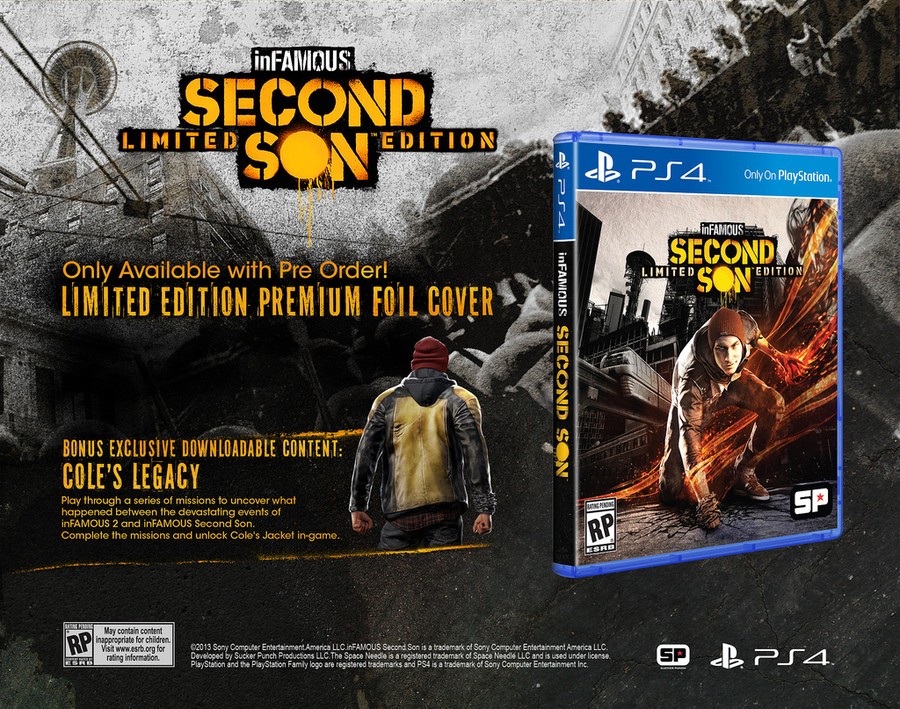 There may be some question marks hanging over the PlayStation 4's launch lineup right now, but one game that's still very much on track for its early 2014 release is inFAMOUS: Second Son. We haven't seen much of the superhero excursion since GamesCom in August, but Sony has hopped onto the PlayStation Blog to confirm a slew of special editions for the next generation exclusive in Europe and North America.
Let's start in the Land of the Free, where a pre-order will automatically upgrade you to the game's Limited Edition. The first print run will come with a rare foil cover and access to an additional DLC pack – which the platform holder is claiming won't be available anywhere else – called Cole's Legacy. As predicted, this will augment your copy of the game with a couple of extra missions that will depict the events that occurred between inFAMOUS 2 and the impending sequel. Complete the additional plotline and you'll unlock the skin-headed superhero's jacket for use in-game.
If that's not enough, those of you in the United States will also be able to plump up for a Collector's Edition which includes all of the above, in addition to a replica of new protagonist Delsin Rowe's beanie hat, a set of eight pins – including a Sly Cooper branded one – a DUP patch, some stickers, and a unique box. You'll also get a 'Legendary' in-game vest, in addition to the pre-order exclusive outfits that were announced earlier in the year.
Meanwhile, over in Europe, you'll be able to purchase a Special Edition which includes the Cole's Legacy expansion pack, a beanie hat, and a different case. In addition, the overseas Collector's Edition will come with all of the above, as well as a collectible coin, bottle opener, badges, in-game costume, and a quirky cover which resembles Delsin's vest from the game. We're not sure whether that's cool or tacky, but it's a pretty interesting idea. We suppose that it makes a pleasant change from the usual character statue and art book.
No prices have been announced at the time of writing, but we're sure that they'll be revealed once retailers update their product pages. Are you hoping to pick up any of the Collector's Edition bundles, or are you planning to stick with the default release? We definitely want the Cole MacGrath content, but we're not overly sure about the other stuff. Send some smoke signals in the comments section to notify us of your plans.
[source blog.us.playstation.com, via blog.eu.playstation.com]