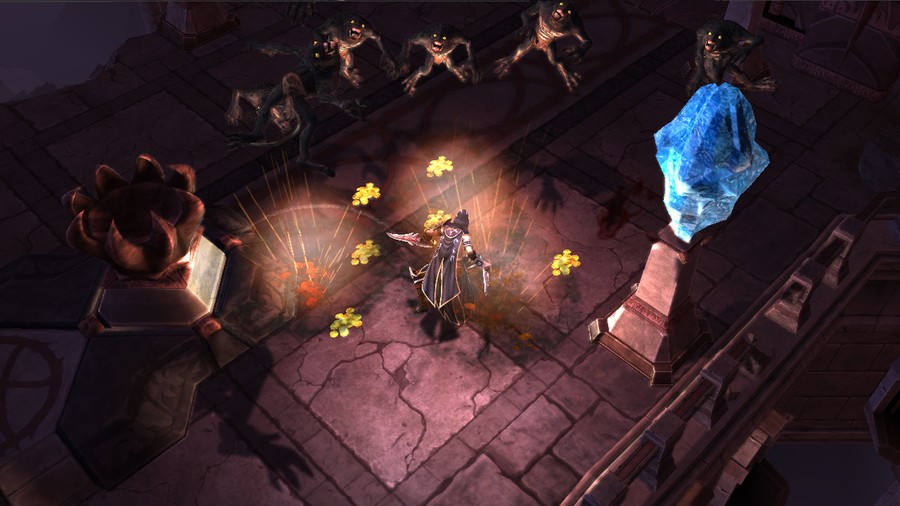 Do any of you remember Warrior's Lair? The PlayStation 3 and Vita dungeon crawler – originally revealed as Ruin – made a big splash during the platform holder's E3 press conference way back in 2011, primarily due to its first real hint at the potential of cross-save. However, it's been languishing in the shadows for a good while now, without even the sniff of an update. Last year, rumours spread that original developer Idol Minds had been yanked off the project, with Sony San Diego pulled in to finish the game off. According to one of the title's former designers, though, that was probably never the case.
"No one in San Diego knew anything about our tools, our technology, or our design," wrote ex-Idol Minds employee Christopher Floyd on the Quarter to Three message boards. "So I don't know how serious they ever were about that idea, but a few months later we heard through the grapevine that they had no plans to do so. It's extremely unlikely that the game will ever be released."
Apparently, when the title was canned, Idol Minds had been working on the project for a full year. The game was supposedly just three months away from release, with Sony having already invested "millions of dollars" into it. But the plug was pulled nevertheless, even if the reasons behind its cancellation weren't even clear to those that worked on it.
"First, I assume it had to do with the weakness of the Vita," Floyd explained. "Sony internal studios, to me, looked like they never had much faith in it. As far as we were concerned, the game was primarily a PS3 game; we weren't going to bank on the Vita." Regardless, the title apparently looked and played great on the troubled handheld, with the cross-save feature working like a charm.
"I don't know what other internal considerations might have been affecting them, but it's definitely the case that around that time there was a lot of bad financial news from Sony Corp," Floyd added. "But I have no idea if that affected the SCEA studios. There was also a rumour that Vita games in development were given a Metascore rating to hit after the first few games got middling reviews, but I don't know if that's true or if it affected the decision."
Of course, one thing that Floyd doesn't mention is the imminent arrival of Diablo III on the PS3 and PS4. With the dominant force in the dungeon crawling genre mere months away from release, the company may have hedged its bets on the third-party title instead. That's unlikely to reassure frustrated Vita owners, though.
"Warrior's Lair wasn't going to set the world on fire," Floyd concluded. "It didn't have the budget to compete with a Dark Souls, much less a Diablo. It probably had a number of weak spots. But I also think it would have been worth playing. I think it might have been a bright spot on the Vita line-up, too."
Sadly, it seems that we'll never get to find out for sure.
[source quartertothree.com, via neogaf.com]