Where do you start in Diamond Dynasty in MLB The Show 21? Diamond Dynasty is MLB The Show's flagship mode, and is best compared to Ultimate Team in FIFA 21 and MyTeam in NBA 2K21. In it, you'll collect MLB Players to improve your roster, which you can then use to compete both online and offline. The goal is to build the fantasy team of your dreams. As part of our MLB The Show 21 guide, we're going to explain how to get started in Diamond Dynasty.
MLB The Show 21: Where to Start in Diamond Dynasty
On this page, we're going to explain how to begin building your team in Diamond Dynasty in MLB The Show 21.
Pay Attention to the Onboarding Process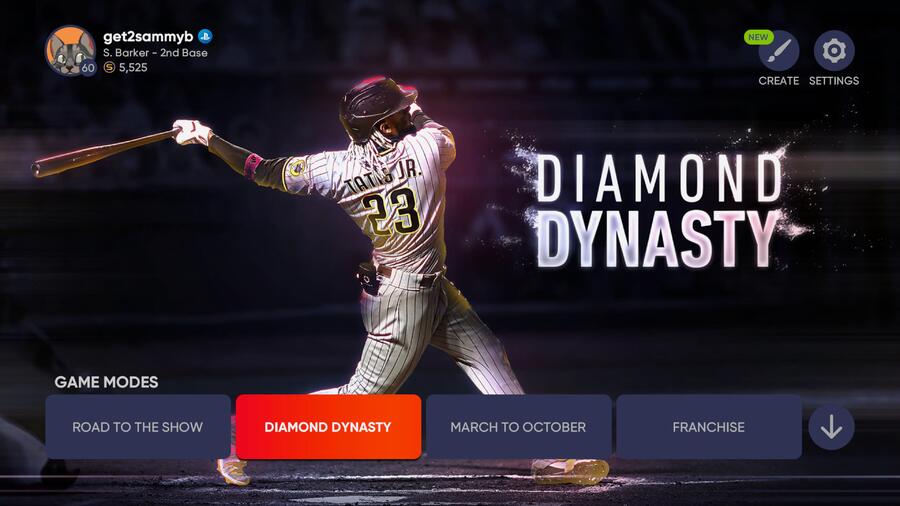 MLB The Show 21 has a better onboarding process than any previous games in Sony San Diego's baseball simulation. You'll want to pay close attention to all of the instructions, which will help you to open your first The Show Packs and setup your starting squad. Once you've absorbed all of the information, have a browse through the menus and familiarise yourself with all of the options available. Be sure to scroll to Shop > Packs > Open Packs to see if you have any unopened packs available. Open them if you do, and if not be sure to Enter the Show Shop to see if there are any free card packs available.
Adjust Your Lineup
If you've opened a few The Show Packs, then you'll want to make some adjustments to your lineup before you hop into a match. Browse to Home > Manage Squad and from this screen you can manually adjust your Lineup and Rotation. If you want to quickly fill out your roster then push the Options button and select Generate Best Squad. This will fill out your team with the best possible players in each position, meaning you don't have to worry about manually selecting who to play.
It's worth remembering that if you want to upgrade your Ballplayer while playing Diamond Dynasty (See Also: MLB The Show 21: How to Upgrade Your Ballplayer and Unlock Perks) then you'll want to include them in your Lineup or Rotation. We recommend creating a New Squad (using R1) to put your Ballplayer in. If your Ballplayer is quite low level, then you can use this alternative squad for offline matches and for grinding out your Ballplayer's Archetype Programs (See Also: MLB The Show 21: Programs Explained and How to Advance Them).
Freshen Up Your Uniform
With your team created and your squad setup, then you'll want to spend a little time making sure your new players look good. It's down to personal preference, of course, but we enjoy making a snazzy uniform for our team. You can create your own logos with the Logo Editor or download one that's already been designed from the Logo Vault.
Play Some Matches
There's a lot to do in Diamond Dynasty, across both single player and mulitplayer modes. You'll find all of your options, alongside your Programs, under the Play tab. You're better off exploring for yourself, but here's an overview of all of the modes available:
Single Player
Play Vs CPU: Take on any real-life MLB team with your fantasy squad for prizes. The higher the difficulty is set to, the better your odds of earning rare rewards.
Moments: Bitesized gameplay missions which you can complete for Program progression, Stubs, and MLB Players.
Showdown: Arcade-style ladders where you must draft a team and complete challenges in order to increase your odds against challenging pitchers.
Conquest: A board game mode where you must conquer territory and steal fans by winning baseball matches. For more information, refer to the following page: MLB The Show 21: How to Win at Conquest.
Extra Innings: Take on CPU controlled teams based on the Squads of real-world players. Much like in Play Vs CPU, playing on higher difficulties will earn you greater rewards.
Online
Ranked Seasons: Work your way through increasingly difficult divisions against online opponents by winning matches and progressing through the different divisions. Rewards will be issued based on your success.
Battle Royale: Draft-themed mode where you must assemble a squad by picking your preferred players, ensuring a level playing field. You'll be eliminated if you amass two losses, but the rewards will increase based on your winning streak.
Events: A competitive mode designed to encourage you to explore your inventory. You'll need to build a team that fits the specification of the event, with wins contributing to Program progress.
Play Vs Friends: Use your Diamond Dynasty roster to play against friends in an unranked and customisable environment.
Casual: Pair with any player online and play a nine-inning game without any pressure or requirements.
Take Time to Complete Your Collections
As you progress through your Diamond Dynasty career, you'll be unlocking lots of The Show Packs and MLB Players. It's always a good idea to complete Collections for Stubs (See Also: MLB The Show 21: How to Earn Stubs without Spending Money) and MLB Player rewards. If you're new to the game, then we recommend you complete the Starter Collections first, before moving on to the Live Series.
You can unlock a 99-rated Chipper Jones if you collect all of the Live Series cards, and the best way to do this is to focus on one conference at a time. For example, you could start with all the NL East teams, then complete the rest of the National League sets, before moving on to the AL East teams and finishing the American League set. Once you've done all of that, you'll be able to turn in the Live Series set and add Chipper Jones to your roster. If you don't have enough Stubs to do that, one strategy is to sell any cards that don't belong to the conference you're currently focused on, then use the Stubs you receive to purchase any players you may be missing. Do remember that once you've collected a card, you won't be able to trade it at a later date.
If you don't how to unlock a particular card, then you can select it with Triangle and scroll to the Locations tab. This will tell you which venues you'll be able to acquire the player from. You'll also be able to view a rolling history of the card's value on the Community Market. Here you can buy cards that are currently for sale, or Create Buy Orders which may help you to add the card to your collection at a discounted price. Generally, if you're considering a Buy Order, then we'd recommend undercutting the average selling price. This will either save you some Stubs or flip the card for a profit.
Resist Buying The Show Packs
If you've got Stubs burning a hole in your back pocket, we'd advise against spending them on the standard The Show Packs. While these are relatively cheap, the odds can be low and you'll earn plenty of these by simply playing the game and completing Programs. It's better to save up for the more expensive promotional packs, which have much better odds and rarer rewards. You can always check a pack's odds by hovering over it and pushing the Square button.
---
Where did you start in Diamond Dynasty in MLB The Show 21? Take a look at our MLB The Show 21 guide, and build your dream team in the comments section below.