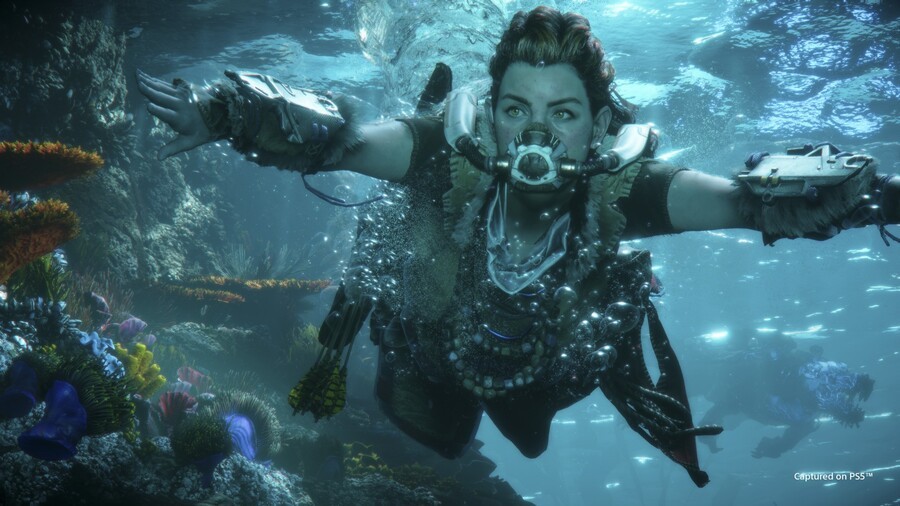 Horizon Forbidden West is one of Sony's flagship games for 2022. This sequel to the smash hit Horizon Zero Dawn is fast approaching, and fans of Aloy and her robo-dino-destroying exploits are gearing up for another epic action RPG. In this FAQ guide, we're going to answer some common questions about Horizon Forbidden West so you can stay informed ahead of the game's release.
Horizon Forbidden West: What Is It?
Horizon Forbidden West is an action RPG developed by Guerrilla Games. It's a direct sequel to Horizon Zero Dawn, picking up where the story left off and continuing the adventures of Aloy in a far-future landscape. The series is known for its iconic protagonist and her journey of self-discovery in a world dominated by the Machines — lifelike robots that resemble various creatures, from deer to birds to dinosaurs. Horizon Forbidden West will have you fighting these dangerous foes, as well as human threats, while you explore an expansive and beautiful open world.
Horizon Forbidden West: What Is the Release Date?
Horizon Forbidden West is currently scheduled for release on 18th February, 2022. This is a worldwide release date, and the game will be available both digitally and physically.
Horizon Forbidden West: What Platforms Is It On?
Horizon Forbidden West is coming to both PS5 and PS4.
Horizon Forbidden West: What Are the Differences Between the PS5 and PS4 Versions?
The PS5 and PS4 versions of Horizon Forbidden West will be by and large the same game. You'll play through the same open world, story, and missions regardless of platform. However, the PS5 version will have some advantages over the last-gen version. These include:
Various visual flourishes and techniques, meaning a better looking game overall
A choice of two visual modes, one focusing on performance (60 frames-per-second) and the other emphasising image quality (full 4K)
Dramatically reduced loading times
Support for the DualSense's various features like haptic feedback and adaptive triggers
3D audio
Horizon Forbidden West: Is There a Free Upgrade from PS4 to PS5?
Yes, Sony has stated that those who purchase Horizon Forbidden West on PS4 will be able to claim the PS5 version at no additional cost.
Horizon Forbidden West: Will It Support Save Data Transfer from PS4 to PS5?
Yes. Sony has said that any progress you make in the PS4 version of Horizon Forbidden West can be carried over to the PS5 version. You won't have to start over — you'll be able to pick up where you left off.
Horizon Forbidden West: Is It Coming to PC?
Currently, Horizon Forbidden West is exclusive to PlayStation platforms, available only on PS5 and PS4. However, given Sony's investment in PC ports of its older first-party games, we imagine Horizon Forbidden West will eventually migrate to PC. It'll be at least a couple of years before that happens, though.
Horizon Forbidden West: How Much Does It Cost?
Horizon Forbidden West is a full-price game, retailing for the RRP of $69.99/£69.99 on PS5 and $59.99/£59.99 on PS4.
Horizon Forbidden West: Are There Any Pre-Order Bonuses?
On PlayStation Store and at participating retailers, pre-ordering Horizon Forbidden West will earn you a couple of in-game items: the Nora Legacy outfit and the Nora Legacy spear. It's not known if these items afford any gameplay benefits or are merely cosmetic. They will unlock via story progression.
Horizon Forbidden West: Is There a Special Edition?
Yes. In fact, there are multiple ways to purchase Horizon Forbidden West. Here are all the different editions you can buy:
Horizon Forbidden West Standard Edition
This is the bog-standard version of the game, featuring the game itself and nothing more.
Horizon Forbidden West Digital Deluxe Edition
The Digital Deluxe Edition comes with access to the PS5 and PS4 version of the game, as well as two special outfits and matching weapons, in-game resources pack, Apex Clawstrider Machine Strike Piece (for use in the in-universe mini game, Strike), digital art book and soundtrack, and The Sunhawk, a digital graphic novel.
Horizon Forbidden West Special Edition
This physical version of the game comes in a lovely SteelBook case and comes with the digital soundtrack and mini art book.
Horizon Forbidden West Collector's Edition
The Collector's Edition comes with all the benefits of the Digital Deluxe Edition and Special Edition combined, plus some pretty nice Tremortusk and Aloy statues.
Horizon Forbidden West Regalla Edition
The Regalla Edition also packs in all the goodies found in the Digital Deluxe and Special Editions, plus the following: a canvas map, two art cards, two physical Strike playing pieces, replica Focus and stand, and a special Regalla Tremortusk and Aloy statue.
Horizon Forbidden West: What Is the Story?

The story of Horizon Forbidden West picks up where the first game ends. Aloy, who has now learned the history of what happened to the world and how she fits into it, is faced with a new threat. The land has been hit with a mysterious blight that threatens all life, and no one knows how to stop it. The redhead heroine travels to the Forbidden West, a new and dangerous location full of new threats, both man and machine.
Horizon Forbidden West: Do You Need to Play Horizon Zero Dawn to Understand the Story?
We would definitely recommend playing through the first game, as it establishes a lot about Aloy and the world she inhabits. If you're able to, we suggest playing through Horizon Zero Dawn before starting Horizon Forbidden West. However, we've no doubt that the sequel will recap the major points at the start, and will largely tell its own story, so don't sweat it too much.
Horizon Forbidden West: What New Gameplay Features Are There?
The gameplay found in Horizon Forbidden West looks to be largely the same as in the previous game, but there are naturally a few new features in the sequel.
Firstly, Aloy's melee combat abilities have been upgraded. You'll have many more options when wielding her spear, especially against human enemies. This includes the new Valor Surges — powerful special abilities that build up as you engage in combat. There are also new combat items and options, such as throwing grenades of adhesive that slow down machines.
It seems as though a lot of the game's new features revolve around traversal. Aloy is outfitted with a glider and a grappling hook in the sequel, allowing her to drift from one area to another, and zip up to new vantage points. Another major change is Aloy's newfound swimming abilities, letting you explore underwater.
We also know about an in-universe board game called Strike, which you'll be able to play in the game's larger settlements.
Horizon Forbidden West: Are There Any New Machines?
Yes, there will be many new Machines to discover and fight in the sequel. Several of them have been revealed already:
Sunwing: Pterodactyl-like flying machine with solar panel wings
Tremortusk: A huge, heavily armoured, mammoth-like beast
Slitherfang: A large, snake-like machine that spits poisonous venom
Rollerback: An armadillo-like machine that rolls around at high speeds
Burrower: Akin to the first game's Watchers, this is similar to an otter, and will alert other nearby machines
Bristleback: A boar-like beast that digs for resources using big tusks
Clamberjaw: Baboon-like machines that are highly agile and attack in groups
Clawstrider: These resemble velociraptors and travel in packs. When downed, it's possible to take one over and use it as a mount
Shellsnapper: This giant tortoise-like machine is a combat unit with a huge protective shell and dangerous water attacks
Tideripper: An aquatic machine that resembles a plesiosaur. Amphibious, meaning it can attack on land as easily as it can underwater
---
Are you excited to play Horizon Forbidden West on PS5 and PS4? Tell us in the comments section below.