What are all Shipwrecks locations in GTA Online? Rockstar has added Shipwrecks to Los Santos which are located in random places around the map. Next to these abandoned boats you'll find Treasure Chests, which when opened will reward you with GTA$20,000 and 2,000 RP, thus making it an easy solution for How to Make Money Fast. The location of these Shipwrecks will change every 24 hours in real-time, and you'll need to collect seven if you want to know how to unlock the Frontier pirate outfit. As part of our GTA Online guide, we're going to reveal all Shipwrecks locations. For more information, also refer to Best Auto Shop to Buy and All CircoLoco Records USB Sticks Locations.
GTA Online: All Shipwrecks Locations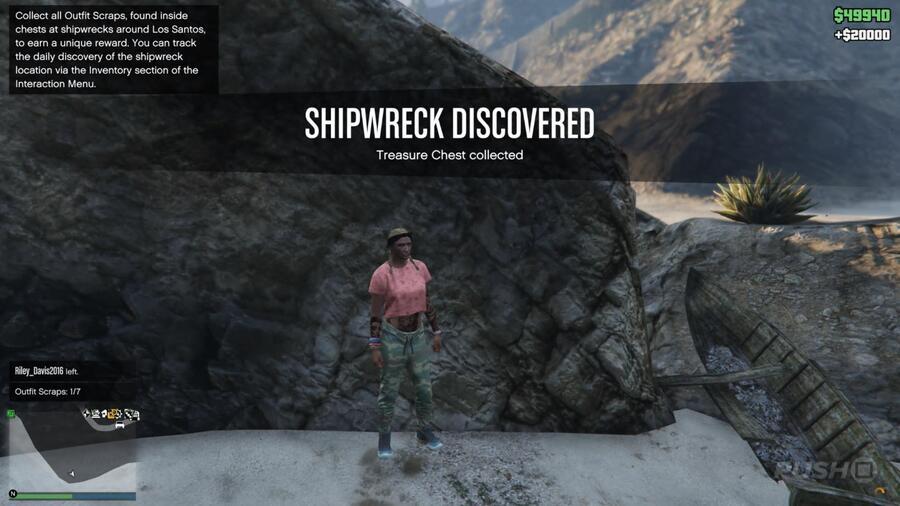 Shipwrecks can be found in one of 30 locations around Los Santos and Blaine County. This will change every day in real-time randomly, and you can only find one per 24 hour period. In order to keep track of whether you've collected the latest Treasure Chest, you can hold down the touchpad to open the Interaction Menu and select Inventory > Daily Collectibles.
All Shipwrecks locations are included in the table below. Remember that these rotate randomly every 24 hours. You'll know when you're near to a Shipwreck because you'll hear the audio of a bell ringing nearby, similar to when you're close to a Bounty Target. Credit to Wildbrick142 for helping us to assemble this guide.
Shipwreck
Location

Elysian Island

Los Santos International Airport #1

Los Santos International Airport #2

San Andreas

Pacific Ocean #1

Pacific Bluffs

Banham Canyon

Chumash

Lago Zancudo #1

Lago Zancudo #2

Zancudo River

North Chumash

Paleto Cove

Paleto Forest

Paleto Bay #1

Paleto Bay #2

Mount Gordo

Pacific Ocean #2

Pacific Ocean #3

Mount Gordo

San Chianski Mountain Range #1

San Chianski Mountain Range #2

San Chianski Mountain Range #3

Pacific Ocean #4

Pacific Ocean #5

Pacific Ocean #6

Pacific Ocean #7

Pacific Ocean #8

Palomino Highlands

Cypress Flats
GTA Online: How to Unlock the Frontier Pirate Outfit
Alongside all Shipwrecks locations is a Treasure Chest. These will reward you with GTA$20,000 and 2,000 RP, but the first seven that you find will also include an Outfit Scrap. You need to collect seven Outfit Scraps in order to unlock the Frontier Pirate Outfit. As you can only discover one Shipwreck for every 24 hours in real-life, it'll take you a week or so to discover enough Treasure Chests to add the costume to your Wardrobe.
---
Did you find all Shipwrecks locations yet and did you unlock the Frontier pirate costume in GTA Online? Take a look at our GTA Online guide, and set sail in the comments section below.