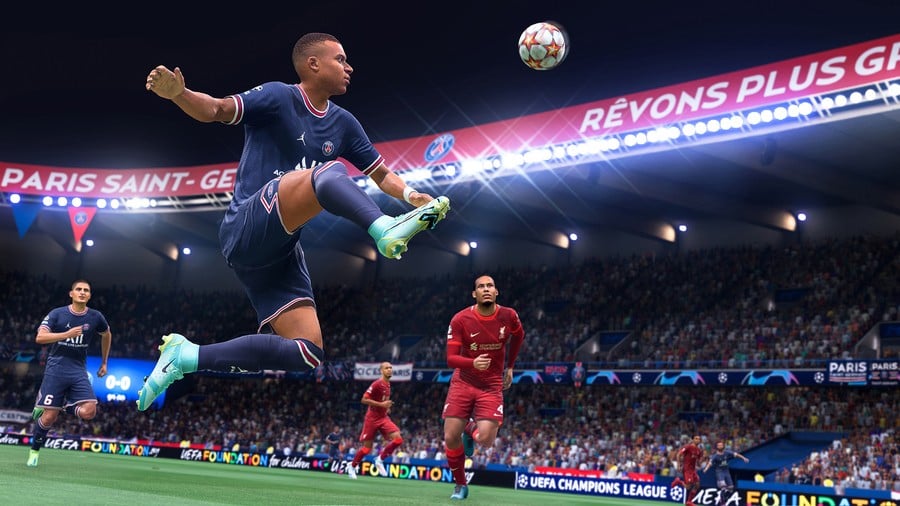 What are all changes and improvements from FIFA 21 in FIFA 22? If you're planning to pick up the latest entry in EA Sports' long-running football franchise, you may want to know how the title differs from its predecessor. In this FIFA 22 guide, we're going to list all changes and improvements from FIFA 21, so you know what to expect when you upgrade your game. We've divided this article into categories based on gameplay and modes, and will update as we discover more about the release.
FIFA 22: All Changes and Improvements from FIFA 21
Below you'll find a list of all changes and improvements from FIFA 21 in FIFA 22. Please note that this is an evolving article, and we'll be adding more to it over the coming weeks as we discover more. Any feature with a [PS5] prefix means it'll not be available on PS4 consoles.
Gameplay
In this section of the article, we'll detail all gameplay changes and improvements in FIFA 22. This pertains to any of the mechanics and systems you'll experience when out on the field, regardless of which game mode you're playing.
[PS5] HyperMotion Technology uses advanced motion capture tracking the movements and actions of 22 players during a real match of football, resulting in over 4,000 new animations.
[PS5] Machine Learning writes unique contextual animations to ensure players approach the ball in a more lifelike manner, altering their stride and body shape to transition more realistically when in and out of possession.
[PS5] Rewritten tactical awareness and behaviour in offense and defense, meaning players respond more realistically to on-field situations, working as a cohesive unit to either attack space or defend open areas of the field.
[PS5] Authentic aerial duels that reflect the physicality of two players battling for possession in the air.
[PS5] Player humanisation means teammates will point and communicate with each other off-the-ball, adding realism to the presentation.
[PS5] Composed ball control changes the way players bring the ball into possession, depending on their skill rating and the context with which they receive the ball.
[PS5] More goal celebrations, reactions, and animations for big scoring moments, which can include substitutes, managers, and more.
[PS5] Improved net physics to better reflect the power and placement of shots, paired with DualSense controller haptic feedback.
Explosive sprint reimagines 1-on-1 situations, giving players a short acceleration boost when triggered in the correct context.
Improved ball physics tracking speed, swerve, air resistance, and friction to the ball to create more authentic bobbles and lofted ball trajectories.
Build Up Play and Chance Creation tactical presets provide more ways for you to design your team's unique offensive playstyle.
Improvements to passing, with an emphasis on lofted and through balls, with [PS5] enhancements to the way the through pass selects its intended receiver.
Complete rewrite of goalkeeper mechanics, including over 600 animations and more personality to goaltending styles, depending on agility, reaction speed, or physicality.
The addition of Disruptive Interceptions, allowing players to get a foot on the ball even when not close enough to bring it into possession, disrupting the direction of the ball and breaking up play.
Teammate Contain stamina allows you to send a teammate out to press an opponent, but depending on player attributes will need to be utilised sparingly to ensure said teammate doesn't get gassed.
Icon Switching allows you to be more specific with which player you take control of, meaning you can press R3 and then flick in a given direction to assume control of one of four teammates.
Player Based Difficulty means, when playing CPU matches against highly rated players, their performance may exceed the chosen difficulty setting to better reflect their real-world attributes.
Career
In this section of the article, we'll detail all changes and improvements to FIFA 22's Career mode, which includes the new Create Your Club feature, as well as an overhaul of the Player Career campaign.
You can now Create Your Club, picking a name, emblem, and designing your own stadium. You can choose your Board priorities and starting personnel's attributes, and either work your way up from the lower leagues or start out as a title contender.
Player Career now allows you to come on as a substitute, creating a more authentic experience with your role in the starting lineup adjusting depending on your performance. Progression has also been revamped, with Skill Trees enabling you to define your on-pitch presence and Perks adding additional buffs to further personalise your performance. Dressing Room atmosphere sequences have also been added to post-match sequences.
Transfer Negotiation scenes have been refreshed to add more drama and atmosphere to player signing situations.
Alex Scott provides flavour commentary from matches occurring around the league, while [PS5] additional cut-scenes have been incorporated to reflect milestone moments and key storylines within the league season.
Tifos will be dynamically created even for generated players, meaning all legends at a club will be celebrated and acknowledged by fans.
Ultimate Team
In this section of the article, we'll outline any and all changes to the FIFA 22's popular card-collecting mode, Ultimate Team. This is also known as FUT 22.
Division Rivals progression has been reinvented, utilising a Seasonal format that refreshes every six weeks. You now earn checkpoints within their division, meaning you'll always be playing against opponents at the right skill level for you.
FUT Champions has been redesigned as a week-long competition, with the addition of Play-Offs and Finals. You'll earn points in Division Rivals to qualify for the Play-Offs, which can be played at any time. Win enough matches, and you'll qualify for the Champions Finals, which works similarly to Weekend League.
Public Co-Op Squads allows you to compete alongside the wider FUT community, using pre-determined teams based on the latest cards in the game.
A new user interface aligns Squad Building Challenges alongside the Transfer market, and other quality-of-life improvements.
A new Player Item view reveals key attributes for a player, depending on their position. This allows you to make quick comparisons between different members of your squad.
Celebration Focus Camera means you can choose not to watch your opponent's celebrations, and focus instead on your own player's reactions.
New Stadium Customisations allow you to add a VIP Area to your ground, as well as more Tifos and greater personalisation of your crowd. In addition, Seasonal Themes enable you to unlock content based on a given style or topic, such as sci-fi. You can also search for items based on colour.
FUT Heroes are new legendary player cards that guarantee green chemistry with players from the same league, opening up some new squad building options.
New FUT Icons, including Wayne Rooney, Robin van Persie, Iker Cassilas, and Cafu.
Pro Clubs
In this section of the article, we'll detail all changes and improvements to FIFA 22's Pro Clubs mode, which allows you to pick a role and engage in 11 vs 11 matches against other teams and squads from around the world.
Drop-in co-op is now available with friends and up to four teammates, allowing you to play together and earn XP without affecting your club's rating.
Improvements to heat maps and player performance statistics, proving you with a more detailed analysis of your individual effort related to your position.
Up to three perks can be added to further personalise and buff your Pro Clubs avatar, allowing you to boost your performance in key areas like attacking and chance creation.
Archetypes, like perks, allow you to further define and personalise your avatar's playing style.
More club customisation options, allowing team managers to further define the identity of their team based on many of the personalisation options from Career mode and Ultimate Team.
More diversity to the Virtual Pro player creator, allowing you to create either and male or female avatar and play together without any statistical detriment.
VOLTA Football
In this section of the article, we'll detail all changes and improvements to FIFA 22's Volta Football mode, which is the series' street football spin-off, focusing on arcade-style high-scoring matches.
Skill Meter System rewards playing with flair, adding goal multipliers the more creatively you play during gameplay.
Signature Abilities augment your avatar with a power-up, depending on your chosen role. This can include Power Shots, Pure Pace, and Aggressive Tackling.
New celebrations allow avatars to interact after a goal, opening up all kinds of opportunities for high-fives, back-pats, and more.
The Volta Arcade adds a variety of football-themed minigames to the mode, all of which can be played locally and online.
Updated lobbies allow you to party up with pals in the new hub area, while the removal of positions allows you to be more fluid with where you want to play on the pitch.
Themed seasonal content adds new cosmetic clothing items and rewards, based on a topic or subject, like sci-fi.
---
Which of all changes and improvements from FIFA 21 in FIFA 22 are you most looking forward to? Find more in our FIFA 22 guide, and let us know in the comments section below.