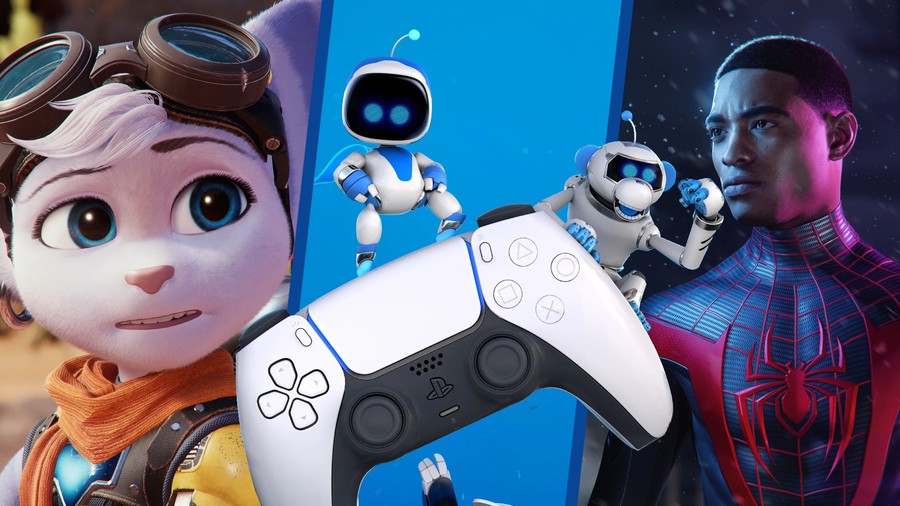 Yes, it really has been a full year since the launch of PlayStation 5. Sony's latest console debuted exactly a year ago today — in the US, at least — and we've been spending the last 12 months getting to know the white and black box. The question is: how is the PS5 faring after one year? Are all the fancy hardware features truly game-changing? Has the initial slate of software lived up to expectations? Let's go through everything and see how we're feeling about PS5, one year in.
Hardware and System Features
To be perfectly honest, we're still not 100 per cent sold on the PS5's outward appearance. It's not so much the contrasting white-on-black colouring, it's that asymmetrical, curved design. It's certainly a striking, dare we say iconic silhouette, particularly the standard console with a Blu-Ray drive, but it remains an odd object. Sitting alongside your sleek, flatscreen TV and the parallelogram PS4, it looks like it's from a different age altogether.
Still, whether you love or loathe PS5's physical design, it's what's under those white plates that really matters, and it's where the console begins to really shine.
SSD
One of PS5's signature features is its built-in, super-speedy SSD. A year ago, the solid-state drive was unmatched in terms of read and write speed, able to unpack data faster than anything else on the market, including high-end PC drives. The result at launch, and a year later, is a console capable of loading games and apps near-instantly, and it's something to which we've quickly grown accustomed.
Firing up basically any PS5 game, loading has very nearly become a thing of the past. While the odd loading screen does still appear, they're so significantly reduced that you barely have time to take a sip of your drink. Warping between areas in Demon's Souls takes just a couple of seconds; fast travel in Marvel's Spider-Man: Miles Morales is a simple fade-to-black and back again. The SSD has even informed the design of some games, such as Ratchet & Clank: Rift Apart and its super-impressive portals between planets. This feature alone has marked a big difference between current- and last-gen — we're not sure we could go back to PS4's lengthy loads after 12 months with PS5.
It does lose some points, though, because the amount of storage isn't really enough, potentially forcing you to delete older games to make room for new ones. This has been resolved recently with the ability to install extra SSD storage, but it's a costly practice, so if you can't afford the pricey SSDs, you're stuck with 800-odd GB, which isn't ideal.
Grade: A-
3D Audio

The PS5's Tempest engine promised a big step forward for spatial audio. While the PS4 of course supports stereo and surround sound, the PS5 is capable of more accurately placing sound within a game's world. It's a hard thing to describe, but it essentially gives you much better audial feedback, allowing you to hear where enemies are around you, for example. Of the PS5's signature bells and whistles, this one feels like it's yet to meet its real potential.
That's not to say it doesn't work — in fact, in some games it's genuinely great. With a half-decent set of headphones, games like Demon's Souls and Returnal really do offer a far richer soundscape. In the grand scheme of things, though, it does feel as though 3D audio hasn't really come into its own. A year on from launch, the functionality has been expanded to TV speakers, but whether you're running sound through your telly or a set of cans, there aren't many games that seem to properly take advantage.
It's a tricky one, as we think a game's audio mix and fundamental sound quality will play a big part in how well 3D audio plays out, so it's something that will vary wildly between titles. The Last of Us: Part II, for example, has fantastic spatial sound, outdoing native PS5 games like Assassin's Creed Valhalla. Add to that the millions of players who may experience sound differently, and it's no wonder it's tough to get it right. This is a feature that will hopefully continue to be built upon, as the potential remains very high.
Grade: B-
User Interface
The PS5's user interface is a pretty big departure from what we're used to on PS4, with some interesting new ideas aiming to keep players engaged in the experience. Navigating the majority of PS5's menus is pretty self-explanatory, and the big, 4K splash screens for each game do look lovely with the HDR-compatible UI. We would say, though, that the system's Activity Cards are somewhat hit and miss.
The Control Centre is easily accessible with a push of the PS button, and features a decent suite of quick options wherever you are on the system. Above this menu are context-sensitive Cards, and in some ways these have proven very useful. Though not all games support this, bringing up the Control Centre to see how much longer a certain mission will take, or how much progress you've made towards a Trophy, is neat and convenient. Game Help, a feature only for PS Plus members, is also a great addition, allowing developers to build guides for their games directly into the PS5. It's also very handy to select an Activity Card and start a game where you left off instantly rather than going through the motions of booting it up. Again, though, it's not something all software supports.
Where the Cards come a little unstuck is for other uses, such as partying up, or starting a voice chat. Some of PS5's social actions still feel more convoluted than they should. The Cards do give you access to all the options you need, but because of the way they're divided, it can be difficult to keep track of where all those options are. We suppose this will be something we'll continue to get used to, and could well improve in the years to come.
Grade: C+
Firmware Updates
As with the PS4 and PS3 before it, the PS5 has been subject to multiple system software updates. Some have been small, simply improving stability, while others have been huge, bringing new features and improvements in one fell swoop.
When it launched, the PS5 was frankly very buggy. We recall issues with controllers not charging, external hard drives causing trouble, and plenty of other odd rough edges. It's fair to say it launched in a relatively rough state. A lot of those problems have now been ironed out of course, and the system's firmware will only continue to improve going forward.
PS5 firmware 21.02-04 in particular was a big milestone, allowing users to upgrade the system's SSD storage, introducing 3D audio via TV speakers, vertical Trophy lists, and much, much more. Since then, we would say the console's system software has been in much better shape, but we still have plenty of ideas for how it could be improved.
Grade: B
DualSense Controller
Arguably the best thing about PS5 is its controller, the DualSense. Sporting the same white and black colour scheme as the machine itself, this pad is our favourite PlayStation controller to date, and we've loved using it over the last 12 months.
It feels wonderful to hold with that face symbol-textured back, vastly improved trigger buttons, and a larger size fitting snugly in the hands. However, it's the DualSense's innovative features that take the biscuit. Haptic feedback, when used effectively, is transformative, giving you far more nuanced rumble that's capable of replicating how something feels. You only need to play Astro's Playroom for five minutes to appreciate the difference it can make. You're able to discern changes in the character's footsteps on different surfaces, or feel the rain "hitting" the controller. Done right, it's pretty magical.
The adaptive triggers can be excellent as well, contextually changing how much pressure is needed in order to squeeze L2 and R2. In Returnal, this has allowed one button to have two functions, with a "stop" half-way down the button's travel. Ratchet & Clank makes liberal use of the triggers to give each of its outlandish weapons a unique feel.
What's most encouraging about the DualSense is that it's not just first-party teams putting its features to use. Tons of third-party games have been toying with the haptics and triggers, and while the quality of experience can vary, some efforts are truly great. WRC 10 (and WRC 9 before it) are elevated on PS5 by DualSense's capabilities, replicating the bumps and slides of rally racing wonderfully. Call of Duty: Black Ops Cold War is an impressive showcase for adaptive triggers, meanwhile, giving each gun unique feedback when fired. We're hopeful that developers, whether part of PlayStation Studios or not, will continue to hone the DualSense experience, as it's absolutely a defining part of PS5.
Grade: A
Games
Summing up a console's first year of software is no easy thing, but we'll try. A good place to start would be to compare it with PS4's inaugural 12 months, and it's in doing so that we can see a pretty clear difference. PlayStation president Jim Ryan has gone on record to say that PS5's launch lineup is the best the platform has ever had, and we're inclined to agree with him.
Something worth noting when considering the past year's video games is that they've all been produced and released amid the COVID-19 pandemic. Frankly, it's kind of a miracle that as many games made it to launch as they did; the virus will have severely slowed production on basically every title regardless of size. Considering the circumstances, the year of games we've had is really quite impressive.
PlayStation Studios and First-Party Games
Focusing on launch exclusives in particular, PS5 had Demon's Souls, Marvel's Spider-Man: Miles Morales, Marvel's Spider-Man Remastered, Sackboy: A Big Adventure, Godfall, and the pre-installed Astro's Playroom. All things considered, we'd say that's a stellar selection compared to PS4's Resogun, Flower, Sound Shapes, Killzone Shadow Fall, and Knack.
It's when you go beyond the games available day one that things get more interesting. In the intervening months, Sony has published a number of notable exclusives. Although Destruction AllStars proved to be a flop, that's pretty much the only dud among many fantastic titles. The Nioh Collection brought Team Ninja's great Souls-like RPGs to the console, Housemarque delivered its biggest game ever with Returnal, and Ratchet & Clank: Rift Apart really showed off the PS5's power. That's to say nothing of PS5 re-releases Ghost of Tsushima Director's Cut and Death Stranding Director's Cut.
As we said, there's barely a bad apple in the bunch, and things are looking similarly rosey when we look to the future. Gran Turismo 7, Horizon Forbidden West, and God of War Ragnarok are all looking excellent, and Marvel's Spider-Man 2 and Marvel's Wolverine, while further out, are almost guaranteed hits.
Grade: A-
Third-Party Games
It's impossible to go through everything of course, but it feels as though PS5 has enjoyed a prosperous first year when it comes to third-party software. Among the launch games were Call of Duty: Black Ops Cold War, Assassin's Creed Valhalla, DIRT 5, and The Pathless, with plenty more besides. By and large, the quality on offer was high, with lots of options for players on launch day.
Again, though, it's been a great year for PS5 titles. Hitman 3 got 2021 off to a flying start, Resident Evil Village continued the series' fine form, and Deathloop proved to be another cracking title from Arkane — even if we did grow weary of its numerous trailers.
While PS5 enjoyed the arrival of many original games, a big part of its catalogue in year one has been made up of re-releases. A swathe of PS4 titles migrated to PS5 with free upgrades, taking advantage of the extra power and new features. There are plenty of examples, but a few notable re-releases included Control: Ultimate Edition, Crash Bandicoot 4: It's About Time, and Yakuza: Like a Dragon.
Grade: B+
Overall, we would say PS5's first year of games has been excellent, although we've yet to play too many truly mind-blowing experiences. Don't get us wrong, there are many fantastic games, and it's arguably the strongest start for a new console we can remember. There just aren't many proper, face-melting, next-gen-has-arrived must-plays yet. It's early days yet, though, and we're super excited for what's to come. If we're getting the likes of Demon's Souls and Ratchet & Clank: Rift Apart in the first year, it bodes very well for the future.
PlayStation Plus
PS Plus is a big part of Sony's offering, with a huge percentage of PlayStation users subscribed to the service. The value proposition when you consider the sheer number of games members receive a year is inarguable. However, the calibre of titles given out each month can vary dramatically. So, how has PS5's first year of Plus been?
The first thing to consider is the PS Plus Collection, a PS5-exclusive benefit giving members access to 20 of PS4's best games from day one. In addition to the usual monthly rotation, members can enjoy the likes of God of War, Bloodborne, Uncharted 4: A Thief's End, Persona 5, Monster Hunter: World, and more. It's an awesome selection that really boosts the value of PS Plus on the new console.
What about the monthly games, then? Overall, we think PS5 has had a good start, with highlights including Bugsnax, Control: Ultimate Edition, A Plague Tale: Innocence, and Knockout City. That's without considering all the PS4 offerings, which are obviously backwards compatible, giving PS5 owners access to all three games each month instead of just one.
They're not all winners, though. Destruction AllStars, Hunter's Arena: Legends, and WWE 2K Battlegrounds weren't great, although everyone will have their own thoughts on which PS Plus titles have been worth it. Again, the service has been largely decent, and on PS5 especially, the value is definitely there.
Grade: B
Sales Performance
PS5's sales performance is rather interesting indeed. Sony made the decision to launch a brand new console in the throes of a global pandemic, a risky play that has ultimately paid off. While we're still feeling the ramifications of the situation, the PS5 has been an immense success.
As of September 2021, the console has sold more than 13.4 million units, which makes it the fastest-selling PlayStation in history. That would be impressive under normal circumstances, but Sony has achieved this with PS5 stock running in short supply for the entire year (more on that below).
While the console has been in and out of stock like a flickering lightbulb, Sony will still be popping champagne at those sales numbers. The company still has plenty of work to do in order to meet demand, but record-breaking sales in the current climate is not to be sniffed at.
Grade: A
Availability
On the flip side of the situation, PS5 consoles are incredibly difficult to purchase. Complications with component shortages and other manufacturing woes have meant the PS5 is a scarce and highly sought-after device. Demand far exceeds supply, and unfortunately it'll remain that way for the time being.
The console reappears at retail in fits and starts, with customers desperately trying to confirm an order within minutes, or even seconds, of the console coming into stock. It's a frustrating time for fans who just want to play those shiny new games, and unfortunately the situation hasn't improved much at all since launch. Of course, things will eventually smooth out as Sony improves its production line, but availability for the first year has been miserable.
Grade: D
---
That about wraps up our thoughts on PS5's first year. To conclude, we're very happy with how the console's doing so far, but we're excited to see how the console, and its games, evolve in years two and three. What about you? How are you finding PS5 after 12 months? What are some standout features and games? Discuss in the comments section below.