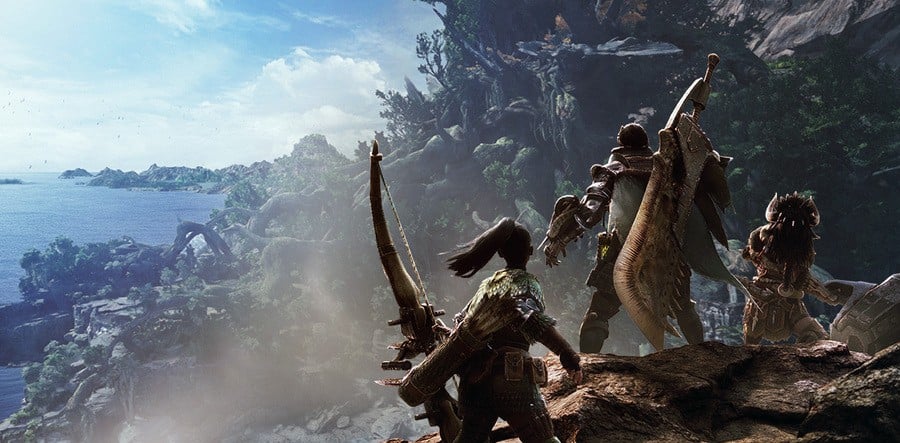 Monster Hunter: World is all about hunting, and as such you won't make it very far without having something pointy to stick in those nasty monsters.
How about two instead of just one? If one sword is 100, surely two swords is 200? Well, if that's your mentality, the Dual Blades are for you. 
These vicious weapons don't deal an awful lot of damage in a single strike, but more than make up for it with the sheer number of strikes. Check them out below to see if there's any you must have.
Dual Blades
Ore Tree
Weapons
Materials Required
Base Attack
Jewel Slots
Matched Slicers I
Iron Ore
112
0
Matched Slicers II
Iron Ore x 2
126
0
Matched Slicers III
Earth Crystal x 2 / Machalite Ore x 2 / Iron Ore x 5
140
0
Dual Slicers I
Dragonite Ore x 2 / Machalite Ore x 5 / Monster Bone M x 2
154
0
Dual Slicers II
Monster Bone+ x 2 / Dragonite Ore x 5 / Coral Crystal x 2 / Machalite Ore x 10
182
0
Dual Slicers III
Carbalite Ore x 8 / Dragonite Ore x 5 / Dragonvein Crystal x 2
196
3

Chrome Slicers I
Fucium Ore x 8 / Carbalite Ore x 5 / Dragonite Ore x 10 / Dragonvein Crystal x 3
224
1
Chrome Slicers II
Elder Dragon Blood x 2 / Fucium Ore x 13 / Carbalite Ore x 20 / Firecell Stone
252
2
Nergigante Tree
| Weapons | Materials Required | Base Attack | Jewel Slots |
| --- | --- | --- | --- |
| Nergal Gouge | Nergigante Carpace x 2 / Nergigante Regrowth Plate x 4 / Nergigante Tail x 2 / Nergigante Talon x 3 | 280 | 1 |
| Decimation Claws | Nergigante Gem / Nergigante Horn+ x 5 / Nergigante Talon x 5 / Xeno'jiiva Horn x 2 | 294 | 1 |
Tzitzi-Ya-Ku Tree
Weapons
Materials Required
Base Attack
Jewel Slots
Luminous Daggers I
Tzitzi-Ya-Ku Claw x 2 / Tzitzi-Ya-Ku Photophore / Tzitzi-Ya-Ku Scale x 3
168
0
Luminous Daggers II
Legiana Tail Webbing x 2 / Tzitzi-Ya-Ku Claw x 3 / Tzitzi-Ya-Ku Photophore x 2 / Sharp Claw x 3
196
0

Dual Destroyers I
Tzitzi-Ya-Ku Claw+ x 3 / Tzitzi-Ya-Ku Photophore+ / Tzitzi-Ya-Ku Scale+ x 5 / Lightcrystal
224
1
Dual Destroyers II
Legiana Wing x 2 / Tzitzi-Ya-Ku Claw+ x 4 / Tzitzi-Ya-Ku Photophore+ x 2 / Piercing Claw x 5
238
1
Dual Destroyers III
Bird Wyvern Gem / Daora Webbing x 2 / Tzitzi-Ya-Ku Claw+ x 5 / Tzitzi-Ya-Ku Photophore+ x 3
252
1
Bazelgeuse Tree
| Weapons | Materials Required | Base Attack | Jewel Slots |
| --- | --- | --- | --- |
| Rookslayer Handaxes | Bazelgeuse Fuse x 4 / Bazelgeuse Scale+ x 5 / Bazelgeuse Talon x 3 / Firecell Stone | 252 | 1 |
| Bazelhawk Rookslayer | Bazelgeuse Gem / Bazelgeuse Talon x 4 / Bazelgeuse Wing x 4 / Xeno'jiiva Wing x 3 | 280 | 1 |
Ice Element Tree
Weapons
Materials Required
Base Attack
Jewel Slots
Freeze Daggers I
Legiana Claw x 3 / Legiana Scale x 4 / Frost Sac x 2 / Coral Crystal x 3
182
0

Freeze Daggers II
Carbalite Ore x 5 / Legiana Tail Webbing x 2 / Legiana Webbing x 3 / Shamos Scale+ x 5
210
3
Freeze Chain I
Freezer Sac x 3 / Fucium Ore x 5 / Legiana Scale+ x 5 / Legiana Wing x 3
238
1
Freeze Chain II
Elder Dragon x 3 / Legiana Claw+ x 5 / Legiana Hide+ x 3 / Wyvern Gem
252
1
Kulu-Ya-Ku Tree
Weapons
Materials Required
Base Attack
Jewel Slots
Rending Beaks I
Kulu-Ya-Ku Beak / Kuku-Ya-Ku Hide x 2 / Kulu-Ya-Ku Scale x 3
154
0
Rending Beaks II
Radobaan Scale x 3 / Kulu-Ya-Ku Beak x 2 / Kulu-Ya-Ku Plume x 2 / Boulder Bone x 3
168
0
Rending Beaks III
Odogaron Claw x 2 / Kulu-Ya-Ku Beak x 2 / Kulu-Ya-Ku Plume x 4 / Warped Bone x 3
182
0
Arcanaria I
Kulu-Ya-Ku Beak+ x 3 / Kulu-Ya-Ku Hide+ x 4 / Kulu-Ya-Ku Scale+ x 6
210
0
Arcanaria II

Brutal Bone x 3 / Kulu-Ya-Ku Beak+ x 4 / Kulu-Ya-Ku Plume+ x 3 / Odogaron Claw+ x 2
224
0
Arcanaria III

Bird Wyvern Gem / Kulu-Ya-Ku Beak+ x 5 / Kulu-Ya-Ku Plume+ x 4 / Nergigante Talon x 2
238
0
Workshop Weapon Tree
| Weapons | Materials Required | Base Attack | Jewel Slots |
| --- | --- | --- | --- |
| Sworn Rapiers | Dragonite Ore x 3 / Machalite Ore x 5 / Earth Crystal x 6 / Lightcrystal | 182 | 0 |
| Sworn Rapiers+ | Carbalite Ore x 5 / Dragonvein Crystal x 4 / Coral Crystal x 8 / Commendation x 2 | 210 | 3 |
| Holy Sabers | High Commendation x 3 / Dragonvein Crystal x 6 / Wyvern Gem x 2 / Novacrystal x 2 | 252 | 1 |
Bone Tree
Weapons
Materials Required
Base Attack
Jewel Slots
Bone Hatchets I
Monster Bone S
140
0
Bone Hatchets II
Monster Bone S x 2
154
0
Bone Hatchets III
Monster Bone M x 2 / Ancient Bone
168
0
Wild Hatchets I
Monster Bone L / Monster Bone M x 5 / Boulder Bone x 2
196
0
Wild Hatchets II
Monster Bone+ x 2 / Monster Bone L / Sturdy Bone x 4
210
0
Wild Hatchets III
Monster Keenbone x 2 / Monster Bone+ x 2 / Quality Bone x 2
224
3

Strong Hatchets I
Monster Hardbone x 4 / Monster Keenbone x 6 / Quality Bone x 10
238
1
Strong Hatchets II
Monster Hardbone x 6 / Elder Dragon Bone x 4 / Quality Bone x 20 / Dragonbone Relic
266
1
Anjanath Tree
| Weapons | Materials Required | Base Attack | Jewel Slots |
| --- | --- | --- | --- |
| Blazing Hatchets I | Anjanath Fang x 2 / Anjanath Scale x 3 / Flame Sac | 196 | 0 |
| Blazing Hatchets II | Rathalos Marrow / Anjanath Fang x 4 / Anjanath Nosebone / Anjanath Tail | 210 | 0 |
| Anja Cyclone I | Anjanath Fang+ x 4 / Anjanath Scale+ x 5 / Inferno Sac x 3 / Anjanath Plate | 238 | 0 |
| Anja Cyclone II | Rathalos Medulla x 2 / Anjanath Fang+ x 5 / Anjanath Pelt+ x 4 / Firecell Stone | 266 | 0 |
| Anja Cyclone III | Teostra Mane x 2 / Anjanath Fang+ x 6 / Anjanath Nosebone+ x 2 / Anjanath Gem | 294 | 0 |
Diablos Tree
Weapons
Materials Required
Base Attack
Jewel Slots

Diablos Hatchets I
Twisted Horn / Diablos Fang x 2 / Diablos Shell x 4 / Monster Bone+ x 3
224
0
Diablos Hatchets II
Monster Keenbone x 4 / Diablos Ridge x 4 / Diablos Tailcase x 2 / Diablos Marrow
266
3
Diablos Clubs I
Blos Medulla / Diablos Carapace x 6 / Diablos Ridge+ x 5 / Majestic Horn x 3
294
1
Diablos Clubs II
Black Diablos Carapace x 4 / Black Spiral Horn+ x 3 / Nergigante Horn+ x 2 / Wyvern Gem
322
1
Jyuratodus Tree
Weapons
Materials Required
Base Attack
Jewel Slots
Madness Pangas I
Jyuratodus Fin / Jyuratodus Shell / Jyuratodus Scale x 3 / Aqua Sac
154
0
Madness Pangas II
Great Girros Hide x 2 / Jyuratodus Fin x 3 / Jyuratodus Shell x 3 / Gajau Skin x 3
182
0
Madness Pangas III
Monster Bone+ x 2 / Jyuratodus Fang x 4 / Jyuratodus Shell x 3 / Gajau Whisker x 3
210
0
Jyura Hatchets I
Gajau Scale x 5 / Jyuratodus Carapace x 2 / Jyuratodus Fin+ x 3 / Jyuratodus Scale+ x 5
238
1

Jyura Hatchets II
Grand Gajau Whisker x 3 / Jyuratodus Fin+ x 4 / Monster Hardbone x 3 / Torrent Sac x 3
252
1
Jyura Hatchets III
Elder Dragon Bone x 2 / Jyuratodus Fang+ x 5 / Jyuratodus Fin+ x 6 / Wyvern Gem
266
1
Lavasioth Tree
| Weapons | Materials Required | Base Attack | Jewel Slots |
| --- | --- | --- | --- |
| Lava Cyclone I | Lavasioth Fang+ x 2 / Lavasioth Fin+ x 2 / Lavasioth Scale+ x 4 | 252 | 2 |
| Lava Cyclone II | Lavasioth Fang+ x 3 / Lavasioth Fin+ x 3 / Teostra Mane x 2 / Wyvern Gem | 252 | 2 |
Hornetaur Tree
Weapons
Materials Required
Base Attack
Jewel Slots
Taurus Pangas I
Hornetaur Shell x 3 / Hornetaur Wing x 2 / Monster Fluid x 2
168
???
Taurus Pangas II
Odogaron Fang x 2 / Hornetaur Shell x 5 / Hornetaur Wing x 4 / Hornetaur Head x 2
182
???
Dark Ripper I
Hornetaur Carapace x 5 / Hornetaur Innerwing x 4 / Monster Broth x 2 / Dragonvein Crystal x 3
196
1

Dark Ripper II
Azure Rathalos Wing x 2 / Hornetaur Carapace x 5 / Hornetaur Innerwing x 4 / Novacrystal
210
1
Dark Ripper III
Hornetaur Carapace x 8 / Hornetaur Innerwing x 6 / Vaal Hazak Fang+ x 3 / Wyvern Gem
224
1
Tobi-Kadachi Tree
Weapons
Materials Required
Base Attack
Jewel Slots
Pulsar Hatchets I
Tobi-Kadachi Claw / Tobi-Kadachi Scale x 3 / Tobi-Kadachi Pelt x 2
154
0
Pulsar Hatchets II
Tobi-Kadachi Electrode x 2 / Tobi-Kadachi Claw x 3 / Electro Sac x 2 / Coral Crystal x 3
168
0
Pulsar Hatchets III
Monster Bone+ x 2 / Tobi-Kadachi Electrode x 2 / Tobi-Kadachi Membrane x 2 / Warped Bone x 2
196
0
Kadachi Claws I
Tobi-Kadachi Claw+ x 3 / Tobi-Kadachi Pelt+ x 3 / Tobi-Kadachi Scale+ x 4 / Dragonvein Crystal x 3
224
1
Kadachi Claws II

Majestic Horn x 2 / Thunder Sac x 3 / Tobi-Kadachi Claw+ x 4 / Tobi-Kadachi Electrode+ x 2
238
1
Kadachi Claws III
Nergigante Talon x 2 / Tobi-Kadachi Claw+ x 6 / Tobi-Kadachi Electrode+ x 4 / Wyvern Gem
252
1
Odogaron Tree
| Weapons | Materials Required | Base Attack | Jewel Slots |
| --- | --- | --- | --- |
| Garon Hatchets I | Odogaron Claw x 2 / Odogaron Scale x 4 / Odogaron Fang x 2 | 182 | 0 |
| Garon Hatchets II | Quality Bone x 5 / Odogaron Claw x 2 / Odogaron Tail x 2 / Odogaron Plate | 196 | 0 |
| Blood-drinker Chainblade |  / Odogaron Fang+ x 3 / Odogaron Scale+ x 8 / Dragonbone Relic | 210 | 0 |
| Sin | Odogaron Claw+ x 6 / Odogaron Fang+ x 5 / Odogaron Gem / Teostra Claw+ x 2 | 224 | 0 |
Dragonbone Tree
Weapons
Materials Required
Base Attack
Jewel Slots
Dragonbone Twinblades I
Warped Bone x 5 / Coral Bone x 5 / Boulder Bone x 5 / Ancient Bone x 5
140
0
Dragonbone Twinblades II
Monster Bone+ x 6 / Monster Bone L x 8 / Sturdy Bone x 8
168
0
Enduring Schism
Brutal Bone x 4 / Elder Dragon Bone x 10 / Dragonbone Relic x 2 / Wyvern Gem
196
2
Kirin Tree
| Weapons | Materials Required | Base Attack | Jewel Slots |
| --- | --- | --- | --- |
| Kirin Bolts | Kirin Thunderhorn x 3 / Kirin Hide x 3 / Kirin Tail / Lightcrystal | 154 | 0 |
| Kirin Bolts+ | Kirin Azure Horn x 4 / Kirin Hide+ x 5 / Kirin Mane x 4 / Dragonvein Crystal x 5 | 196 | 0 |
| Monarch | Kirin Azure Horn x 6 / Kirin Thundertail x 3 / Xeno'jiiva Shell x 4 / Novacrystal x 2 | 224 | 0 |
Zorah Magdaros Tree
| Weapons | Materials Required | Base Attack | Jewel Slots |
| --- | --- | --- | --- |
| Magda Ungulae I | Zorah Magdaros Heat Scale x 4 / Zorah Magdaros Carapace x 8 / Zorah Magdaros Magma x 4 / Zorah Magdaros Gem | 224 | 1 |
| Magda Ungulae II | Firecell Stone x 3 / Zorah Magdaros Ridge x 2 / Zorah Magdaros Pleura x 2 / Xeno'jiiva Shell x 4 | 308 | 1 |
Blacksteel Tree
Weapons
Materials Required
Base Attack
Jewel Slots

Blacksteel Twins I
Dragonvein Crystal x 10 / Earth Crystal x 10 / Coral Crystal x 10 / Lightcrystal
140
0
Blacksteel Twins II
Firecell Stone / Fucium Ore x 5 / Carbalite Ore x 10 / Wyvern Gem
154
0
Twin Nails
Daora Claw+ x 2 / Firecell Stone x 2 / Teostra Claw+ x 2 / Wyvern Gem
238
1
Fire and Ice
Daora Horn+ x 3 / Teostra Horn+ x 3 / Xeno'jiiva Claw x 2 / Novacrystal x 2
252
1
Xeno'jiiva Tree
| Weapons | Materials Required | Base Attack | Jewel Slots |
| --- | --- | --- | --- |
| Xeno Raqs | Xeno'jiiva Claw x 4 / Xeno'jiiva Gem / Xeno'jiiva Shell x 6 / Xeno'jiiva Tail x 2 | 238 | 2 |