(PS Mobile / PlayStation Mobile)
A retro first-person shooter for PlayStation Mobile.
Review
PAL Version
Posted by Ben Potter
All outta gum?
It's been a good 20 years since DOOM blasted its way onto the scene and laid the foundations for the rise of the first-person shooter. Some people may look back on its arrival with dismay given how stagnant the genre has become, but its legacy cannot be...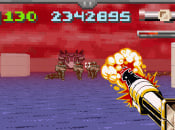 All outta gum
Fans of DOOM and Wolfenstein 3D will no doubt feel right at home with Gun Commando, an intriguing 8-bit first-person shooter heading to PlayStation Mobile this week. The title – developed by Green Hill Studios and Abstraction Games – is described as an "old-school, new-cool" adventure, which sees you assume the role of Jack...
Hold on there, you need to login to post a comment...