Description will appear here shortly...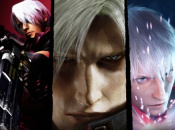 Bleached bombshell
We don't advise Dante loyalists watch this Devil May Cry HD Collection launch trailer. The mere sight of the white-haired protagonist acting like an utter bad-ass might well be enough to send you into an uncontrollable frenzy. If you do choose to watch it — and you do so at your own peril — can we please insist one thing:...
Hold on there, you need to login to post a comment...