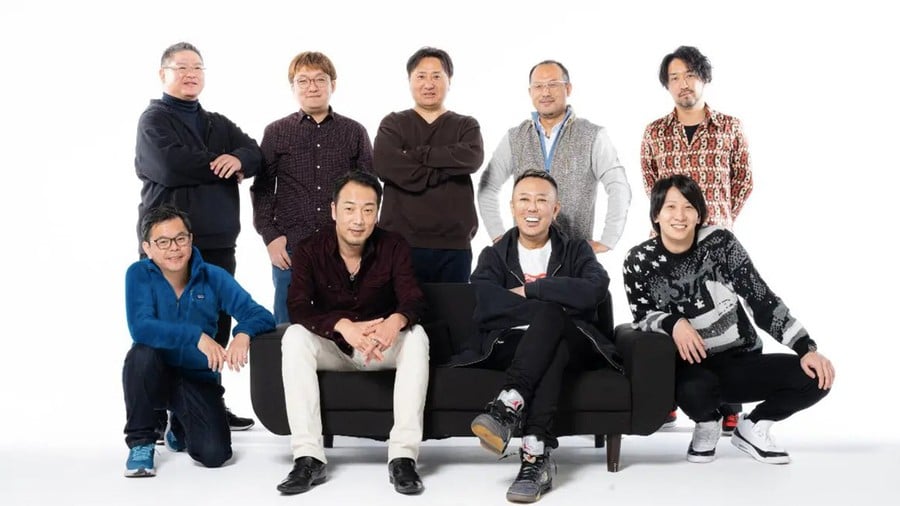 NetEase has now formally announced Nagoshi Studio after Yakuza creator Toshihiro Nagoshi left SEGA for the Chinese company last year. He will be joined by eight other developers from RGG Studio as founding members, and the team is hoping to reveal its first game as soon as possible.
The other eight members (pictured above) joining Nagoshi are Daisuke Sato (producer), Kazuki Hosokawa (artist), Koji Tokieda (programmer), Masao Shirosaki (game designer), Mitsunori Fujimoto (engineer), Naoki Someya (artist), Taichi Ushioda (director), and Toshihiro Ando (artist).
In an interview with Famitsu (Google translated), Toshihiro Nagoshi said he left SEGA in order to make a fresh start. "I decided to leave Sega, where I had been working for a long time, because I wanted to do something different than before. If you do the same thing, you can stay in Sega. To be honest, I still don't know if independence was early or too late at this time." He then goes on to speak about taking the "next step" with games; something which wasn't so easy to do with SEGA.
Nagoshi explains how big publishers have to draft up business plans years in advance and carefully consider the budget and content of the game. "One of the reasons for becoming independent as a development studio this time is that I strongly wanted to develop games without considering such prerequisites. When I talked to the people of NetEase Games who contributed, I clearly emphasized that 'I want to do it with our own methodology for creatives', and they agreed with it."
As for when we'll hear about Nagoshi Studio's first game, Nagoshi said he would like to announce it as soon as possible. "There is a flow from the first announcement to the release of the game, and I think that it is entertainment including what kind of information and how to get it out. So, I can't say anything at the moment, but I would like to prepare a mechanism that will surprise everyone at the timing of the announcement of the first work. I hope you can expect it."
Do you hope Nagoshi Studio develops a title similar to the Yakuza series or makes something entirely different? Share your thoughts in the comments below.
[source famitsu.com]