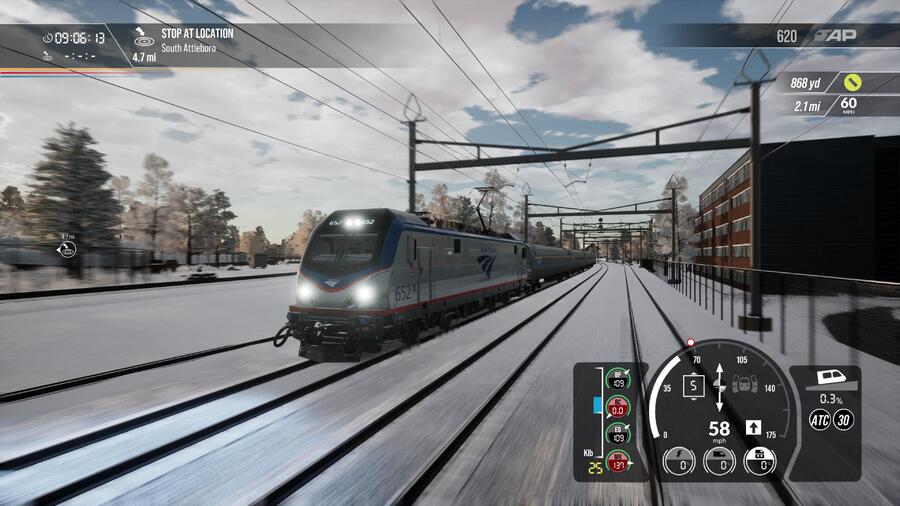 In a period where public transport has been discouraged, Train Sim World 2 has provided PlayStation owners with a means to get out and about. The video game industry as a whole has enjoyed a boost from the pandemic, with more and more people staying indoors and seeking home entertainment. But developer Dovetail's rail simulation, with its variety of routes from around the world, delivered some much-needed normality during extraordinary times. It's something that Senior Producer Matt Peddlesden has heard from fans.
"I personally had a lot of people message me, and say how much having the game available has meant to them, particularly [during the pandemic]," he tells us. "[The game has] become something you can chill out with or zone out to, so you stop worrying about things and you can just focus on this one train going down a line. It's almost like counting sheep when you're trying to go to sleep, so people have found it very calming."
We were chatting to Peddlesden prior to the release of Train Sim World 2's release on PlayStation 5 late last month. The studio timed the rollout to coincide with its Rush Hour expansion, a trio of routes spanning the US, UK, and Germany. The Boston Sprinter – which services the Northeast Corridor, from Boston through Providence – is already available, with Nahverkehr Dresden to follow later this week. But just what is Rush Hour in the first place?
"I guess you could bring that down to two key components," Peddlesden starts. "One of them is more trains. Generally, when we make a timetable, we focus on delivering the trains that you're playing but not the ones you're not going to play. And what that means is you get more services, but generally in a quieter environment."
He continues: "With regards to Rush Hour, we've tried to put extra effort into bringing all of the non-playable trains as well. So, in the Boston Sprinter release, there are around 180 playable services, but there's about 700 in total. So there's like 500 AI trains running around, and this is all based on the real time table. In real-life, Boston is absolutely heaving with trains all the time, and that's what Rush Hour really means."
The second component pertains to the sheer number of commuters getting on and off the trains. "On the PS4, we limited the number of dynamic characters on the platform to 20," he says. "So we did an overhaul of the passenger system so we can get more models on the screen at once. Now you get 100 passengers on the PS4, and even more on the PS5."
Taking control of the iconic MBTA F40PH-3C, the overall increase in passengers getting on and off trains is immediately obvious. While we can't say we ever particularly noticed the lack of commuters in past routes, the difference is stark once you see a bustling platform in this Rush Hour add-on – particularly on the PS5, where stations are bursting with life. With so many people, the variety of models is important, something Dovetail has addressed.
"As you add more people to the platform, you become more aware that they're all the same," laughs Peddlesden. "The variety comes from a number of different places: different colour t-shirts, patterns, and so forth. There are also different outfits on top of that, and we've fixed up the weather system so that people will wear winter clothes when it's cooler."
It's not perfect, and you will see passengers overlap and clip into scenery as they follow their routines, but as long as you don't overanalyse, the game definitely does inject more immersion into peak periods. As mentioned, you'll also witness a lot more rails running on the lines alongside you, which not only helps to embed you into the experience of being part of a busy railway, but also has gameplay implications: you'll need to deal with more signals, for example.
Running on the PS5, the visual fidelity is boosted across the board, and noticeably so. While the game doesn't have the budget to rival the likes of Microsoft Flight Simulator, the train models are intricately detailed and many of the stations are meticulously recreated. While it's not a part of the Rush Hour expansion, the recent Cane Creek add-on servicing the Potash area looks absolutely sublime on Sony's next-gen console.
Unfortunately, the higher resolution does come at the expense of performance issues. We noticed that the framerate is extremely variable, where it was running at a mostly robust 60 frames-per-second through backwards compatibility, which is a shame. The framerate does seem to only drop at busy stations, although even with the improvements to asset streaming powered by the SSD, there is still some hitching at high speeds as well.
Clearly there's more optimisation for Dovetail to do, then, but it's running Train Sim World 2 as a service these days – and that's evidenced by the way in which the UI has been given a facelift. It's now much easier to manage your purchased routes, and there are also a lot more ways to digest information at a glance from the pause screen. Supposedly there are new Shift commands for the outside camera view as well, but frankly we haven't been able to figure this out.
And yet, there's obviously more the developer could do to improve the immersion on the PS5 – it's just whether it'll have the budget and resources to do so. We asked Peddlesden about the DualSense for example, and whether its adaptive triggers could be mapped to reflect the resistance of throttles and levers: "It's something I want to look at but it's not on the roadmap at the moment."
And what of Sony's next-gen virtual reality headset? "It'd be phenomenal, wouldn't it?" he muses, revealing that he's a big fan of playing games in VR at home. "It pains me greatly that the game isn't in VR. The sad reality is that train simulators are still a relatively niche area and the number of people who've got VR headsets is niche as well. When it's the right time, we're ready to go – but it's not really the right time, both for the audience of VR and for us. I'm a huge fan, though."
Even without the addition of VR, though, we've found ourselves losing more and more hours to Train Sim World 2 over the past year. With its new Rush Hour routes, Dovetail has managed to pack even more immersion into an already excellent escapist experience. And while there are faults with this PS5 port, it doesn't sound like Dovetail is done yet – clearly from what we've experienced, and from what Peddlesden is saying, the game is on the right track.
---
Thanks so much to Matt Peddlesden for taking time to speak to us, and to Dovetail for providing a PS5 review code so we could try the Boston Sprinter out for ourselves. This interview has been lightly edited for conciseness and readability.