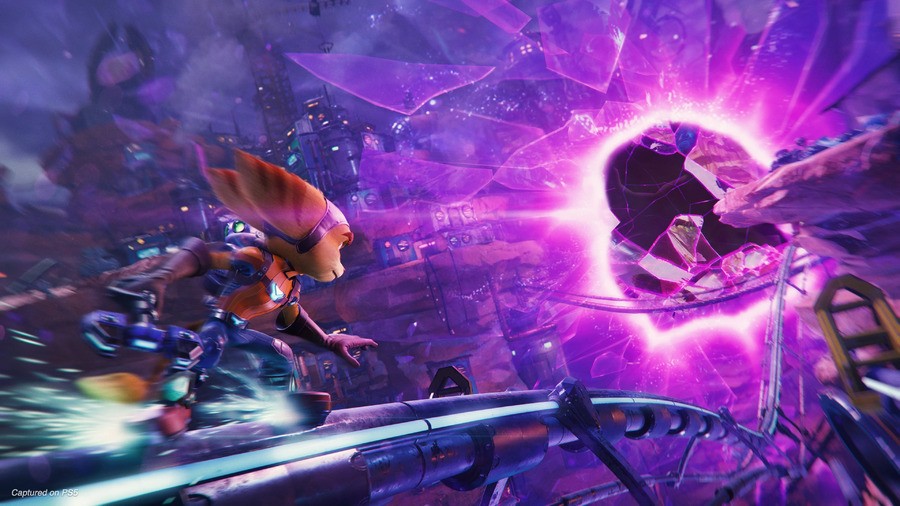 Ratchet & Clank: Rift Apart is one of the few PlayStation 5 exclusives Sony has released. The game – which leverages every facet of the Japanese manufacturer's new hardware – was said to be impossible to achieve on the PS4, but TT Games founder Jon Burton – who left the UK studio in 2019 after a 30 year tenure – argues that's "misleading".
The experienced programmer explains that the "amazing sequences of Ratchet zipping between many other worlds all chained together into awesome action sequences" are "mostly just cutscenes or very short sections of very limited gameplay". Meanwhile, the Pocket Dimensions are "really graphically basic, and in fact just seem to use a lot of the same generic objects like crates that would already be available in generic memory".
He goes on to get a bit more technical about the set-piece transitions, like a section where Ratchet leaps from a Speetle to a grind rail: "The important thing to note here is that none of this is optional, it's forced. This is important because it means you can pre-load the grind rail section while you are playing the Speetle section. In fact, every section of this sequence is both forced and small."
Burton does concede that there's no doubt the SSD is being used to optimise everything, but concludes that "pretty simple techniques can be used to achieve exactly the same thing on older hardware", including the PS3. In fact, he goes on to show a sequence he designed for LEGO Star Wars III: The Clone Wars which utilises similar tricks.
Writing in the comments of the video, the veteran did go on to stress that he thinks the game is "great" and that Insomniac is an "amazing team". "The SSD is fully used enabling an amazing looking game with unbelievable graphics," he said. "The one thing I take exception to is the marketing saying the gameplay is only possible on the PS5 with an SSD. That clearly isn't true."
[source youtube.com, via videogameschronicle.com]