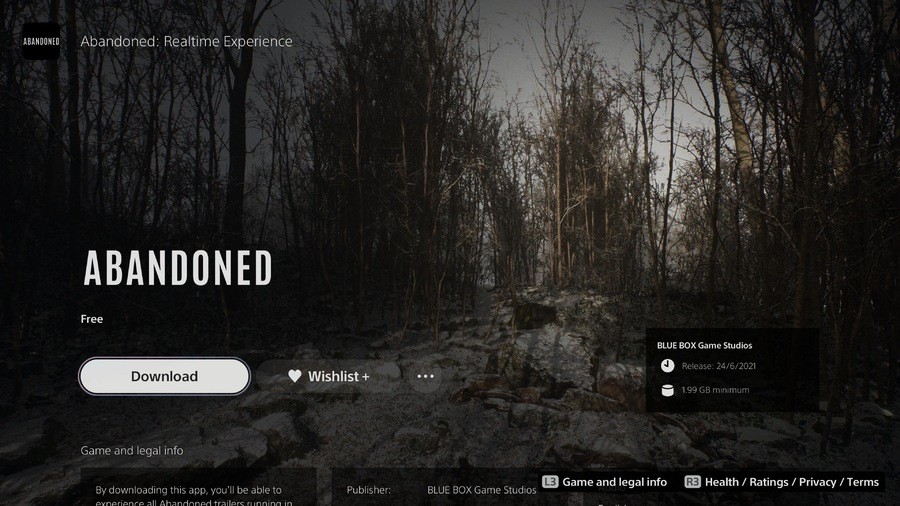 The first footage of mysterious PlayStation 5 survival game Abandoned was supposed to debut this week, as part of an update to the previously released Realtime Experience app. The idea, as we understand it, was that fans would be able to watch the trailer rendered in realtime on their console, rather than simply on YouTube.
However, over two days later, Dutch developer Blue Box Game Studios is still struggling with what it describes as "technical issues". Taking to Twitter it urged calm, and reiterated that it's "100 per cent real" – presumably in response to some fans who have started to question whether the team even exists.
"We dealt with multiple engine issues that occurred last minute after we spotted a graphical glitch," the studio said, explaining the reason for the trailer's delay. "For that we wanted to do a quick update. We are almost there as most of the testing is completed. We would like to thank you again for the patience [sic] and apologise for the inconvenience."
Earlier this week, the team said that the trailer hadn't been delayed – even though it has, quite clearly, been delayed. It's going to be fascinating to see how this story ends, but social media engagement continues to be through the roof – even if the final product disappoints, we reckon Blue Box Game Studios has a future in viral marketing for sure.
[source twitter.com]