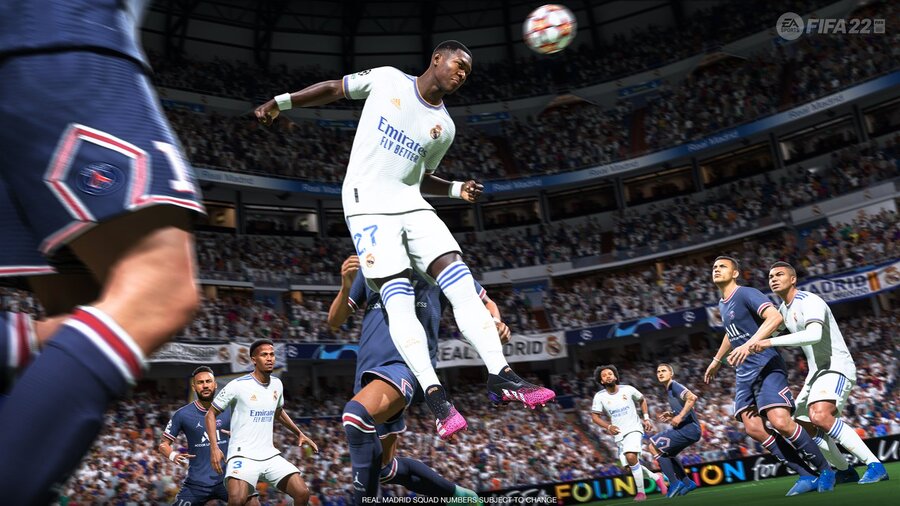 You'll be familiar with the cycle by now: EA Sports announces a new FIFA with a bunch of ambitious and eye-catching buzzwords, then the game releases and the community lambasts it. HyperMotion Technology is the latest marketing term coined by the juggernaut publisher for FIFA 22, and as usual, on paper it sounds transformative.
It's worth noting that this technology, much like Madden NFL 22's Next-Gen Stats, is reserved for the PlayStation 5 only – expect a different experience on last-gen consoles like the PS4. So what actually is HyperMotion Technology, then, and how will it improve the gameplay? Well, EA Sports claims that it's used innovative motion capture to record the movement of 22 players in a real-life match scenario. Pretty cool.
Here's where it gets interesting, though: the publisher claims that it's using machine learning to write bespoke animations on the fly based on what's happening on the pitch. This means, effectively, that depending on any given scenario, the game will "create" new animations in real-time to make for a more organic and realistic experience.
This is something we'll need to see in motion to truly judge – and the little snippets of gameplay on EA Sports' website frankly don't inspire much confidence – but conceptually it does sound interesting. It effectively means that rather than being locked into very specific, pre-recorded animations, there are an almost infinite number of ways players can respond, which should give matches a more lifelike feel.
Furthermore, FIFA 22 is apparently using Sony's next-gen console to power more tactical AI, meaning attackers will "make up to 6x more decisions per second", allowing them to better find space or react quicker to loose balls. This same level of intelligence will be applied to defenders as well, as they move to cover vacant space and work as a unit to keep a strong back line.
Other gameplay-based improvements include more realistic aerial duels, better ball control animations, and greater humanisation, which will see players pointing and talking to each other depending on the context of the match. As mentioned above, it all sounds impressive on paper, but how much it'll actually matter on the field remains to be seen.
[source ea.com]