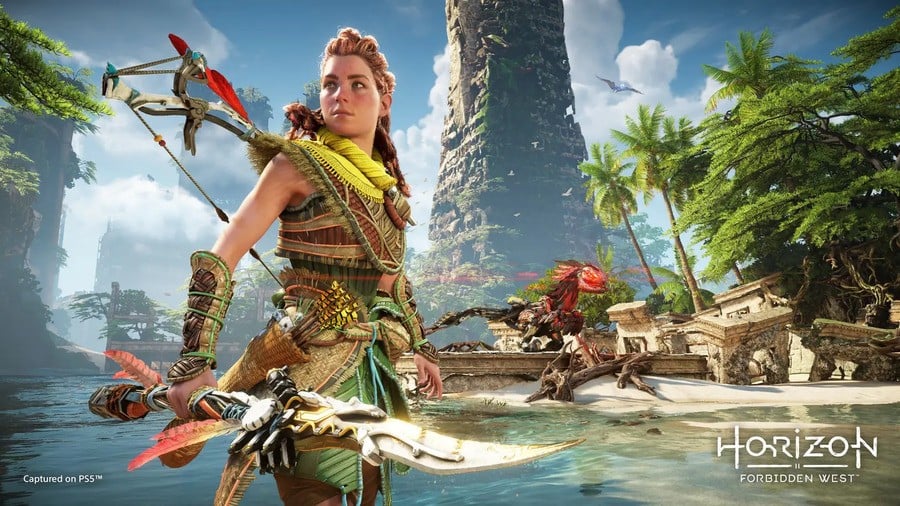 "We believe in generations." It's another quote from PlayStation boss Jim Ryan that will likely haunt him for the rest of his career, similar to the comments he made about some classic Gran Turismo games a half-decade ago. The executive's generational declaration must be considered in context: it was publicised at a time when Microsoft announced that it would continue to support the Xbox One with its first-party titles for the foreseeable future. PlayStation 5, according to Ryan and his suited subordinates, would be different.
And, to cut the corporate figures some slack, it has been. The platform holder has published titles like Demon's Souls, Destruction AllStars, and Returnal in this generation already, with Ratchet & Clank: Rift Apart due out in a couple of weeks – all four are playable only on a PS5, taking full advantage of all its features. The problem is that, once Insomniac Games' dimension-shifting Lombax leaps onto the next-gen console later this month, it's unclear when Sony will publish a true PS5 game again. Comments from PlayStation Studios boss Hermen Hulst suggest that, like Horizon Forbidden West, key titles such as God of War Ragnarok and Gran Turismo 7 will release on PS4 next year. We've requested comment from the company.
For many, this has come as a startling revelation, who feel that Sony has lied to them. The messaging, even if we're extraordinarily kind to the company, has been poor: "We have always said that we believe in generations," Ryan told GamesIndustry.biz in an interview approximately a year ago. "We believe that when you go to all the trouble of creating a next-gen console, it should include features and benefits that the previous generation does not include. And that, in our view, people should make games that can make the most of those features. We are thinking that it is time to give the PlayStation community something new, something different, that can really only be enjoyed on PS5."
Of course, confirmation that titles like Marvel's Spider-Man: Miles Morales, Horizon Forbidden West, and Sackboy: A Big Adventure would also be playable on PS4 drew a thick red line through that statement many months ago. But it's important to remember what else Ryan was saying at the time: "We have always felt that we had a responsibility to serve that [PS4] community for several years after the launch of PS5 and that it represented a huge business opportunity for us," he said in the exact same interview. "The numbers are quite straightforward. If you say in broad brush figures that we have a community of 100 million PS4 owners right now, and in the first couple of years […] I don't know, somewhere between 15 and 25 million might migrate to PS5, that still leaves a huge number of people with PS4s."
The reality is that, due to a chip shortage caused by the ongoing pandemic, the transition from the PS4 to the PS5 has been slower than perhaps Sony intended. The Japanese giant had sold 7.8 million next-gen consoles as of 31st March, beating the PS4's record across the same timeframe. However, there are still millions upon millions of PS4 owners who have been unable to get the new system. That, according to Hulst, is one of the justifications for continuing to support its previous console: "You can't build a community of over 110 million PS4 owners and then just walk away from it, right? I think that'd be bad news for fans of PS4, and frankly not very good business."
But while this is good news for the millions of people still playing on the PS4, those who have paid a premium to purchase the PS5 early in the generation may feel misled. Games like Gran Turismo 7 were advertised as exclusives; that's no longer the case. Horizon Forbidden West enjoyed an exceptional showcase on PS5 during a State of Play last week, but there are still questions over what developer Guerrilla Games could have achieved if it wasn't forced to target ageing hardware. Unfortunately, it's the kind of question we'll never know the answer to.
One thing that's important to remember is that games do take a long time to make, and it's likely when God of War Ragnarok, Gran Turismo 7, and Horizon Forbidden West were given the go-ahead, they were all pitched with the PS4 in mind. Had those last-gen versions been quietly cancelled behind-the-scenes, without their existence ever being publicised, the final products would likely be identical – it's just, for disgruntled PS5 owners, the ignorance would be bliss. Yet, Sony has been all-too eager to promote the advantages of Ratchet & Clank: Rift Apart's exclusivity, so it's entirely natural to ponder what could have been – that's a question of the organisation's own making.
It's worth mentioning that, if we remove Sony's own misleading statements from the equation, this transition hasn't been all that different to what the company's done before: God of War 2, one of the company's biggest productions at the time, launched exclusively on PS2 some six months after the PS3 had released; Gran Turismo 6 launched exclusively on the PS3 shortly after the PS4 had deployed. There is, also, a history of cross-gen content from the company – the likes of LittleBigPlanet 3, for example, spring to mind. PlayStation has always promised ten year lifespans for its systems, and some of that has meant ongoing first-party support.
So, clearly the existence of Demon's Souls, Destruction AllStars, Returnal, and Ratchet & Clank: Rift Apart illustrate that Sony does believe in generations – but the company knew what it was doing when it made that statement, and now it's paying the price with poor publicity. The pandemic may have pushed God of War Ragnarok out of its intended release window, and semi-conductor shortages may mean that the transition to its next-gen console hasn't quite gone according to plan. But all disclaimers aside, it's fair for fans to question: when is the next true PS5 exclusive coming after Ratchet & Clank: Rift Apart? And exactly when can we expect all of the company's titles to take full advantage of its next-gen hardware?
---
Do you think Sony lied about the transition to PS5? Do you still think it believes in generations? Was the company simply misleading with its marketing? Don't release on PS4 in the comments section below.