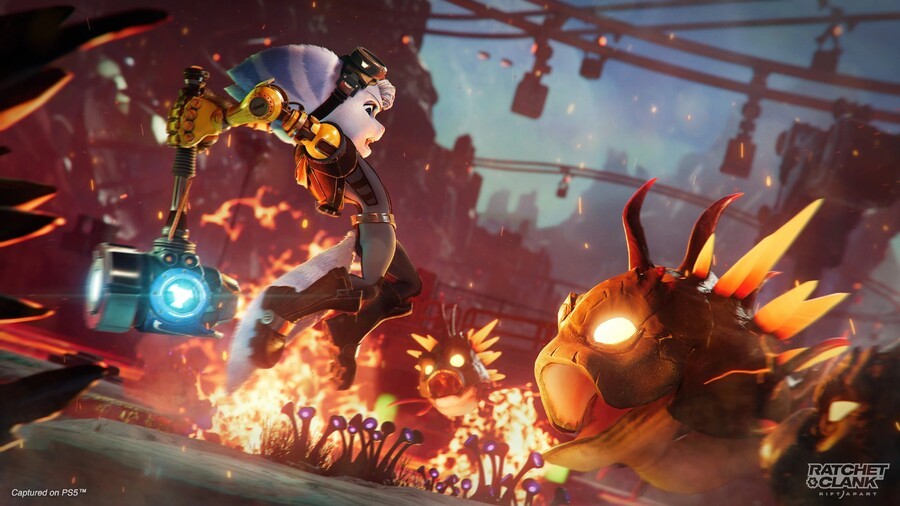 Ratchet & Clank: Rift Apart is out in less than a month, and we seriously can't wait. The PlayStation 5 exclusive looks awesome, with the series' typical charm and vibrance on full display, amplified by the new console's extra grunt. You can read up our thoughts on the action platformer in our hands-off preview, but yeah, we're excited.
Anyway, Sony's next big exclusive game looks to share something in common with its stablemates. According to game director Mike Daly, Rift Apart will have a pretty straightforward Trophy list, and an easily attainable Platinum.
"I can say our Trophy design for this game is again, pretty permissive," he tells IGN India, adding that it's possible to get all the game's Trophies "on one playthrough". Daly does stipulate that, if players want to do that, they'll still need to "be pretty thorough in how you approach the game", meaning you'll have to spend some time fully exploring the PS5 title if you want a complete Trophy cabinet. "If you are the type of player who just really embraces the game and loves it, we are going to make it possible to get the Platinum without wasting your time," says Daly.
However, he says that there will be further challenges for players looking to crank up the difficulty. Daly describes what sounds like a New Game Plus mode: "We've got a challenge mode that lets you start from the beginning of the story again, but with your complete leveled up hero and arsenal, and a handful of gadgets." He also points out the game will have "a wide variety of difficulty settings", so even if the Platinum Trophy is pretty easy, Rift Apart will have other ways to put you through your paces.
The idea of a straightforward Trophy list is something Sony has been acting on for a few years now, and if you ask us, the platform holder's first-party titles tend to have the best sets of trinkets. We're pleased this will continue with R&C — that Plat will look very nice on our digital shelf.
[source in.ign.com, via glitched.online]