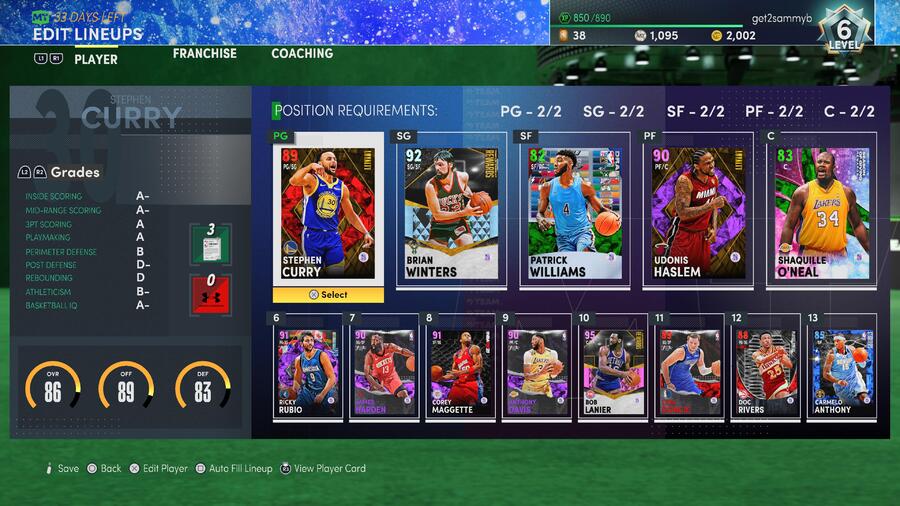 Confession: I play a lot of sports games, and I like Ultimate Team. There, I said it. Whether it's building a roster of sluggers in MLB The Show 20's devilishly addictive Diamond Dynasty or developing a dream team in NBA 2K21's massive MyTeam, the card collecting modes remind me of my childhood, when I spent most of my time on the playground swapping Premier League stickers with pals. Look, it's fun assembling squads of all-stars, and then seeing how they compete online against other players – it just is.
Allow me to clarify: I've been playing these modes across dozens of different sports games for well over five years now, and I've always enjoyed them without spending a single dime. For example, NBA 2K is great at giving away Locker Codes, which can be used to unlock free packs that you can build a decent enough team with. I generally find that it's much easier to build a quality squad for free in the American sports games, because the pool of players is much smaller.
So, for example, I have Golden State Warriors point guard Steph Curry and Chicago Bulls legend Michael Jordan in my NBA 2K21 team. I've also got late-70s Milwaukee Bucks shooting guard Brian Winters as part of my rotation, and let me tell you he's an absolute baller at hitting threes from the perimeter. I've been having a lot of fun with my team, and while I'm never going to win any esports tournaments, I enjoy completing the many single player challenges available with my players.
And that brings me to my second confession: I recently spent money on Ultimate Team for the first time. I've had a pretty extended break from FIFA these past few years, despite being a regular player on the PlayStation 2, PlayStation 3, and early PlayStation 4 era. The series' gameplay got a bit stale for me, and I still feel it falls short of eFootball PES 2021 Season Update in a lot of areas. But there's no doubt that its official licensing holds a lot of appeal.
This is where I feel FIFA 21's Ultimate Team mode differs from Madden NFL 21, NBA 2K21, and MLB The Show 20 the most. While reviewing EA Sports' flagship American football simulation for the PS5, I opened a pack that I'd accumulated from completing various PS4 challenges earlier in the year, and I pulled Miami Dolphins hall of famer Dan Marino. In fact, he's temporarily replaced my previous starting quarterback Kyler Murray, although I may yet go back to the Arizona Cardinal as he's so devastating on the run.
In FIFA 21, though, so deep does its pool of players run that a fairly expensive Deluxe Gold pack can pull you Czech defensive midfielder Tomáš Souček – and not Kylian Mbappé. In fact, while developing my squad, I was recently looking for a pacey attacker, and considered Dutch forward Memphis Depay who I could integrate into my chemistry scheme. In his Team of the Week form, you're looking at about 70,000 coins for him, which is roughly the equivalent of about 100 matches – assuming you're winning well and have some multipliers to use.
And this is where the economy gets both fascinating and a little dodgy. I did spend some money on Ultimate Team, with the hope of pulling some rare cards I could sell on the marketplace in order to buy the attacker that I needed. According to probability odds, I had a less than 1 per cent chance of securing a Champions League Team of the Tournament player, which would have earned me the most money on the marketplace.
After investing about £15 (~$20) of my own money, I ended up with a much larger library of cards, but many had little value. For example, I pulled Gianluigi Buffon, a goalkeeper I've enjoyed watching play for many years now – but in his Rare Gold form he's only worth about 750 coins. I'm currently using him as a backup goalkeeper because he's worth more to my actual squad than the meagre coins return I'll get for him on the marketplace.
However, considering I'd spent money in an attempt to improve my team, it's interesting how little I got in return. With the American sports games, there are rare players, but you only need to open up a few packs to get a true superstar; with FIFA 21, you're basically going to have to be insanely lucky or dedicate your life to the game to build a squad of world renowned talent. You can fiddle the transfer market – Wilfried Zaha's stock is up a bit right now after his real-life double at the weekend – but who really has time for this?
Still, I'd be lying if I said I wasn't having fun with it all. For all of the arguments against Ultimate Team – and I completely understand and respect them all – there's a feeling of exhilaration when you open these packs that I don't really get from other games. It's weird feeling like you have something of value, even though it's effectively a line of code and a small PNG photograph. Maybe I'll be able to flip my Jack Grealish for a profit if Aston Villa continue to perform well in the Premier League?
I do think all sports games developers have a responsibility to police their communities before things go too far, because there's no question that these modes border on gambling. I think the American sports, with their smaller pools of players, are pretty much fine right now – I've never really felt compelled to spend money on them. FIFA 21 is a different beast entirely; it's beautiful in an ugly way, and I fear I may have dipped my toe too deeply already.
Will I spend again? I probably will, but I'll be checking myself and keeping a close eye on how much I invest. At the end of the day, I'm not a professional FIFA player – heck, I'm not even particularly good at the game anyway – so having an attack led by Marcus Rashford and Lionel Messi isn't going to do that much to improve my performances. But I liked opening sticker packs as a kid, and guess what? I still enjoy that. There's no harm if I'm having fun, is there?
---
What are your thoughts on Ultimate Team modes? Which one is your favourite, and have you ever been compelled to spend real money on it? Be honest in the comments section below.