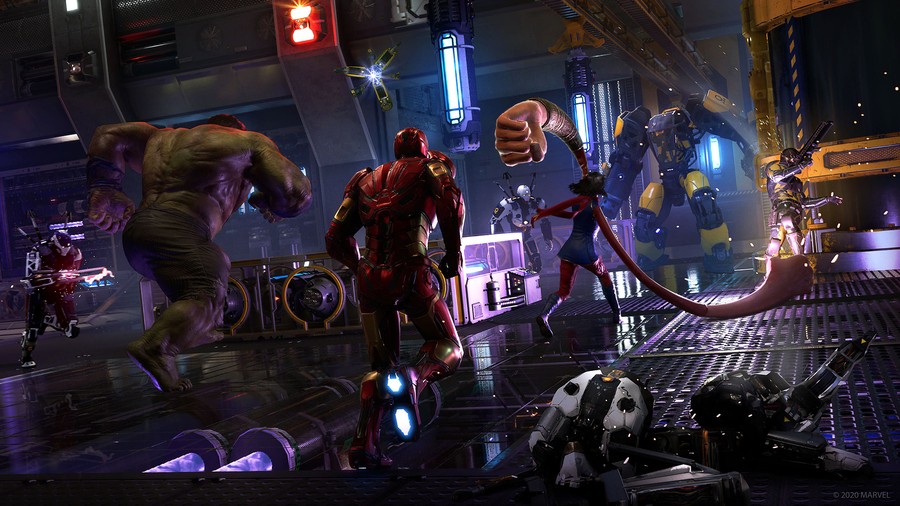 Crystal Dynamics has always promised that the superheroes added to Marvel's Avengers after launch will always be free, but what it didn't tell us until now is that the cosmetics associated with those characters will have to be unlocked via a purchasable Battle Pass. Titled Hero Challenge Cards, completing daily and weekly challenges will level it up and thus unlock new items to equip the associated superhero with. That's standard stuff for these sorts of progression paths, and this approach sounds fair considering you'll be earning Credits through the base game's six superheroes.
As part of a new blog post on the game's official website, it is stated that the six superheroes arriving in the base game will all have their Hero Challenge Cards unlocked straight away. Starting with Hawkeye, you'll then need to purchase these cards separately for 1,000 Credits. This currency can only be obtained through unlocks on other Battle Passes or with real-world money -- $5 will net you 500 Credits. That means a single Hero Challenge Card works out at exactly $10.
To be clear, the character itself and the story, gameplay mechanics, and locations associated with them will be free of charge. But if you want to customise that superhero with unlocks and decals, you will then need to start splashing the cash. 40 tiers will net you outfits, takedowns, nameplates, emotes, and more. The developer goes on to say that if you reach the maximum tier, you will eventually earn all of your Credits back.
These Hero Challenge Cards won't be replaced either, meaning you have all the time in the world to unlock everything they have to offer. Theoretically, if you complete all of the six Hero Challenge Cards for the base superheroes, you won't have to spend any money on Credits for a significant amount of time. And, of course, a handful of the 40 tiers will be free to all users.
How do you react to this? Do you think it's a fair way of going about microtransactions and Battle Passes? Share your thoughts in the comments below.
[source avengers.square-enix-games.com]