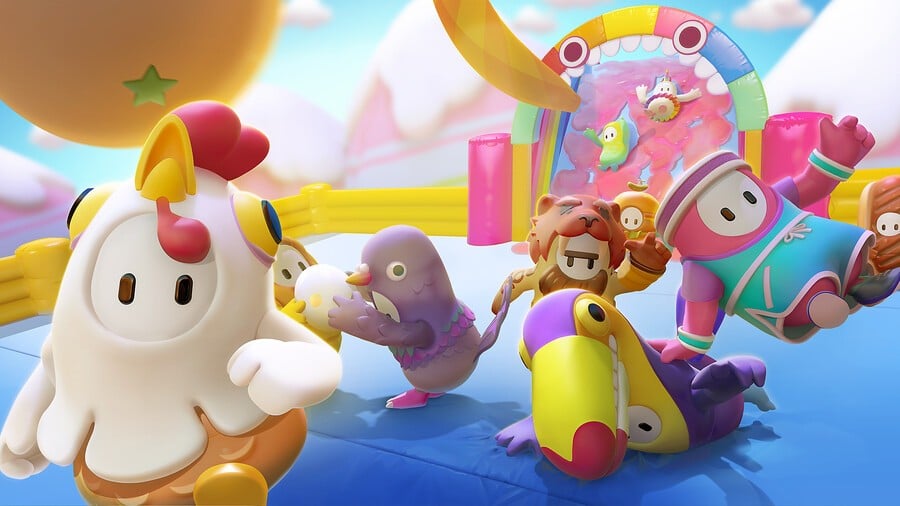 Fall Guys will be one of the two PlayStation 4 titles available as part of the August 2020 PS Plus lineup, and it couldn't be better suited to the service. We've been putting this comical 60-player Battle Royale title through its paces over the past couple of days through a closed beta, taking part in every event possible and gunning for first place on more than a couple of occasions. And what we've found is the literal definition of a "just one more game" sort of experience. Packed full of fun and laugh out loud moments to be enjoyed alone or with friends, it really does feel like Rocket League has finally met its match.
But let's double back for a second. What is Fall Guys? We bet that as soon as you hear the term of Battle Royale, you think of Fortnite, Apex Legends, and Call of Duty: Warzone. Sure, the next PS4 game from developer Mediatonic does fall into the same category, but this is a completely different take on the concept. Think along the lines of Takeshi's Castle and Total Wipeout to be exact. Five different rounds of mayhem are used to determine a winner, except Fall Guys really is a case where the taking part is what counts most.
That's because, simply put: it is so, so much fun. Every event leading up the final showdown comes with its own unique twist on how to eliminate players. Things start off relatively simple with a variety of obstacle courses which have you dodging anything from gigantic balls to flying fruit, but before too long you'll be competing in teams to navigate a huge football into a goal or making sure your side is equipped with the most tails when time is up. Every round remains relatively simple, but that is what's so charming about the whole thing.
It's hilarious witnessing your friends fail to pull off even the most basic tasks or see them fall to their doom and eliminated from the tournament. They'll then be able to spectate you as you draw ever closer to victory. Take part in a digital version of Knock Knock from Takeshi's Castle. Match the platform you're standing on with the correct piece of fruit displayed on screen. Balance yourself on seesaws to make sure you don't fall off. Play a literal game of football with teammates. Fall Guys is endlessly entertaining.
Customisation was fairly limited in the closed beta, but you'll also be able to kit your very own Fall Guy out with various outfits unlocked by just playing the game. We were yearning for a hot dog suit during the pre-launch test, but we still got to dress up as a chicken and change our skin colour to make sure we really stood out on the in-game leaderboards. We'll be donning that hot dog suit as soon as we get our hands on the full version though, don't you worry about that.
Not everything was perfect, however. A grab mechanic activated by holding R2 feels incredibly unreliable, especially so when some team-based rounds rely on it. The move just feels especially finicky compared to the rest of the game and can make picking up eggs to score points for your team a bit of a chore. Let's hope that this is either an older version of the game or the mechanic will be improved as we draw closer to launch on 4th August 2020.
When all is said and done though, you'll be hard-pressed to find something more hilariously enjoyable than Fall Guys this year. And the best thing is that if you're a PlayStation Plus subscriber, you won't have to fork out any extra cash to start playing and having fun from day one. This really is the perfect title for the service. With a guaranteed player base from the word go and tons of comical events to look forward to, we can't wait to start playing Fall Guys for real.
---
Have you been playing Fall Guys on PS4 through the recent closed beta? What did you make of its comedic action? Don't eliminate yourself in the comments below.