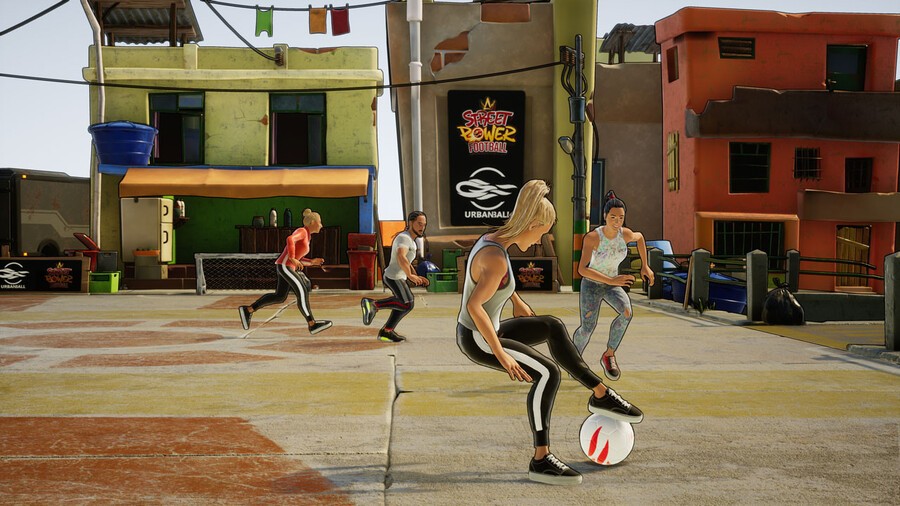 After a coronavirus enforced hiatus, the Premier League has returned. But while VAR remains as bemusing as ever, it's not really the same: the pace is slow, the quality is generally quite low, and Liverpool are champions. Street Power Soccer is promising a haven away from a world where Jordan Henderson has a Champions League title stuffed in his shorts, and we're all for it.
Rather than going head-to-head with FIFA and PES, French indie SFL Interactive has decided to tap into soccer's sub-culture, which sees influencers earning millions by doing keepie-uppies while standing on their head. The studio has recruited YouTube and Instagram sensations such as Liv Cooke to not only star in the title, but also perform motion capture across a wide range of modes.
There's a story, of course, which sees you tutored by world champion Sean Garnier and whisked away to 13 street football locations around the globe. Power-ups and flicks-and-tricks make Street Match a larger-than-life interpretation of the beautiful game, and it's all about scoring with style; they all count, as the old commentator cliché goes, but goals are better when they're scored upside-down.
The developer describes it as the NBA Jam of football, and the inspiration is obvious; if you've ever enjoyed FIFA Street, NBA 2K Playgrounds, or even NFL Blitz then you'll feel right at home. Street Match is just one small part of the package, though, with Freestyle another enormous emphasis. Here the title adopts a Guitar Hero-style format, as you streak together tricks to choreograph unique performances.
Then there's Trickshot, a kind of rails-shooter where you need to bounce balls around environments in order to earn points. This is inspired by the YouTube videos that you see where people attempt to volley footballs into basketball hoops from 50 feet away, and while the physics do seem a little odd, the studio is promising daily and weekly challenges which could prove addictive.
Last but not least there's Panna, which is a kind of one-on-one deathmatch revolving around the ultimate humiliation: the nutmeg. Getting between your opponent's legs will require more than a compliment and a Cosmopolitan, as you'll need to win head-to-head minigames in order to slip the ball through your befuddled adversary's ankles.
Everything you do in the game earns in-game currency, which can then be spent on unlocking cosmetic upgrades for the cast of professionals included in the release. The developer's worked with professional tattoo artists to enable you to get inked, and there's a cheerful vibe to the visuals which will be appealing to both casual observers and core players alike.
Our only concern after watching a short snippet of each mode played by the developer is that the motion capture appears to have taken precedence, and it's unclear how responsive the gameplay will actually feel. The tricks and flicks, performed in real-life by bonafide professionals, certainly look nice on-screen, but we're not sure how much ball control you actually have.
That'll be something we won't be able to answer until 25th August, when the title's scheduled to release on the PlayStation 4. It's nice to see a new arcade-themed sports game on the horizon, and we hope this kickstarts a renaissance; FIFA 20 and NBA 2K20 are great games, but they can get a bit stale when you're searching for something a little more pick-up-and-play.
---
Are you looking forward to this alternative soccer experience, or will you be sticking with the established simulations already in stores? 'Ave it in the comments section below.