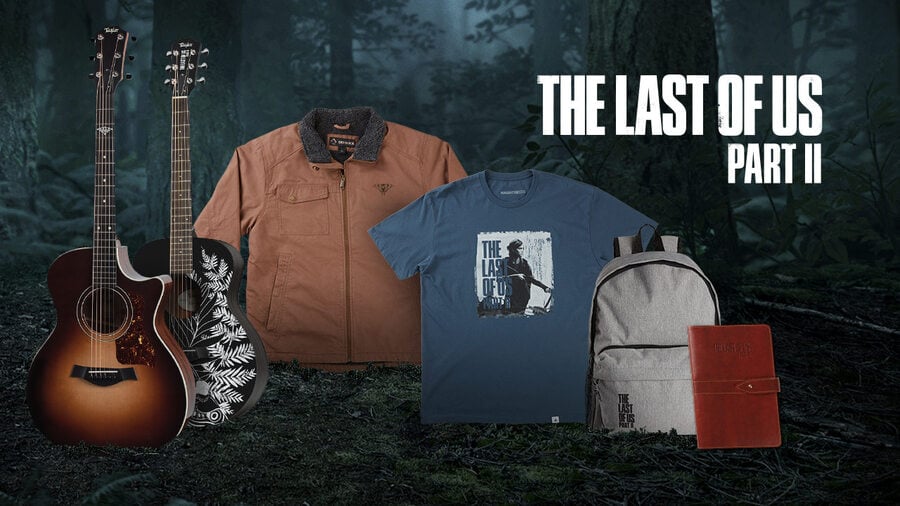 If you're excited about playing The Last of Us: Part II tomorrow and have some cash sitting in your back pocket doing absolutely nothing, you may want to treat yourself to some of the items which make up this new line of merchandise. Focused entirely on Naughty Dog's latest masterpiece, we've got guitars, backpacks, t-shirts, hoodies, mugs, and even leather journals just begging to be bought.
The standouts of this merch line are, of course, the two guitars. With the first coming in at a whopping £2,299, The Last of Us: Part II Replica Taylor 314ce guitar is a one-to-one recreation of the musical instrument that Ellie uses in the game. Meanwhile, the much more affordable The Last of Us: Part II GS Mini Guitar comes in at $699. This one features Ellie's iconic tattoo, with pre-orders for both pieces opening up today on the PlayStation Gear website.
Alternatively, if you're on a bit of a budget during these tough times, you can pick up Ellie's Outerwear Workman's Jacket for $149.95, while a standard t-shirt in blue comes in at $22.95. The Last of Us: Part II is also said to feature a prominent coffee outlet throughout the game, and two mugs commemorate that inclusion for $24.95. That's what the Ruston Camper Mug costs, while the Ruston Cork Mug is $14.95. And then there's a faux leather journal with the logo on the front and a grey backpack which we wouldn't mind grabbing for ourselves. Those will set you back $19.95 and $54.95 respectively.
And finally, a merch line-up would not be complete without a Funko Pop. Yes, Ellie has been made into one of those cartoon figurines with a gigantic head while wielding a blade and bleeding from her head. That's a classic Funko Pop if we've ever seen one.
Have you seen anything you like? Unfortunately, a lot of these products restrict their shipping to the US, Canada, Mexico, and a handful of other countries. Therefore, if you are considering picking one of these items up, make sure it can be delivered to your place of residence. Share your spoils in the comments below.
[source blog.playstation.com]