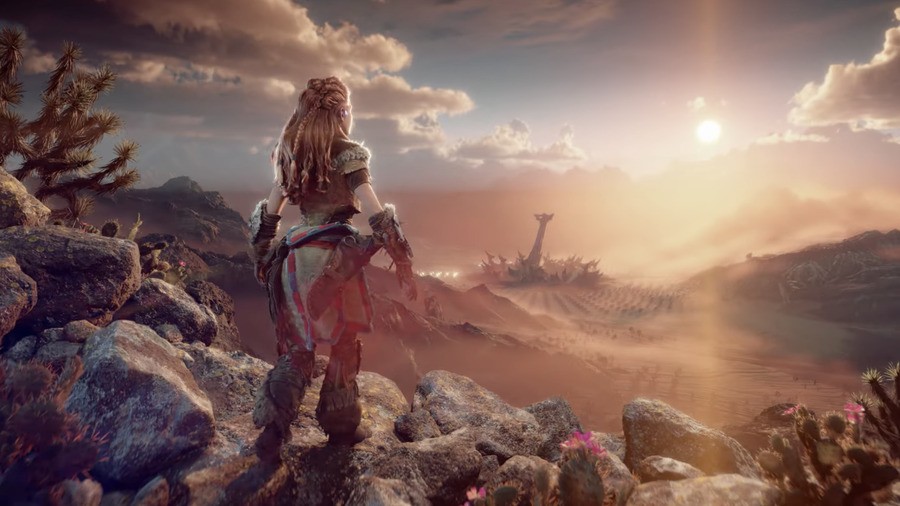 A couple of days before the highly anticipated PS5 reveal event, we published a classic Push Square predictions quiz, asking our community to make educated guesses about what would be shown during the presentation. The quiz was made up of 20 yes or no questions, and now that the showcase is done and dusted, the results are in.
So, how did we all do? We've included all of the questions and answers below.
Question 1

Will a sequel to Horizon: Zero Dawn be announced? (4,493 votes)
87% Yes
13% No

Correct!
Okay, we're off to a good start! A sequel to Horizon Zero Dawn was indeed announced, right near the end of the showcase. We got to see a gorgeous looking trailer for Horizon Forbidden West.
Question 2
Will a new Resident Evil game be announced? (4,428 votes)
54% Yes
46% No
Correct!
That's two out of two! Capcom took this opportunity to announce Resident Evil Village, which kind of looks like VIII in roman numerals. Village. VIII. Get it? Anyway, the game looked creepy as all hell.
Question 3
Will Final Fantasy XVI be announced? (4,381 votes)
17% Yes
83% No
Correct!
You lot certainly didn't believe in this one, and you were right. Square Enix did debut a new game during the show -- Project Athia -- but Final Fantasy was nowhere to be seen. Unless Project Athia is Final Fantasy XVI and Square Enix is just being weird. But no, that's cheating.
Question 4
Will Crash Bandicoot appear in any capacity? (4,377 votes)
49% Yes
51% No
Correct!
Despite all the evidence that points towards a new Crash Bandicoot game, the creature himself didn't show up at all during Sony's showcase. He wasn't even in the PS4 montage at the start. You lot only just got this one right.
Question 5
Will a Call of Duty game be shown? (4,383 votes)
78% Yes
22% No
Wrong!
Damn and blast, this is your first incorrect prediction. Even here at Push Square Towers, we imagined a show where the next Call of Duty would at least get a trailer, but the FPS juggernaut was missing in action.
Question 6
Will more than eight games be shown during the event? (4,365 votes)
81% Yes
19% No
Correct!
Yep, we saw way more than eight games during the event. It really was a stacked showcase, consisting of 26 different PS5 titles. 26!
Question 7
Will we see Mark Cerny? (4,274 votes)
58% Yes
42% No
Correct!
Boy were you lot lucky with this one. While Mark Cerny didn't show up to talk about the PS5, he was actually part of the presentation. If you were watching very, very closely, you may have noticed that Cerny appears during the developer montage right before the PS5 hardware reveal. So yes, we did, in fact, see Mark Cerny.
Question 8
Will we see the PS5 itself? (4,384 votes)
53% Yes
47% No
Correct!
You lot had faith that Sony would show us the console, and it did. We got our first look at the PS5's design and it's... Well, this isn't really the time or place for opinions. It's different, we'll say that much!
Question 9
Will Spider-Man appear in any capacity? (4,336 votes)
63% Yes
37% No
Correct!
We actually got a lot more Spider-Man than we were bargaining for. Following that weird Grand Theft Auto V announcement, the showcase really kicked off with the surprise reveal of Marvel's Spider-Man: Miles Morales, coming to PS5 at launch.
Question 10
Will a Demon's Souls remake be announced? (4,222 votes)
67% Yes
33% No
Correct!
Rumours of this remake have been rampant for months, and yes, it really did happen. Bluepoint Games is at the helm for this one, rebuilding Demon's Souls from the ground up on PS5.
Question 11
Will a new Silent Hill game be announced? (4,176 votes)
56% Yes
44% No
Wrong!
Bah, the rumours led you astray on this one! Silent Hill didn't feature at all during the event, leading many to question whether the heavily speculated project even exists.
Question 12
Will Jim Ryan speak for more than three minutes? (4,019 votes)
55% Yes
45% No
Wrong!
While Jim Ryan did speak during the presentation, his talks at the beginning and end of the show didn't add up to more than three minutes. Ryan kept things quick and snappy, with his segments barely breaking the two minute mark in total.
Question 13
Will we see The Last of Us: Part II and Ghost of Tsushima running on PS5? (4,159 votes)
55% Yes
45% No
Wrong!
We were thinking that The Last of Us: Part II and Ghost of Tsushima may get one final marketing push before release during the event, showing the games running on PS5 and then telling us that they'd receive a free upgrade on the next-gen console. But nope, they weren't even mentioned. Maybe Sony's saving the backwards compatibility stuff for another showing.
Question 14
Will Gran Turismo 7 be announced? (4,053 votes)
83% Yes
17% No

Correct!
Yep, Gran Turismo is back, and it's called Gran Turismo 7. You nailed this one.
Question 15
Will the words "God of War" be said? (4,112 votes)
67% Yes
33% No
Wrong!
You were just desperate to see Kratos' beard rendered on PS5, weren't you? Sadly, "God of War" wasn't mentioned during the event, even though the very angry dad himself was spotted in the PS4 montage.
Question 16
Will a sports game be shown? (3,971 votes)
83% Yes
17% No
Correct!
Wow, you lot went all-in on this prediction and you were absolutely right. Later on in the presentation, NBA 2K21 was announced. We suppose that you could also call Gran Turismo 7 a sports game, so... Well done everyone.
Question 17
Will Godfall gameplay be shown for more than five minutes? (3,908 votes)
39% Yes
61% No
Correct!
Honestly, we expected to see more of Godfall than we did. The so-called 'looter-slasher' barely featured, only bringing a very short gameplay trailer to the show.
Question 18
Will the word "Knack" be said? (3,907 votes)
24% Yes
76% No
Correct!
Much to the shock and horror of the Knack faithful, the triangular mascot didn't get a mention at all during Sony's showcase. A missed opportunity, perhaps, but another correct prediction for you lot.
Question 19
Will Sony announce a new, first-party IP from PlayStation Studios? (3,947 votes)
90% Yes
10% No
Correct!
Yep, we did get a brand new IP from PlayStation Studios in the form of Returnal. While developer Housemarque isn't first-party, we think there's just enough here to give you guys the point. Don't ever doubt our generosity again.
Question 20
Will Hideo Kojima himself show up? (3,973 votes)
27% Yes
73% No
Correct!
Hideo Kojima did not show up during the PS5 presentation. We even trawled through the developer montage near the end of the show to see whether he made a stealthy appearance, but nope, nothing.
---
Total Score: 15/20
Wow, that's actually a really good score. We thought some of these questions were really tricky, but apparently, they weren't tricky enough. Well done everyone, and we'll see you next time!