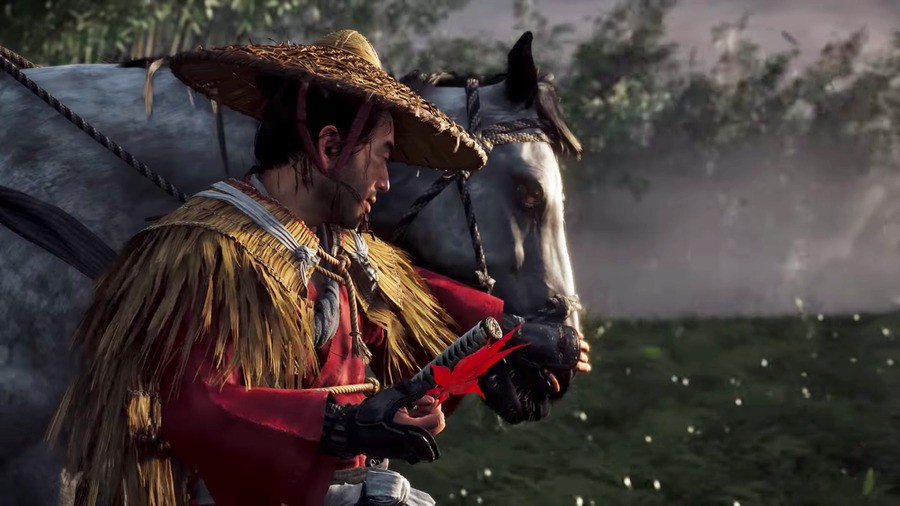 In Ghost of Tsushima, honourable samurai Jin Sakai seeks vengeance against the invading Mongol army after they conquer the titular island. Adopting ninja-like tactics, Jin aims to drive the enemy forces away from his home, and will mercilessly kill those that oppose him. Throughout Sucker Punch's upcoming open world adventure, you'll likely slaughter hundreds of soldiers, but by the sound of it, animals will remain safe among the violence.
Of particular note is Jin's horse, Nobu. If you were worried this loyal steed could die as you fend off the Mongols, Sucker Punch has some good news. In an interview with USgamer, creative director Jason Connell plainly says, "Your horse is not gonna die." He says the horse may "get scared and run away" but that the game isn't going to permanently take Nobu away from the player.
This echoes other open world epics such as The Witcher 3: Wild Hunt or the more recent Assassin's Creed titles. However, Ghost of Tsushima is going one further, taking animal hunting off the agenda. While Jin will be able to craft things using various resources, none of these materials will come from the island's wildlife.
Indeed, the fauna of Tsushima will help the player out in other ways. It seems like Jin will come to rely on animals to find people in need, hidden secrets, or undiscovered locations rather than for raw materials. Apparently, this attitude stems partly from the actor portraying Jin in the game, Daisuke Tsuji. "Our actor has a nice, sweet sensibility to him. He cares about animals and people, and it comes through in his performance," Connell says.
Are you relieved to hear Jin's horse is safe in Ghost of Tsushima? Would you prefer to have hunting be part of the game, or are you at peace with being peaceful? Ride like the wind in the comments section below.
[source usgamer.net, via gamesradar.com]