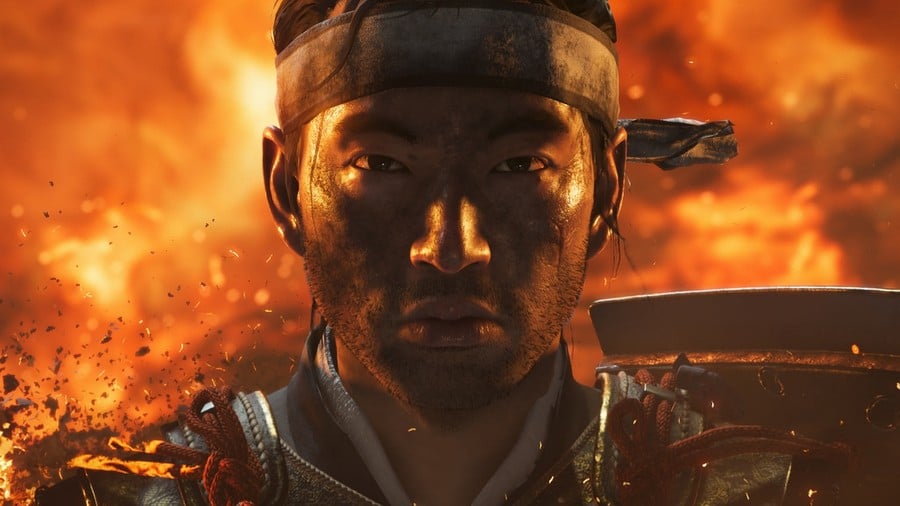 Ghost of Tsushima is on the horizon, and we're all pretty excited here at Push Square Towers. This upcoming game from inFAMOUS and Sly Cooper devs Sucker Punch Productions is looking incredibly promising. We haven't seen much of the game in action, but we can glean a fair few details from what's been released so far. Below, we'll be going through some common questions about Ghost of Tsushima so you're prepared for this samurai showdown.
We will be keeping this FAQ up to date as new information becomes available.
What is the release date for Ghost of Tsushima on PS4?
Ghost of Tsushima is scheduled to release exclusively on PS4 worldwide on 17th July 2020.
What does the Ghost of Tsushima box art look like?
It looks like this, and it is very nice:
When will pre-load be available for Ghost of Tsushima on PS4?
If you pre-order Ghost of Tsushima digitally, you'll be able to download the game ahead of time to ensure you can start playing as soon as it unlocks on launch day. Usually, pre-loads become available a couple of days prior to release, so expect to be able to download Ghost of Tsushima around 15th July 2020.
Are there any pre-order bonuses or special editions of Ghost of Tsushima?
Of course! Pre-ordering any edition of Ghost of Tsushima will get you a Jin avatar, a digital mini soundtrack, and a Jin PS4 dynamic theme.
Here's a breakdown of each edition of the game you can pre-order.
Standard Physical/Digital Editions
There will of course be the regular version of Ghost of Tsushima, which simply provides you with the game itself. You can pre-order it on PlayStation Store right now.
Digital Deluxe Edition
The Digital Deluxe Edition comes with a few bonuses alongside the game. This version of GoT comes with the Hero of Tsushima set, which gives you "an additional in-game horse, saddle, mask, sword, and armor set for Jin". It will also reward you with a digital art book, director's commentary, another dynamic theme, and some in-game items.
Standard Plus Edition
This retail-exclusive version of the game is like the standard edition, only you'll also get "artwork featuring a custom print finish".
Special Edition
This is a physical equivalent of the Digital Deluxe Edition. You'll get the same Hero of Tsushima set, art book, director's commentary, dynamic theme, and in-game bonuses. On top of all that, you'll get a nifty steelbook case.
Collector's Edition
Ghost of Tsushima's Collector's Edition is pretty beefy. It comes packed with all the previous bonuses, plus a cloth map of the island, a war banner bearing the game's emblem, a furoshiki wrapping cloth, and a replica of Jin's mask.
Is there a Ghost of Tsushima special edition PS4 Pro console?
Sony has yet to confirm whether there will be any special PS4 hardware with custom Ghost of Tsushima styling. Given the company has done this for a number of its other games, we wouldn't be surprised if Sony had planned something similar for Ghost of Tsushima. However, given the state of things in 2020, this is looking relatively unlikely.
What is Ghost of Tsushima about?
Ghost of Tsushima is an open world action adventure set during the Mongol invasion of Tsushima Island. Taking place in 1274, the game tells the tale of Jin, a samurai who barely survives a battle with the Mongol army. In order to fight back, Jin adopts new strategies and develops new techniques to catch his enemies off-guard. He becomes known as the titular Ghost of Tsushima, striking fear into his foes from the shadows.
Is Ghost of Tsushima an open world game?
Yes. Ghost of Tsushima is an open world action game, and looks to play similarly to the likes of Assassin's Creed. We imagine you will be able to explore Tsushima Island freely, taking on missions, side quests, and more.
Will there be crafting in Ghost of Tsushima?
We've yet to see gameplay of this feature, but it's very likely that Ghost of Tsushima will have some sort of crafting system. We can easily imagine having to craft smoke bombs, arrows, and more during the adventure.
Will Ghost of Tsushima have multiplayer?
It is very safe to assume Ghost of Tsushima will be a purely single player experience. Sony hasn't ever mentioned multiplayer in relation to this game, and most of its PlayStation exclusives are strictly single player, story driven titles. Ghost of Tsushima is highly unlikely to include any multiplayer.
Can you play Ghost of Tsushima in Japanese?
Yes. Sucker Punch has confirmed that Ghost of Tsushima will have a Japanese audio track for a more authentic experience. You'll be able to play with English voice acting, or Japanese voice acting with English subtitles.
Is Ghost of Tsushima coming to PS5?
At this point, it's unclear. A PS5 version of Ghost of Tsushima seems likely considering the game is launching so closely to the next-gen console. However, we know that it will be possible to play the PS4 version on PS5 thanks to backwards compatibility. Our best guess is an enhanced PS5 release of Ghost of Tsushima will turn up later on. We will update this guide if and when we learn more.
Which developer is making Ghost of Tsushima?
Ghost of Tsushima is being made by Sucker Punch Productions. This is the team previously known for Sly Cooper and inFAMOUS.
---
Do you have any other burning questions about Ghost of Tsushima? Are you excited to play it this summer? Leap into the comments below.