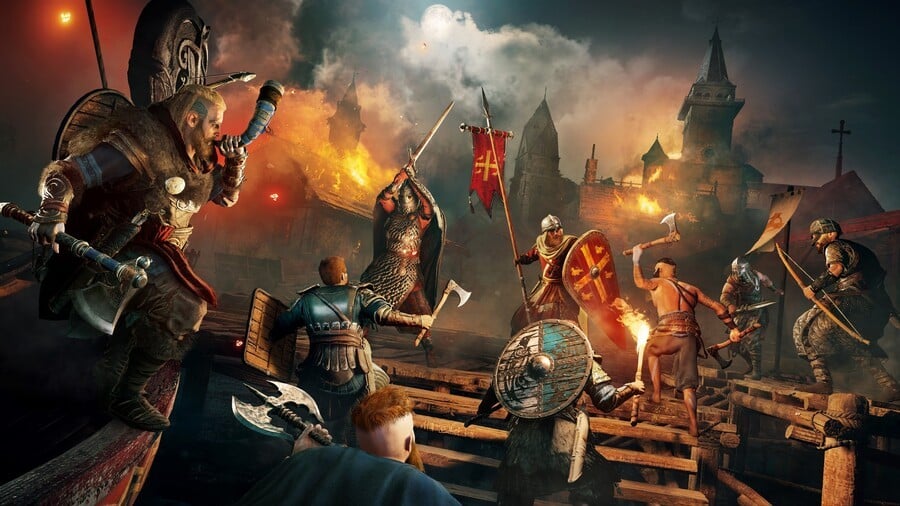 In case you somehow missed it, Assassin's Creed Valhalla has now been fully unveiled with a cinematic trailer. That's not all, though -- Ubisoft has also gone into detail on the various pre-order bonuses and retail editions you'll be able to buy this holiday.
To start with, all pre-orders for either the PlayStation 4 or PS5 version of Valhalla will reward you with an exclusive mission named 'The Way of the Berserker'. This extra mission has you "join a legendary Norse Berserker on his quest for revenge".
Here are all the retail editions of Assassin's Creed Valhalla:
Standard Edition
The basic version of the game, this edition has no extra content, other than the aforementioned pre-order bonus.
Gold Edition
This version of AC Valhalla includes the game itself as well as the Season Pass.
Ultimate Edition
The Ultimate Edition includes the game, Season Pass, and Ultimate Pack. The Ultimate Pack consists of a bunch of in-game customisation content, including "the Berserker Gear Pack, the Berserker Settlement Pack, the Berserker Longship Pack, along with a Set of Runes to improve weapons or gears".
Collector's Edition
This version of Assassin's Creed Valhalla comes with the Ultimate Edition of the game and all those benefits, plus: a 30cm statue of the female player character Eivor, a collector's case, a steelbook, a certificate of authenticity, a 5cm statuette of the male version of Eivor, a selected soundtrack, and lithograph prints. That's a lot of stuff.
---
Which version of Assassin's Creed Valhalla will you be getting? Are you ready to pre-order this game for PS5 or PS4? Embrace your inner viking in the comments below.