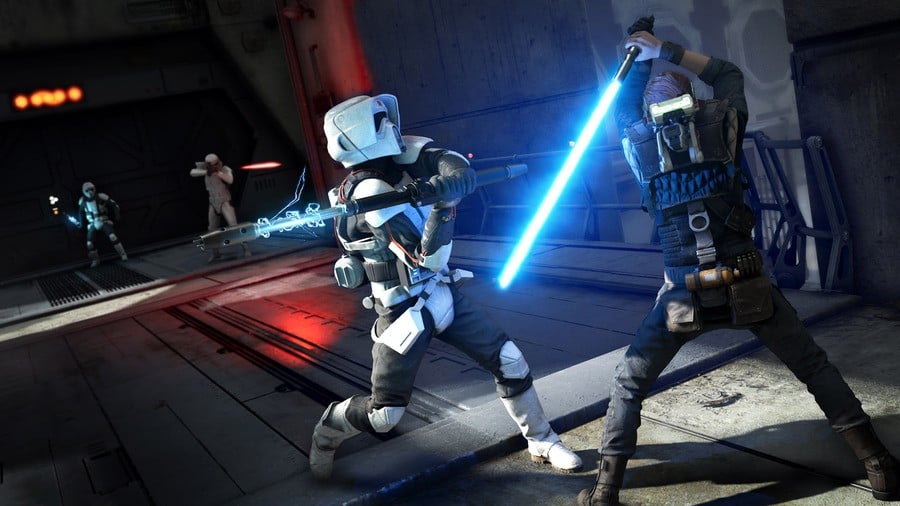 Among this winter's big games is Star Wars Jedi: Fallen Order, but we wouldn't blame you for forgetting about it. Respawn Entertainment's single player action title in the famed sci-fi universe has always looked decent from the outside, but with the franchise's recent history with games, some fans have found it difficult to get too excited. Now, though, a whole bunch of impressions have just landed from an extended hands on event, and it's sounding rather good.
Long story short, it sounds as though Fallen Order will be a hodge podge of all the popular trends in games over the last five years. Previews tell of Dark Souls inspired combat -- challenging fights with multiple enemies, stamina bars, and all sorts of manoeuvres at your disposal. Then there's the metroidvania style structure, which will see you going back and forth between numerous planets as you unlock new pathways and advance the story. Even Uncharted is brought up; Naughty Dog's seminal adventures get a nod with Fall Order's light puzzle solving and platforming elements.
It sounds like it's a very well put together game, too. Apparently, loading is smartly hidden so you're not left sat in front of a blank screen. For example, when you fly to another location in your ship, there's a nice, cinematic transition that keeps you in the moment. Speaking of your ship, it's customisable, as is protagonist Cal's outfit and lightsaber. RPG elements mean you'll be levelling up, unlocking new skills from a tree, and exploring every nook and cranny for secrets and more.
We knew a lot of this already, but it sounds like it's all coming together pretty well. Given Respawn's track record, putting out some of EA's best games for the whole generation, it's not too surprising. Star Wars Jedi: Fallen Order is out on 15th November 2019 -- are you excited for it? Wave those lightsabers in the comments below.
[source ign.com, via resetera.com]