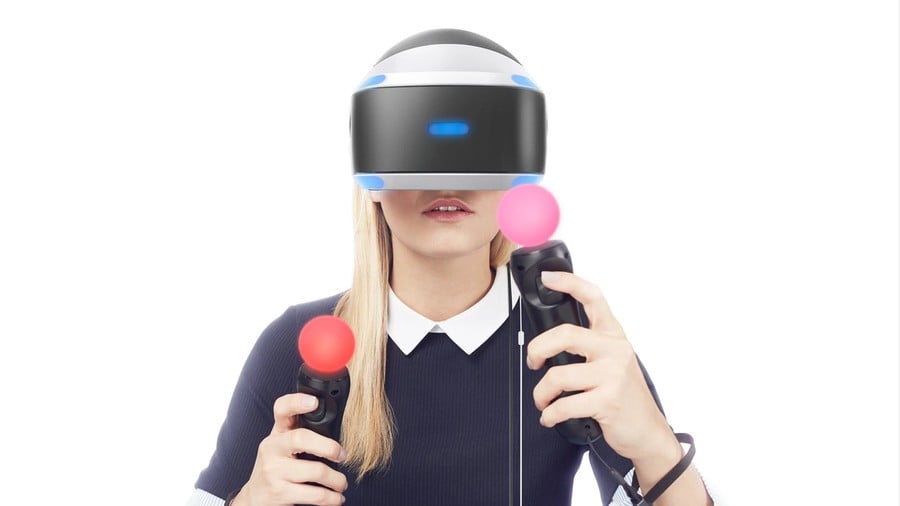 Will there be a PSVR 2 on PlayStation 5? We certainly wouldn't bet against it. Sony's confirmed the current PlayStation VR hardware will be compatible with PS5, but it's almost certainly in the midst of developing a follow-up. If there was any doubt about this, a newly filed patent from SIE might give us our first taste of what next-gen virtual reality might mean for PSVR.
As reported by LetsGoDigital, the patent suggests the PSVR 2 headset will feature built-in cameras in the front and rear, much like PC virtual reality devices. This is in addition to LEDs and a built-in microphone, as seen on the current PSVR. It'll also work in tandem with the PlayStation Camera (or maybe a newer version) in a similar fashion to how it works currently. Interestingly, the patent talks briefly about a controller that also has a built-in camera, presumably for more accurate motion detection. Perhaps best of all, there's mention of Bluetooth communication, hinting at the possibility of wireless use.
What's more, the patent goes on to talk about PSVR 2 offering some kind of transparent view. This would allow the user to see the real world while wearing the headset so that they can effectively set things up before jumping into a game. It would also be a way to incorporate augmented reality games into the hardware. Clever stuff.
It's worth reiterating that Sony applies for patents on a regular basis, and not all of them represent products that make it to store shelves. However, given that PS5 is on the way before the end of 2020, and the success of PSVR, there may be something to latch onto with this one.
What do you want out of PSVR 2? Do you like the sound of the details in this patent? Go virtual in the comments below.
[source nl.letsgodigital.org]