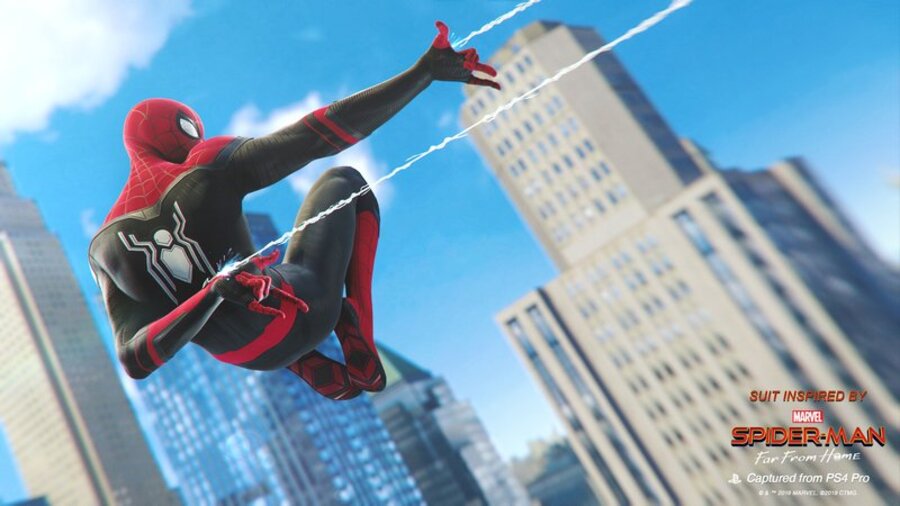 Update: The patch, version 1.16, should be live right now for everyone. It's about 380MB, and adds the two below suits into the game for free. It doesn't look like the update makes any other changes.
---
Original Story: Insomniac Games has gone above and beyond when it comes to adding in new costumes for the web head in Marvel's Spider-Man. Most recently, two Fantastic Four themed suits were brought to the PlayStation 4 exclusive, but it also famously brought the much requested Raimi suit from the original Spidey movies to the game just before Christmas. Now, it looks like it's adding a couple more.
The latest movie starring the red and blue hero is Spider-Man: Far From Home, and it seems two of the suits from the flick will be making their way into Insomniac's game. The Upgraded Suit and Stealth Suit are coming to the title in a free update. That's according to the Japanese PlayStation Twitter account:
https://twitter.com/PlayStation_jp/status/1145980449191108609
Crossing paths with the movies is something this game has done several times already, so it's not really much of a surprise to see this happening. The update doesn't appear to be in play for us in Europe yet, but we imagine the patch will be rolling out across all territories soon enough.
Are you pleased to see these new suits brought into Marvel's Spider-Man on PS4? Show off your new threads in the comments below.
[source twitter.com, via blog.us.playstation.com]