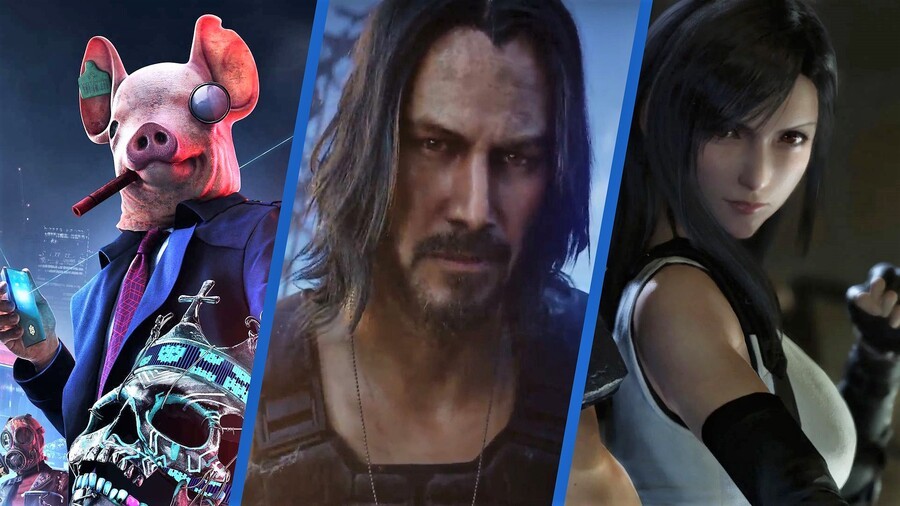 Your votes have been counted, and we've ended up with a list of E3 2019's top ten PlayStation games. As is the case every year, we asked you lot to vote for your three favourite titles of the show, and whichever game gets the most votes is our official Game of the Show.
With Sony's absence at E3 2019, we expected it to be quite a close call, but in the end, one title in particular pushed away from the rest -- a clear winner.
We received over 3000 votes this year, so as always, we'd like to thank everyone for their support!
Without further ado, let's unveil our top ten PlayStation games of E3 2019, along with our prestigious Game of the Show.
10. Ghostwire Tokyo - 85 votes (3%)
9. Dying Light 2 - 98 votes (3%)
8. Elden Ring - 114 votes (4%)
7. Borderlands 3 - 119 votes (4%)
6. Marvel's Avengers - 133 votes (4%)
Easily the best part of Bethesda's otherwise dreadful E3 2019 press conference, DOOM Eternal looked hella fun in its meaty gameplay trailer. Bloody and unashamedly brutal, we can't really see this being anything but a win for the first-person shooter masters over at id Software. At this point though, we just can't wait to get our hands on the game and tear some demons limb from limb.
Respawn Entertainment's take on Star Wars might look a tiny bit rough around the edges, but it clearly has a lot of potential. Wielding a lightsaber as your primary weapon, the combat looks dynamic and engaging -- something that past licensed titles have all struggled with to some degree. Backed by some excellent music, the Star Wars Jedi gameplay demo we saw during EA's mostly pointless livestream was without a doubt a highlight of E3 2019, and we look forward to seeing much more.
Watch Dogs Legion looks ambitiously barmy, and that's not something you see from AAA titles every day. Ubisoft lifted the lid on this one at its E3 2019 press conference, and a lengthy gameplay demo wowed with how dynamic it was. Indeed, as the name suggests, you don't play as just one character in Legion. Instead, you hop between protagonists who can be permanently killed in hacktivist group DedSec's fight against oppression. Again, it's an incredibly ambitious concept, and we're honestly rather desperate to see how it all works out.
Storming away from the pack with almost double the votes of Watch Dogs Legion, Final Fantasy VII Remake had, in our opinion, the best individual showing of E3 2019. We saw almost 20 minutes of the game during Square Enix's showcase, and the bottom line is that it looks better than we ever could have dreamed. What's more, word from the event is that it plays just as good as it looks, and yes, we finally got to see Tifa in all of her remade glory. Is Square Enix actually going to deliver on its promise of doing right by one of most influential games of all time? Well, we won't know for sure until we've played the entire saga, but right now, we're bigger believers than ever before.
Absolutely running away with our E3 2019 Game of the Show award, Cyberpunk 2077 provided the standout moment of this year's event. It may not have been a fresh glimpse of gameplay, but Cyberpunk 2077's incredibly tense CG trailer had us hooked even before the surprise Keanu Reeves reveal took the roof off right at the end. If any one part of E3 2019 is going to be remembered, it's going to be that one.
But we doubt that's the only reason Cyberpunk 2077 has been voted our Game of the Show. The sheer amount of hype surrounding this game is unmatched at this point in time, and with E3 attendees telling the world that the show-exclusive gameplay demo is mind-blowing, developer CD Projekt Red is at the wheel of what seems destined to be one of the most important games of this generation. A confirmed release date also goes a long way.
---
And with that, another E3 is over. Do you agree with the winners? What games are you most looking forward to seeing more of? Celebrate your favourites in the comments section below.