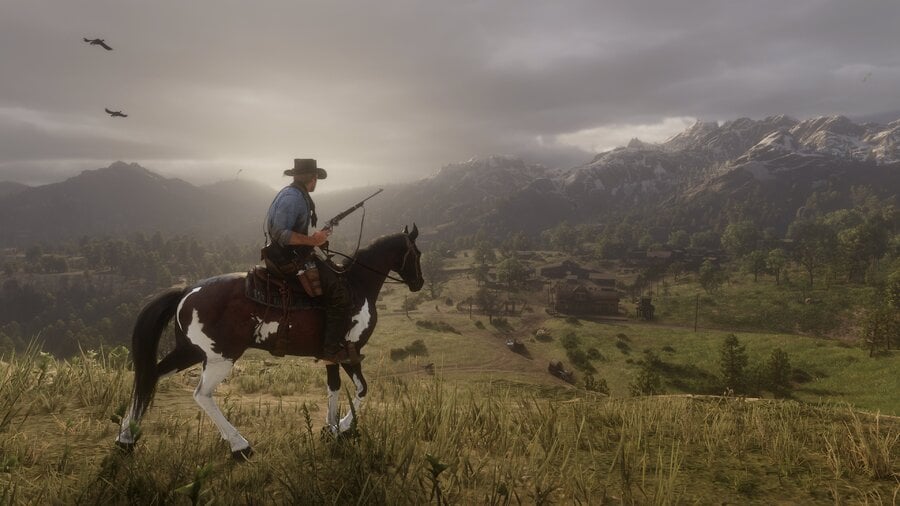 Red Dead Redemption 2 is finally here. After a lengthy development and a whole ton of hype, the open world Western sequel is within reach. There's lots of information out there regarding Rockstar's latest, so to make sense of it all, we've gathered as much of it as we can right here, in one handy dandy guide. See below for answers to your burning questions about all things Red Dead.
When does Red Dead Redemption 2 release?
Red Dead Redemption 2 is out very soon indeed. It's set to launch on PS4 on 26th October, 2018. It's the same release date across the globe -- no regional monkey business here.
Are there any pre-order bonuses for Red Dead Redemption 2?
As with most big game releases, you'll earn some small rewards for pre-ordering Red Dead Redemption 2. Firstly, all pre-orders will gain access to the War Horse, a better-than-average breed of stallion, and the Outlaw Survival Kit, which contains a handful of useful in-game items, such as health replenishment. Digital pre-orders for the standard version will also get some extra cash and a treasure map that "will give Arthur a head start on the hunt for hidden riches".
Also, all digital pre-orders will also come with an amount of GTA$ for use in GTA Online. Here's how it breaks down between the three versions of the game:
Red Dead Redemption 2: Standard Edition Digital Pre-Order: Get GTA$500,000
Red Dead Redemption 2: Special Edition Digital Pre-Order: Get GTA$1,000,000
Red Dead Redemption 2: Ultimate Edition Digital Pre-Order: Get GTA$2,000,000
Is there a Red Dead Redemption 2 special or collector's edition?
Beyond the standard version of the game, there are a couple more editions that come with some exclusive bonuses and items. The Special Edition comes with a bank robbery mission and gang hideout, a breed of horse called the Dappled Black Thoroughbred, and other game enhancing goodies like free access to certain weapons and extra cash. The physical version of the game also comes with a world map.
The Ultimate Edition includes all the bonuses from the Special Edition, but adds in a couple of extra outfits, another horse breed, even more weapons, and some enhancements for online play. The physical edition adds a swanky steelbook case to boot.
The Collector's Box is an odd one. It doesn't include the game itself, as it's designed to be purchased alongside one of the other versions above. What it does have is a fancy tin, a map, a set of pins, playing cards, a bandana, some cigarette cards, a puzzle, a replica catalogue from the game, and a collectible challenge coin.
Click here to see Rockstar's breakdown of all the above in more detail.
Is there a PS4 or PS4 Pro console bundle for Red Dead Redemption 2?
There are a couple of bundles available to buy that include a PS4 console and a copy of Red Dead Redemption 2. In Europe, you can buy a 500GB or 1TB standard PS4 console that comes with the game, or a 1TB PS4 Pro bundle. In North America, only the PS4 Pro bundle is available. Click here for all the options.
When will Red Dead Redemption 2's pre-load begin?
If you've pre-ordered digitally, you'll be able to pre-load Red Dead Redemption 2 ahead of its launch to ensure you're ready to go straight away. Rockstar has announced that you'll be able to initiate pre-load of the game from 12am EDT / 5am BST on Friday 19th October 2018.
Do I need to have played the first game to understand Red Dead Redemption 2?
Red Dead Redemption 2 is actually a prequel to Red Dead Redemption on PS3. It's set 12 years prior to the events of John Marston's tale. While the first game revolved around Marston finding and eliminating his old gang members, Red Dead Redemption 2 centres on the gang while it's still together. If anything, Red Dead Redemption 2 should be a better introduction to all the various characters. There will likely be some ties and references to the first game, but you shouldn't need to play it to understand what's going on in the new game.
What's the story in Red Dead Redemption 2?
Story details are few and far between, but here are the main points. The year is 1899, and the industrialisation of America is beginning to put an end to the old way of life. You play as Arthur Morgan, a loyal and trusted member of the Van der Linde gang, a group of outlaws. Throughout the adventure, you'll be able to help or hinder the gang as Arthur begins to question the morals of his crew, outrunning the long arm of the law as you try to survive. Red Dead Redemption 2 follows the Van der Linde gang at its height, which is a stark contrast to the first game, in which you're tasked with killing its former members.
How long is the story in Red Dead Redemption 2?
Nothing official has been said regarding the game's length, although in interviews, it's been estimated that the game will last at least 60-65 hours, and will probably be much more than that for full completion.
Do I get to play as John Marston in Red Dead Redemption 2?
Currently, only Arthur Morgan has been announced as a playable character for Red Dead Redemption 2.
Is Dead Eye back in Red Dead Redemption 2?
The Dead Eye system from the first Red Dead Redemption makes a return for the follow-up. This mechanic allows you to slow time and paint targets on your enemies before time returns to normal and the targets are hit at lightning speed. In Red Dead Redemption 2, you'll be able to upgrade your Dead Eye with extra abilities, like being able to manually place targets, and even see highlighted areas where you can deal critical damage.
Can I play Red Dead Redemption 2 in first person?
Yes. As with Grand Theft Auto V, Red Dead Redemption 2 can be played fully from either a third or first person viewpoint.
Is there a day one patch for Red Dead Redemption 2?
Rockstar has confirmed that there will be a day one update for Red Dead Redemption 2. "As is common for a game of this size and scope, there will be a downloadable title update addressing a number of last minute tweaks, bugs and fixes. To ensure the best possible gameplay experience, we strongly recommend making sure you've downloaded this update before launching the game." The day one patch will be 3.3GB in size.
How much space will I need on my PS4 to install Red Dead Redemption 2?
Quite a bit. If you have a physical copy, Red Dead Redemption 2 will take up 99GB of space on your PS4's hard drive. The file size is the same for the digital version, but be aware that you'll need an additional 50GB of free space in order to let the installation take place.
Does Red Dead Redemption 2 come with two Blu-Ray discs?
Yes. If you buy a physical copy of the game, it'll come with two Blu-Rays -- one Data Disc, and one Play Disc. In other words, you'll need to insert the Data Disc to install the game before you can begin playing via the Play Disc.
Will Red Dead Redemption 2 have online?
Yes it will, but not at launch. Red Dead Redemption 2 launches on 26th October with the main game, but Red Dead Online won't be made available until November 2018. At this time, Rockstar will launch Red Dead Online as a private beta. Expect it to be as big of a deal as GTA Online, with constant updates and new events.
---
Do you have any more questions regarding Red Dead Redemption 2? Fire away in the comments below.