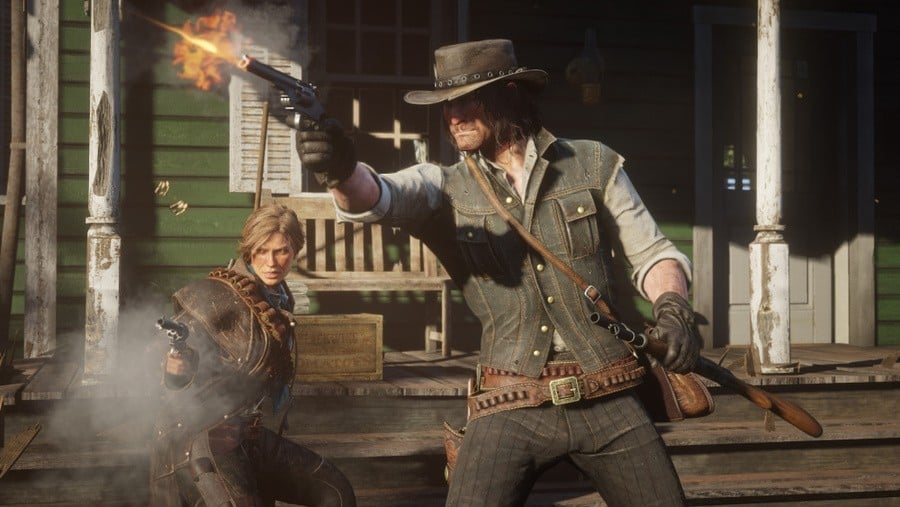 Red Dead Redemption 2 uses checkerboard rendering to achieve a 4K image on the PlayStation 4 Pro, but unlike exclusives such as Horizon: Zero Dawn or God of War, the results leave a little to be desired. At the expense of getting too technical, the reconstruction technique is used to create an Ultra HD image without requiring the hardware clout to render a native image, and in the aforementioned games it's produced some stunning results.
Of course Rockstar's latest is a multiformat release, and Digital Foundry's analysis recently revealed that the Xbox One X version does render at native 4K, resolving a clearer image than on Sony's supercharged machine. This has resulted in plenty of baiting and goading from both sides of the "console war", with zoomed in screenshots of shoulders (!) used to demonstrate the differences between devices.
It's also prompted some outrage in gaming communities due to the commercial that the PlayStation maker's running for the game. At the end of its ad, the company shows a message: "Play in 4K on PS4 Pro." It also incorporates the small print: "Play in 4K on PS4 Pro. Game outputs 2160p. 4K TV required." All of which is accurate, but there are a few people who feel that the organisation is being purposefully misleading – others think it's straight up lying.
As far as we're concerned, this is just advertising – plain and simple. The language is no different to what was used for Horizon: Zero Dawn and God of War, both of which also used checkboard rendering – although vastly superior solutions to what Rockstar's using in Red Dead Redemption 2. The fact is that the game does output at 2160p, it's just using tricks to get there, like many games do. We'll have to wait and see if there's any further fallout to this, but at least legally it seems sound to us.
[source resetera.com]