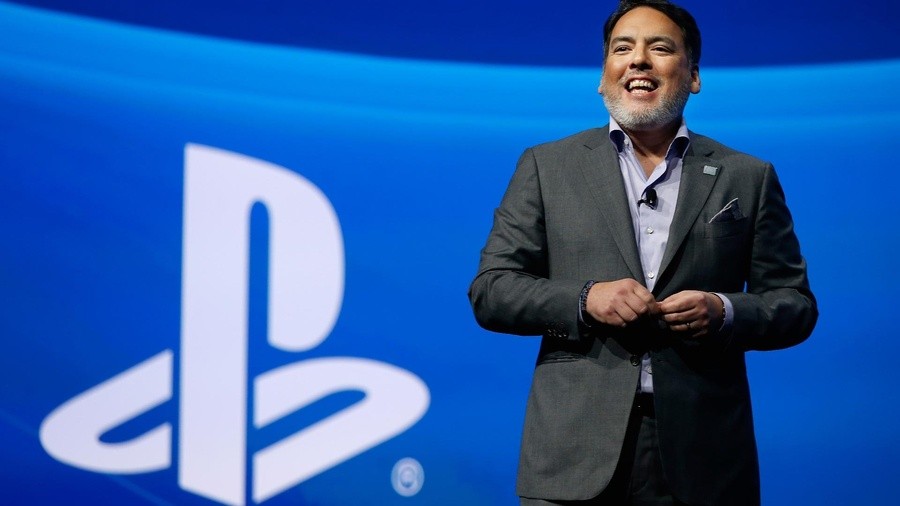 You can brand me a big fat nerd if you want to, but I genuinely look forward to the executive interviews you get around E3 time. I used to anticipate Jack Tretton joining Geoff Keighley, his Hollywood smile only eclipsed by the sweltering Los Angeles sun. And then for a while it was Shuhei Yoshida's turn to take the spotlight, the likeable veteran well-versed in Sony's first-party output – and just an all-round good guy.
But it's been a while since we heard from any of PlayStation's bigwigs really. Marketing chief Jim Ryan said a spate of silly things last year, and departing group president Andrew House gave a nice speech at The Game Awards in 2017. Aside from that, we've only really heard from Shawn Layden in drips and drabs, and Yoshida is clearly eager to take a step away from the spotlight; the community management campaign that he ran for the PS4 – which was never his job to begin with – evidently took its toll.
I'm fine with Yoshida focusing on what he does best: greenlighting great games and cultivating PlayStation's amazing group of Worldwide Studios. And I also don't think we need to be hearing from Layden on social media every single day – there's a time and a place. But intentional or not, I haven't felt the connection with PlayStation's top brass that existed at the start of the generation for some time – no one's really bothered to fill the roles previously occupied by Adam Boyes et al.
Before the exaggerations overflow, I don't think Sony's trying to keep fans at arm's length at all. I think it has an actions speak louder than words mentality, which is evidenced by its recent press conferences. The company doesn't care so much about telling you what it's doing these days, it'd rather show you. And, considering that all of the executives from all of gaming's biggest players are effectively businessmen at heart, it's not the end of the world.
But it doesn't sit well with me that the most we've heard from PlayStation's top brass at E3 2018 is that two minute interview with Shawn Layden during the press conference's awkward interlude and a 90 second clip of Shuhei Yoshida uploaded to a channel I've never even heard of. I don't know how they got an audience with the Worldwide Studios president, because everyone else is off-limits as far as I can tell – including even newspapers and broadcasters like the BBC.
The cynics among you will probably argue that this all rests with the Fortnite issue, but it doesn't seem like Sony had arranged anything prior to this blowing up. Maybe it suspected that the first question from journalists would pertain to cross-play anyway; maybe it doesn't trust its suits to talk without putting their foot in their mouth. Either way, I'm disappointed. I don't need to hear from these guys every single day; I do expect a few comments from them a couple of times a year.
I think for the first time I'm leaving an E3 with questions unanswered. I've seen so many great games for the PS4 that I'm more than excited for the future, but without any interviews, I don't know really know what's next for the brand as a whole. What's it passionate about? What are its short-term plans? What's next for PS4? How does it plan to improve PlayStation Plus? What are its thoughts on PlayStation VR? Is it satisfied with the response to God of War and Detroit: Become Human?
It's unfortunate that it's acted so closed off, and that it currently lacks that direct connection with fans. I'm not going to run around screaming hubris and reeling off hyperbole like this is a war crime; it's not a big deal in the grand scheme of things. But I think it's fair to say I'd like to see Sony talk a little bit more and be a bit more open. The most important thing will always be exciting games, but it's nice to hear about the business side of things, too – even if it comes through a PR filtered lens.
---
Does it bother you that the Sony's suits aren't doing any interviews at E3 2018, or is this a total non-issue? Rant and rave like your life depends on it in the comments section below.