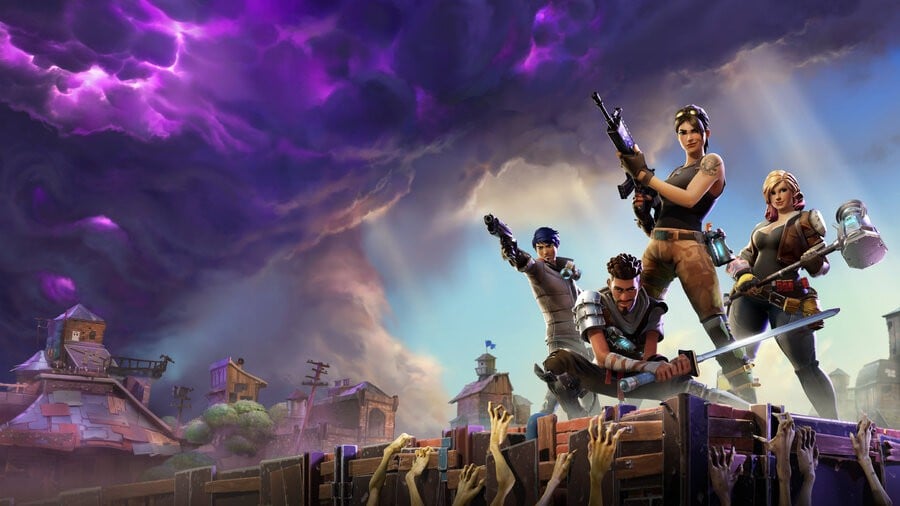 Update: We've just included all season four outfits, and will continue to update this as new skins get included.
---
Free to play games typically support themselves with a bunch of cosmetic outfits, most of which you have to purchase. Fortnite Battle Royale is no different, with an enormous selection to choose from.
To help you make that all important purchase decision, we want to make sure you're armed with all of the information. And by information, we mean a list of all of the skins in the game.
We'll keep updating this page, so we recommend bookmarking it so you can refer back to it often to see what, if any, new outfits have been added. We'll keep them at the top so you don't have to scroll down.
Battle Pass Skins
Season 4
Skin
Appearance
Rarity
Battle Pass Tier To Unlock
Battlehawk

Epic
1
Teknique

Epic
23
Zoey

Epic
47

Valor

Legendary
71
Squad Leader

Epic
87
Omega

Legendary
100
Season 3
Skin
Appearance
Rarity
Battle Pass Tier To Unlock

Mission Specialist

Epic
1
Rust Lord

Epic
23
Moonwalker

Epic
55
Elite Agent

Epic
87

Dark Voyager

Legendary
70
The Reaper

Legendary
100
Season 2
Skin
Appearance
Rarity
Battle Pass Tier To Unlock
Blue Squire

Rare
1

Royale Knight

Rare
21
Sparkle Specialist

Epic
56
Black Knight

Legendary
70
Carbide Sets
Season Four
Skin
Appearance
Rarity
How To Unlock

Carbide

Legendary
Complete Carbide Challenge
Seasonal Skins
Saint Patrick's Day Skins
Skin
Appearance
Rarity
Battle Hound

Legendary
Sgt. Green Clover

Uncommon
Lunar New Year Skins
Skin
Appearance
Rarity
Crimson Scout

Uncommon
Scarlet Defender

Uncommon
Wukong

Legendary
Valentine's Day Skins
| Skin | Appearance | Rarity |
| --- | --- | --- |
| Cuddle Team Leader | | Legendary |
| Love Ranger | | Legendary |
Christmas Skins
Skin
Appearance
Rarity
NOG OPS

Uncommon

Yuletide Ranger

Uncommon
Codename E.L.F.

Rare
Red-Nosed Raider

Rare
Ginger Gunner

Epic

Merry Marauder

Epic
Crackshot

Legendary
Halloween Skins
Skin
Appearance
Rarity
Ghoul Trooper

Epic

Skull Trooper

Epic
Daily and Weekly Skins
Uncommon Skins
Skin
Appearance
Assault Trooper

Commando

Devastator

Dominator

Highrise Assault Trooper

Jungle Scout

Pathfinder

Ranger

Renegade

Scout

Tactics Officer

Tower Recon Specialist

Tracker

Trooper
Rare Skins
Skin
Appearance
Absolute Zero

Aerial Assault Trooper

Arctic Assassin

Brawler

Brilliant Striker

Brite Bomber

Circuit Breaker

Dazzle

Desperado

First Strike Specialist

Hyperion

Infiltrator

Munitions Expert

Radiant Striker

Recon Expert

Recon Scout

Recon Specialist

Renegade Raider

Sash Sergeant

Snorkel Ops

Special Forces

Survival Specialist
Epic Skins
Skin
Appearance

Burnout

Funk Ops

Shadow Ops
Legendary Skins
Skin
Appearance

Raptor

Red Knight

Rex
Promotional Skins
Skin
Appearance

Blue Team Leader

Havoc

Sub Commander
Temporary Special Skins
Alpine Ace Skins
Skin
Appearance

Default

Canada

Chinea

France

Great Britain

Germany

Korea

USA
Mogul Master Skins
Skin
Appearance
Default

Canada

Chinea

France

Great Britain

Germany

Korea

USA