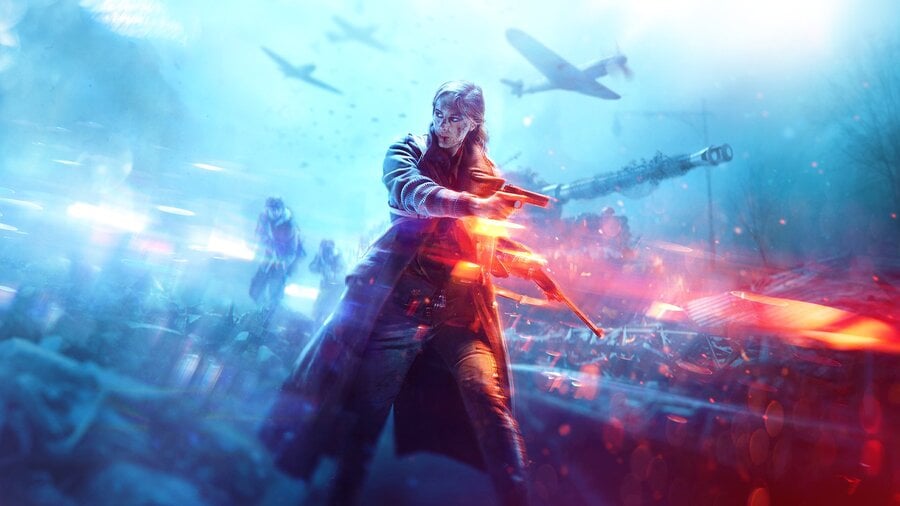 EA just wrapped up Battlefield V's awful reveal stream, which made last week's Call of Duty: Black Ops 4 showcase look like a masterpiece. In truth, we're not sure why the publisher decided to put this show on at all: it hired out a fancy set purely to put three awkward looking devs on stage for 30 minutes to talk about the new title. Gameplay is being saved until EA Play next month.
So what did we learn? Well, as rumoured the game's set during World War 2, and it'll release on 19th October, sandwiched between Call of Duty: Black Ops 4 and Red Dead Redemption 2. There'll be a new Grand Operations mode which sounds like a multi-layered objectives-type playlist, and co-op will also return. Meanwhile, single player fans will find new War Stories to enjoy, similar to those in Battlefield 1.
Perhaps the biggest announcement is that the sequel – which is pronounced Battlefield 5, by the way – will do away with the Premium Pass (or Season Pass), meaning all post-release support will be free. There'll be no pay-to-win content either, but DICE is absolutely going to have to monetise this title, and it seems like that will come courtesy of new customisation options that will enable your squad to standout.
And that's it. You can check out the reveal trailer embedded above, but there's already plenty of debate about whether it's actual gameplay or not. We'll let you decide on that front – it certainly seems far too scripted to be totally authentic. It's a good trailer, though, so give it a watch – and be sure to let us know what you think in the comments section.
Update: Those who pre-order Battlefield V will get early access to the game's beta. It looks like if you plump up for the Deluxe Edition you'll also be able to play three days early, on 16th October.