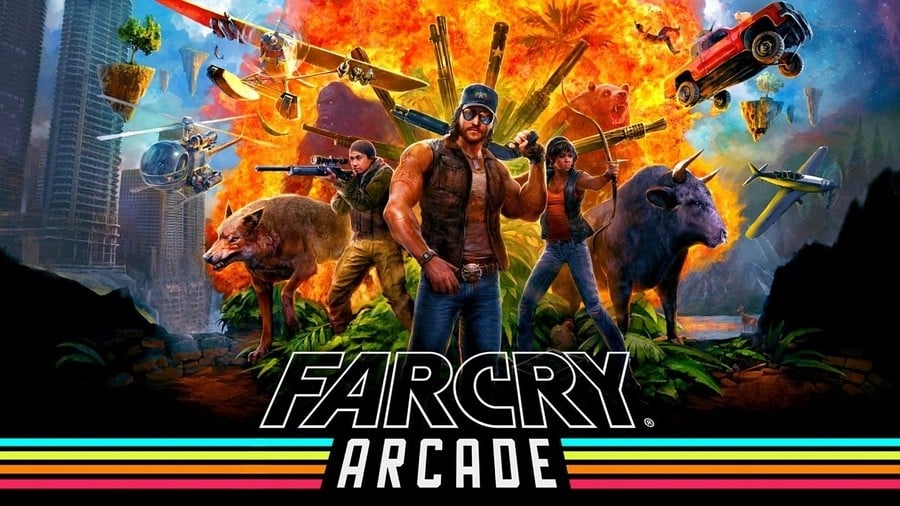 Tacked-on multiplayer modes were something that plagued the previous generation of consoles with poor online options that didn't really need to be there at all. Ninja Gaiden III brought its bloodshed to multiple players at once to little applause, BioShock 2 distributed plasmids online with not a lot of fanfare, and the 2013 reboot of Tomb Raider carried over its lacklustre multiplayer options with the PS4 remaster a year after its initial launch. At the time, I thought that was the end of it. It was time for them to die out, and in the years since then, throwaway multiplayer offerings have very much seemed to become a thing of the past. But with last month's release of Far Cry 5, its Arcade Mode has me fearing that these potentially forgetful features could make a return.
At the heart of Far Cry 5's multiplayer problem is curation. To take a step back for a second, the game's Arcade Mode allows players to create their own multiplayer maps and upload them for others to play, and it's these that make up the bulk of the locations you'll visit during competitive play. There are a handful of maps created by Ubisoft themselves, but they're poorly surfaced, not obvious when you reach the map voting screen, and rarely selected when it's time to pick a winner. And it's this that creates the mode's biggest flaw.
Curation of the player created maps is absolutely abysmal. A large majority of the maps you'll get to choose from aren't designed by Ubisoft, with maybe one or two sneaking into the selection screen if you're lucky, and because of that you're nearly always voting for a lesser experience. These maps are often completely unbalanced, as the creator hasn't spent months fine-tuning elements to make things fair, or they're far, far too big for the 12 player count. This actually amalgamated into a two match run where the first game I entered finished with a grand total of three kills, and the next one culminated in a draw with no deaths whatsoever. It's an awful experience that you'll tire of very, very quickly as you desperately search for a half-decent map, but due to being at the mercy of whatever locations the game throws at you, that may never happen.
While curation is completely random, the in-game mechanics that fail to translate over to multiplayer are set in stone. The simple act of just getting about is much harder online, with worse player movement, geometry that I constantly got hung up on, and a very finicky mantel that makes traversal much harder as it continuously fails to register that you want to climb up something. All of this works just fine in the single player campaign, so it's sort of bizarre to see it literally fail before your eyes when other players are thrown into the mix.
As well as that, there are some mechanics that just straight up do not work in multiplayer. The game's new take on a mini-map, the compass, is the biggest offender as it fails to map out your boundaries as well as doing a poor job of highlighting enemies. Because of this, I found myself going out of bounds multiple times every match as you simply don't know where the map ends or when the countdown timer for an automatic respawn will begin. You don't really know where you stand with any map you encounter thanks to the compass, and so it makes engagements with enemies even trickier because you don't know if just manoeuvring around to the other side of a car could trigger an eventual respawn.
To make matters even worse, the game does a terrible job of simply telling you whether someone is on your team or not. While most titles would give you a small pop-up highlighting their name and whether they're an enemy or not once you come across them, any sort of feature that does this in Far Cry 5 is non-existent. There's no way of telling if someone is on your team or not until you begin shooting at them, at which point the UI turns green for someone friendly and red for an enemy. Because of this, I found myself shooting at people on my own team far too often because I just didn't know whether they were going to try and kill me or not. While there's no friendly-fire, it's just incredibly stupid and needlessly convoluted to the point where I'm not entirely sure how the game shipped like this in the first place.
To top things off, there's no progression of any kind. You can level up to 20, but the rewards only affect the single player campaign, with nothing to speak of for multiplayer. Loadouts are determined by the map creator, and with no perks, there's nothing you can customise to your own liking. It all just feels a little bit pointless, with nothing to make your own nor anything to work towards.
And in a word, that's exactly what the PvP side of the Arcade Mode is: worthless. Sure, Ubisoft could fix the curation side of things by doing a better job of surfacing its own maps and the quality content created by the community, but at the end of the day, what's the point? There's no sense of progression, mechanics are inferior in every way when compared to the campaign, and the lack of any enemy highlighting is honestly just a bit of a joke. Your time would be better spent doing pretty much anything else, because the competitive options on offer in Far Cry 5 care as little about you as you should care about it, and Ubisoft don't seem to be bothered at all.
---
Are you having better luck when it comes to the PvP side of things in Far Cry 5's Arcade Mode? Insert a coin or two in the comments below.