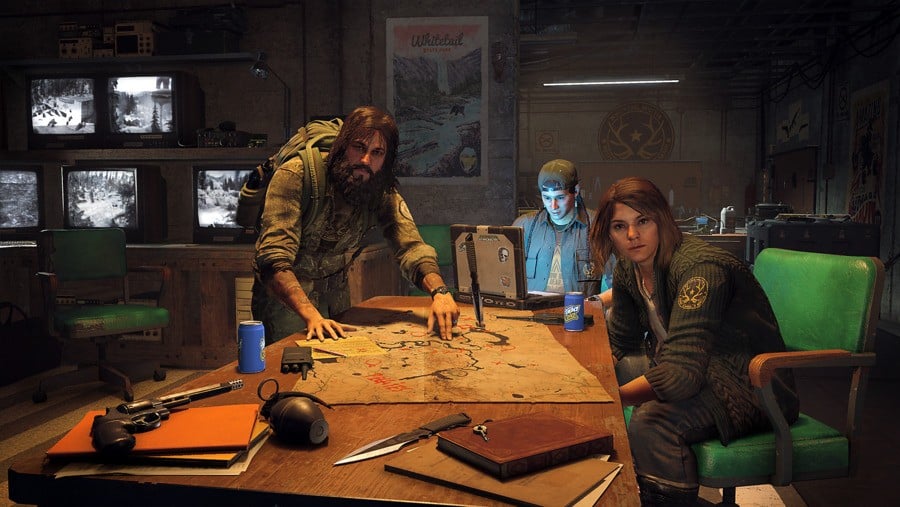 Hunting down prepper stashes is a ton of fun in Far Cry 5. Not only do you earn a ton of cash, perk magazines, and other special items like outfits and vehicles, but getting to the rewards is often a reward in itself.
Most prepper stashes behave like a big puzzle to solve. Some tax you mentally while others give you a physical challenge to complete, involving all of the resources at your disposal.
Tracking them down is also tricky though, as they don't just litter your map. You have to either stumble across them randomly, or speak to an NPC that knows of one of their locations.
Or, you could just read this guide. Below, we have a list of all of the prepper stash locations in Far Cry 5, including the rewards you get for completing them. That way, you can prioritise the ones you want.
We recommend bookmarking this guide, so you can refer back to it as you play. Have fun!
Dutch's Island Prepper Stash Locations
| Prepper Stash | Location | Rewards |
| --- | --- | --- |
| Sunken Funds | Silver Lake Boathouse | $666 |
Holland Valley Prepper Stash Locations
| Prepper Stash | Location | Rewards |
| --- | --- | --- |
| Swingers | Bridge of Tears | Hunter Outfit / $1,000 / Three Perk Magazines |
| High Tension | Lincoln Lookout Tower | $1,000 / Three Perk Magazines |
| DIY And DOA | Doverspike Compound | $1,000 / Three Perk Magazines |
| Dumpster Diving | Dodds Dumps | $1,000 / Three Perk Magazines |
| Vespiary | Grain Elevator | Gold Medalist Weapon Skin / $1,000 / Three Perk Magazines |
| Long Range Lockpick | Deep North Irrigation Reservoir | $1,000 / Three Perk Magazines |
| Foxhole | Armstrong Residence | Militia Outfit / $1,000 / Three Perk Magazines |
| Playing With Fire | Hope County Jail Bus | Molotov - Enhanced Recipe / $1,000 / Three Perk Magazines |
| Deep Dive | Laurel Residence | $1,000 / Three Perk Magazines |
| Man Cave | Sunrise Threshing | 2012 Kimberlite TCZ / $1,000 / Three Perk Magazines |
| Fire In The Hole | Wellington Residence | $1,000 / Three Perk Magazines |
Whitetail Mountains Prepper Stash Locations
Prepper Stash
Location
Rewards
Mayday
Rattlesnake Trail Bridge
$1,000 / Three Perk Magazines
Cliffhanger
Ozhigwan Falls
$1,000 / Three Perk Magazines
Hanger Pains
Lansdowne Airstrip
Pack Hunter Plane / Cheeseburger Bobblehead / Hares Magazine / Three Perk Magazines / $1,000
The Holdouts
Elliot Residence
Vietnam Lighter / $1,000 / Three Perk Magazines
Unwelcome Guest
Frank's Cabin
$1,000 / Three Perk Magazines
Gone Squatchin'
Danksy Cabin
Vinyl Crate / Fishing Magazine: Chinook Salmon / $1,000 / Three Perk Magazines
Salvage Rites
Salvage Camp
$1,000 / Three Perk Magazines

Shipwreck
Tanami Residence
$1,000 / Three Perk Magazines
Henbane River Prepper Stash Locations
Prepper Stash
Location
Rewards
Pooper Scooper
Silver Lake Summer Camp
$1,000 / Three Perk Magazines
Animal Control
Howling Cave
$1,000 / Three Perk Magazines
Overwatch
Taft Lookout Tower
Flight Suit Outfit / $1,000 / Three Perk Magazines
Dead Man's Treasure
Dead Man's Mill
$1,000 / Three Perk Magazines
The Angel's Grave
Horned Serpent Cave
$1,000 / Three Perk Magazines
O'Hara's Haunted House
O'Hara's Haunted House
$1,000 / Three Perk Magazines
Side Effects
Bright Warden Radon Spa
$1,000 / Three Perk Magazines

Getaway
McCallough's Garage
1973 Pygmation SSR Car / $1,000 / Three Perk Magazines