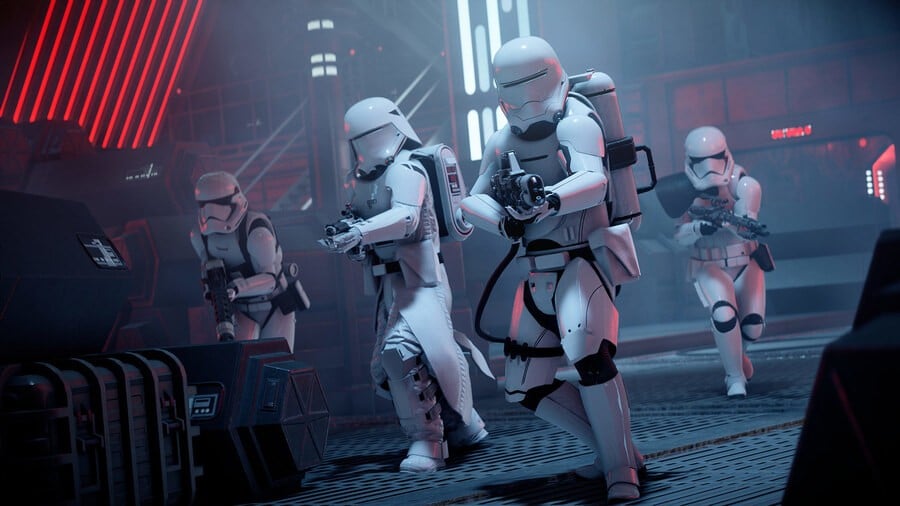 Star Wars Battlefront 2 is being ripped up and reassembled following an enormous backlash at the backend of last year. Set to roll out on 21st March, developer DICE has been busy revamping pretty much everything to do with the release's progression, presumably as part of a last-ditch effort to win back fans.
So what's changing? Well, the title's set to adopt a linear progression format, where Star Cards are earned and upgraded purely through gameplay – rather than loot boxes. You'll earn Experience Points for everything you do in multiplayer, and this can then be traded in to unlock or upgrade Star Cards. Don't worry if you've already unlocked a lot of this stuff, as everything will carry forward.
This of course means that Star Cards will no longer be available in loot boxes. You'll still collect Crates for logging in or completing Milestones, but these will only ever include cosmetic items like gestures and emotes. More cosmetic items like costumes are set to release in April, and you'll be able to obtain these using either in-game credits or Crystals purchased via the PlayStation Store.
So essentially, the update is stripping microtransactions out of the core gameplay systems, and utilising them for more peripheral content, like costumes. It's basically becoming Overwatch, which is arguably what it should have been from the start. A huge improvement, then – but is the damage already done?
[source ea.com]