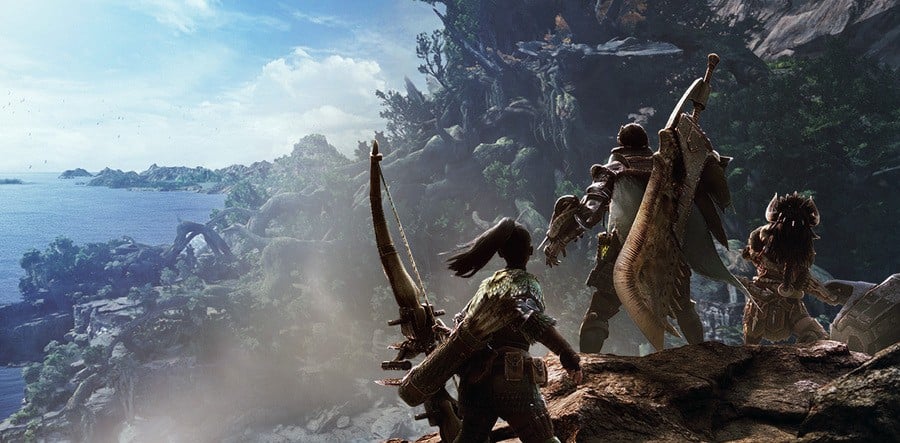 The Sword & Shield is the quintessential beginner's weapon in Monster Hunter: World, but that's not to say it's no good later in the game. The weapon has a lot going for it.
You get a defensive boost thanks to the shield, can move while guarding, and you can even use items without unequipping your weapon. That's a handy little feature that all of us can appreciate.
There's also a diverse array of attacks that allow you to pump out some decent damage if you're skilled enough. Here are all of the weapons in the game, so take a look and see if you like any.
Sword & Shields
Ore Tree
Weapons
Materials Required
Base Attack
Jewel Slots
Hunter's Knife I
Iron Ore
112
0
Hunter's Knife II
Iron Ore x 2
126
0
Hunter's Knife III
Earth Cystal x 2 / Machalite Ore x 2 / Iron Ore x 5
140
0
Steel Knife I
Dragonite Ore x 2 / Machalite Ore x 5 / Monster Bone M x 2
168
0
Steel Knife II
Monster Bone+ x 2 / Dragonite Ore x 5 / Coral Crystal x 2 / Machalite Ore x 10
182
3
Steel Knife III
Carbalite Ore x 8 / Dragonite Ore x 5 / Dragonvein Crystal x 2
196
1

Chrome Slicer I
Dragonite Ore x 10 / Dragonvein Crystal x 3 / Carbalite Ore x 5 / Fucium Ore x 8
224
1
Chrome Slicer II
Carbalite Ore x 20 / Elder Dragon Blood x 2 / Firecell Stone / Fucium Ore x 13
252
2
Nergigante Tree
| Weapons | Materials Required | Base Attack | Jewel Slots |
| --- | --- | --- | --- |
| Nergal Jack | Nergigante Carapace x 2 / Nergigante Regrowth Plate x 4 / Nergigante Tail x 2 / Nergigante Talon x 3 | 280 | 1 |
| Eradication Vanguard | Nergigante Gem / Nergigante Horn+ x 5 / Nergigante Talon x 5 / Xeno'jiiva Horn x 2 | 294 | 1 |
Rathalos Tree
| Weapons | Materials Required | Base Attack | Jewel Slots |
| --- | --- | --- | --- |
| Flame Knife I | Rathalos Scale / Rathalos Webbing x 2 / Flame Sac x 2 / Rathalos Marrow | 182 | 0 |
| Flame Knife II | Rathalos Scale x 6 / Rathalos Tail x 2 / Rathalos Plate / Inferno Sac x 3 | 196 | 1 |
| Heat Edge | Rathalos Carapace x 4 / Rathalos Medulla / Rathalos Scale+ x 6 / Rathalos Wing x 2 | 224 | 1 |
| Corona | Azure Rathalos Carapace x 4 / Azure Rathalos Scale+ x 6 / Azure Rathalos Wing x 3 / Rathalos Ruby | 266 | 1 |
Workshop Weapon Tree
Weapons
Materials Required
Base Attack
Jewel Slots
Heavy Bang
Commendation / Rathalos Tail / Diablos Fang x 2 / Odogaron Claw x 2
210
0

Heavy Bang+
Carbalite Ore x 10 / Bird Wyvern Gem / Odogaron Tail x 2 / Odogaron Claw+ x 3
252
1
Master Bang
Bazelgeuse Talon x 3 / Daora Claw+ x 3 / High Commendation / Wyvern Gem
280
1
Water Element Tree
Weapons
Materials Required
Base Attack
Jewel Slots
Aqua Messer I
Earth Crystal x 3 / Jyuratodus Shell / Jyuratodus Scale x 3 / Aqua Sac
140
0
Aqua Messer II
Dragonite Ore x 5 / Jyuratodus Fin x 3 / Jyuratodus Fang x 2 / Gajau Skin x 3
168
0
Aqua Messer III
Monster Bone+ x 2 / Jyuratodus Fang x 4 / Coral Crystal x 3 / Gajau Whisker x 3
196
0
Rogue Wave I
Carbalite Ore x 5 / Gajau Scale x 5 / Jyuratodus Carapace x 2 / Jyuratodus Scale+ x 3
210
1

Rogue Wave II
Fucium Ore x 5 / Grand Gajau Whisker x 3 / Jyuratodus Fin+ x 4 / Torrent Sac x 3
224
1
Rogue Wave III
Elder Dragon Blood x 3 / Jyuratodus Fang+ x 5 / Jyuratodus Fin+ x 6 / Wyvern Gem
252
1
Legiana Tree
Weapons
Materials Required
Base Attack
Jewel Slots
Glacial Grace I
Legiana Claw x 3 / Legiana Scale x 4 / Frost Sac x 2
182
0
Glacial Grace II
Legiana Plate / Legiana Claw x 4 / Legiana Tail Webbing x 3 / Paolumu Wing x 4
196
1
Rimespire
Freezer Sac x 2 / Legiana Claw+ x 3 / Legiana Scale+ x 5 / Legiana Wing x 3
210
1
Legia Rimespire
Daora Claw+ x 2 / Legiana Claw+ x 5 / Legiana Gem / Legiana Hide+ x 3
224
1
Rathian Tree
| Weapons | Materials Required | Base Attack | Jewel Slots |
| --- | --- | --- | --- |
| Princess Rapier | Rathian Spike x 3 / Rathian Scale x 5 / Rathian Shell x 4 | 168 | 0 |
| Queen Rapier | Rathian Plate / Rathian Scale+ x 5 / Rathian Carapace x 4 / Rathian Spike+ x 3 | 210 | 1 |
| Queen Rose | Pink Rathian Carapace x 4 / Pink Rathian Scale+ x 5 / Rathian Spike+ x 4 / Wyvern Gem | 238 | 1 |
| Royal Rose | Elder Dragon Blood x 3 / Pink Rathian Scale+ x 6 / Rathian Ruby / Rathian Spike+ x 5 | 266 | 1 |
Paolumu Tree
| Weapons | Materials Required | Base Attack | Jewel Slots |
| --- | --- | --- | --- |
| Lumu Knife I | Paolumu Shell / Paolumu Scale x 3 / Paolumu Pelt x 2 | 168 | 0 |
| Lumu Knife II | Diablos Shell x 3 / Paolumu Shell x 3 / Paolumu Webbing x 2 / Shamos Scale x 5 | 182 | 0 |
| Lumu Tabar I | Paolumu Carapace+ x 3 / Paolumu Pelt+ x 4 / Paolumu Scale+ x 5 / Shamos Scale+ x 5 | 210 | 2 |
| Lumu Tabar II | Blos Medulla x 2 / Paolumu Carapace+ x 4 / Paolumu Wing x 3 / Novacrystal | 224 | 2 |
| Lumu Tabar III | Elder Dragon Bone x 3 / Paolumu Carapace+ x 5 / Paolumu Scale+ x 7 / Wyvern Gem | 238 | 2 |
Pukei-Pukei Tree
Weapons
Materials Required
Base Attack
Jewel Slots

Blooming Knife I
Pukei-Pukei Quill x 2 / Pukei-Pukei Scale x 3 / Poison Sac
154
0
Blooming Knife II
Coral Crystal x 3 / Pukei-Pukei Sac x 2 / Pukei-Pukei Shell x 3 / Pukei-Pukei Tail
182
0
Blooming Knife III
Monster Bone + x 2 / Pukei-Pukei Quill x 4 / Pukei-Pukei Sac x 2 / Poison Sac x 2
196
0
Datura Blossom I
Pukei-Pukei Scale+ x 3 / Pukei-Pukei Wing x 2 / Toxin Sac x 2 / Quality Bone x 3
210
3
Datura Blossom II

Monster Hardbone x 3 / Pukei-Pukei Wing x 3 / Pukei-Pukei Carapace x 5 / Toxin Sac x 2
224
2
Datura Blossom III

Bird Wyvern Gem / Pukei-Pukei Sac+ x 4 / Pukei-Pukei Wing x 6 / Vaal Hazak Wing x 2
238
2
Great Girros Tree
| Weapons | Materials Required | Base Attack | Jewel Slots |
| --- | --- | --- | --- |
| Girros Knife I | Great Girros Fang / Great Girros Scale x 3 / Girros Fang x 3 | 168 | 0 |
| Girros Knife II | Diablos Fang x 2 / Great Girros Fang x 3 / Great Girros Hood x 2 / Paralysis Sac x 2 | 182 | 0 |
| Malady's Tabar I | Great Girros Fang+ x 3 / Great Girros Scale+ x 5 / Great Girros Tail x 2 / Girros Scale+ x 6 | 196 | 0 |
| Malady's Tabar II | Blos Medulla / Great Girros Fang+ x 4 / Great Girros Hood+ x 2 / Omniplegia Sac x 4 | 210 | 0 |
| Malady's Tabar III | Bird Wyvern Gem / Great Girros Fang+ x 5 / Great Girros Hood+ x 3 / Vaal Hazak Fang+ x 2 | 224 | 0 |
Bone Tree
| Weapons | Materials Required | Base Attack | Jewel Slots |
| --- | --- | --- | --- |
| Bone Kukri I | Monster Bone S | 140 | 0 |
| Bone Kukri II | Monster Bone S x 2 | 154 | 0 |
| Bone Kukri III | Monster Bone M x 2 / Ancient Bone | 168 | 0 |
| Chief Kukri I | Monster Bone L / Monster Bone M x 5 / Boulder Bone x 2 | 196 | 0 |
| Chief Kukri II | Monster Bone+ x 2 / Monster Bone L / Sturdy Bone x 4 | 210 | 0 |
| Chief Kukri III | Monster Keenbone x 2 / Monster Bone+ x 2 / Quality Bone x 2 | 224 | 3 |
| Grand Barong I | Monster Hardbone x 4 / Monster Keenbone x 6 / Quality Bone x 10 | 238 | 1 |
| Grand Barong II | Elder Dragon Bone x 4 / Monster Hardbone x 6 / Quality Bone x 20 / Dragonbone Relic | 266 | 1 |
Radobaan Tree
| Weapons | Materials Required | Base Attack | Jewel Slots |
| --- | --- | --- | --- |
| Spiked Edge I | Wyvern Bonemass x 2 / Radobaan Scale x 4 / Sleep Sac x 2 | 182 | 0 |
| Spiked Edge II | Monster Bone+ x 3 / Wyvern Bonemass x 3 / Radobaan Oilshell x 2 / Radobaan Marrow | 196 | 0 |
| Baan Claw I | Coma Sac x 2 / Radobaan Oilshell x 3 / Radobaan Carapace x 4 / Monster Keenbone x 3 | 238 | 0 |
| Baan Claw II | Coma Sac x 3 / Monster Hardbone x 5 / Radobaan Medulla / Radobaan Scale+ x 8 | 252 | 0 |
| Baan Claw III | Coma Sac x 4 / Elder Dragon Bone x 5 / Radobaan Carapace x 6 / Wyvern Gem | 266 | 0 |
Great Jagras Tree
Weapons
Materials Required
Base Attack
Jewel Slots

Jagras Edge I
Great Jagras Claw / Great Jagras Hide / Great Jagras Scale x 3 / Sharp Claw
168
0
Jagras Edge II
Great Jagras Claw x 2 / Great Jagras Mane x 2 / Coral Bone x 2 / Tzitzi-Ya-Ku Claw x 3
196
0
Jagras Edge III
Monster Bone+ x 3 / Great Jagras Scale x 5 / Great Jagras Claw x 3 / Great Jagras Mane x 3
210
0
Jagras Garotte I
Great Jagras Scale+ x 6 / Great Jagras Claw+ x 4 / Great Jagras Mane x 6 / Piercing Claw x 5
238
3
Jagras Garotte II
Monster Hardbone x 4 / Great Jagras Claw+ x 6 / Jagras Hide+ x 6 / Tzitzi-Ya-Ku Claw+ x 5
252
2
Jagras Garotte III
Vaal Hazak Talon x 2 / Great Jagras Claw+ x 8 / Great Jagras Hide+ x 6 / Novacrystal
266
2
Thunder Element Tree
| Weapons | Materials Required | Base Attack | Jewel Slots |
| --- | --- | --- | --- |
| Thunder Edge I | Sturdy Bone x 5 / Tobi-Kodachi Electrode / Tobi-Kadachi Claw x 2 / Electro Sac | 182 | 0 |
| Thunder Edge II | Monster Bone+ x 2 / Tobi-Kadachi Electrode x 2 / Tobi-Kadachi Membrane x 2 / Warped Bone x 2 | 210 | 0 |
| Lightning Nemesis I | Quality Bone x 5 / Tobi-Kadachi Pelt+ x 3 / Tobi-Kadachi Scale+ x 4 / Vespoid Innerwing x 3 | 224 | 1 |
| Lightning Nemesis II | Monster Hardbone x 3 / Thunder Sac x 3 / Tobi-Kadachi Membrane x 4 / Tobi-Kadachi Electrode+ x 2 | 252 | 1 |
| Lightning Nemesis III | Elder Dragon Bone x 4 / Tobi-Kadachi Claw+ x 6 / Tobi-Kadachi Electrode+ x 4 / Wyvern Gem | 266 | 1 |
Barroth Tree
| Weapons | Materials Required | Base Attack | Jewel Slots |
| --- | --- | --- | --- |
| Carapace Edge I | Barroth Claw / Barroth Shell x 3 / Barroth Ridge x 2 | 182 | 0 |
| Carapace Edge II | Dragonite Ore x 3 / Barroth Claw x 2 / Barroth Tail / Kestodon Shell x 3 | 196 | 0 |
| Carapace Edge III | Diablos Shell x 3 / Barroth Claw x 4 / Barroth Scalp x 2 / Monster Bone+ x 3 | 224 | 0 |
| Barroth Club I | Barroth Carapace x 3 / Barroth Claw+ x 2 / Barroth Ridge+ x 2 / Kestodon Carapace x 5 | 252 | 1 |
| Barroth Club II | Barroth Carapace x 3 / Barroth Claw+ x 4 / Diablos Carapace x 3 / Gastodon Carapace x 5 | 266 | 2 |
| Barroth Club III | Barroth Claw+ x 5 / Barroth Ridge+ x 5 / Nergigante Horn+ / Wyvern Gem | 294 | 2 |
Anjanath Tree
| Weapons | Materials Required | Base Attack | Jewel Slots |
| --- | --- | --- | --- |
| Blazing Edge I | Anjanath Fang x 2 / Anjanath Scale x 3 / Flame Sac | 196 | 0 |
| Blazing Edge II | Rathalos Marrow / Anjanath Fang x 4 / Anjanath Nosebone / Anjanath Tail | 224 | 0 |
| Flammensucher | Anjanath Fang+ x 4 / Anjanath Scale+ x 5 / Inferno Sac x 3 / Anjanath Plate | 266 | 0 |
| Gnashing Flammensucher | Anjanath Gem / Anjanath Fang+ x 6 / Anjanath Nosebone+ x 2 / Teostra Mane x 2 | 294 | 0 |
Dragonbone Tree
Weapons
Materials Required
Base Attack
Jewel Slots
Dragonbone Sword I
Warped Bone x 5 / Coral Bone x 5 / Boulder Bone x 5 / Ancient Bone x 5
140
0

Dragonbone Sword II
Monster Bone+ x 6 / Monster Bone L x 8 / Sturdy Bone x 8
154
0
Dragonbone Sword III
Brutal Bone x 4 / Elder Dragon Bone x 10 / Dragonbone Relic x 2 / Wyvern Gem
196
1
Kirin Tree
| Weapons | Materials Required | Base Attack | Jewel Slots |
| --- | --- | --- | --- |
| Fulminator | Kirin Thunderhorn x 3 / Kirin Hide x 3 / Kirin Tail / Lightcrystal | 154 | 0 |
| Thunderbolt Sword I | Kirin Azure Horn x 4 / Kirin Hide+ x 5 / Kirin Mane x 4 / Dragonvein Crystal x 5 | 210 | 0 |
| Thunderbolt Sword II | Kirin Azure Horn x 6 / Kirin Thundertail x 3 / Xeno'jiiva Shell x 4 / Novacrystal x 2 | 224 | 0 |
Blacksteel Tree
| Weapons | Materials Required | Base Attack | Jewel Slots |
| --- | --- | --- | --- |
| Blacksteel Sword I | Dragonvein Crystal x 10 / Earth Crystal x 10 / Coral Crystal x 10 / Lightcrystal | 140 | 0 |
| Blacksteel Sword II | Firecell Stone / Fucium Ore x 5 / Carbalite Ore x 10 / Wyvern Gem | 154 | 0 |
| Teostra's Spada | Teostra Carapace x 5 / Teostra Claw+ x 2 / Teostra Mane x 2 / Teostra Powder x 4 | 252 | 0 |
| Teostra's Emblem | Teostra Claw+ x 2 / Teostra Gem / Teostra Horn+ x 5 / Xeno'jiiva Soulscale x 5 | 266 | 0 |
Xeno'jiiva Tree
| Weapons | Materials Required | Base Attack | Jewel Slots |
| --- | --- | --- | --- |
| Xeno Mabura | Xeno'jiiva Claw x 4 / Xeno'jiiva Gem / Xeno'jiiva Shell x 6 / Xeno'jiiva Tail x 2 | 238 | 2 |