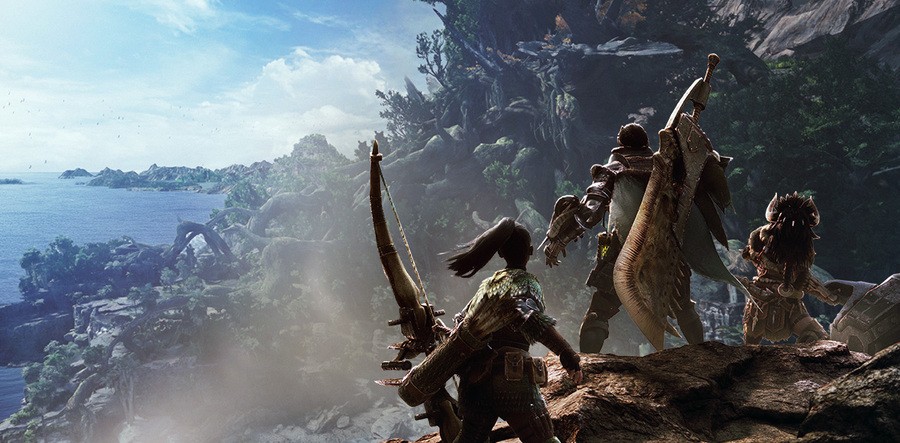 The Hammer is the hardest hitting weapon in Monster Hunter: World, but that comes at a price. It's a little bit slow.
Master it, and you won't need speed at all that. The Hammer is capable of stunning even large monsters if you hit them on the head, after which you're free to perform a bunch of devastating charge attacks.
If you think you have what it takes to master this weapon, scan below to pick out your favourite one and plan ahead so you can craft it once it becomes available.
Hammer
Ore Tree
Weapons
Materials Required
Base Attack
Jewel Slots
Iron Hammer I
Iron Ore
416
0
Iron Hammer II
Iron Ore x 2
468
0
Iron Hammer III
Earth Crystal x 2 / Machalite Ore x 2 / Iron Ore x 5
520
0
Iron Demon I
Dragonite Ore x 2 / Machalite Ore x 5 / Monster Bone M x 2
572
0
Iron Demon II
Monster Bone+ x 2 / Dragonite Ore x 5 / Coral Crystal x 2 / Machalite Ore x 10
676
0
Iron Demon III
Carbalite Ore x 8 / Dragonite Ore x 5 / Dragonvein Crystal x 2
728
1
Iron Archdemon I
Fucium Ore x 8 / Carbalite Ore x 5 / Dragonite Ore x 10 / Dragonvein Crystal x 3
832
1

Iron Archdemon II
??? / ??? / Carbalite Ore x 20 / ???
936
2
Nergigante Tree
| Weapons | Materials Required | Base Attack | Jewel Slots |
| --- | --- | --- | --- |
| Nergal Crusher | Nergigante Carapace x 2 / Nergigante Regrowth Plate x 4 / Nergigante Tail x 2 / Nergigante Talon x 3 | 1,040 | 1 |
| Obliteration's Footfall | Nergigante Gem / Nergigante Horn+ x 5 / Nergigante Talon x 5 / Xeno'jiiva Horn x 2 | 1,092 | 1 |
Workshop Tree
Weapons
Materials Required
Base Attack
Jewel Slots
Frozen Core
Legiana Scale x 3 / Frost Sac x 4 / Coral Crystal x 4 / Lightcrystal x 3
624
0

Frozen Core+
Freezer Sac x 4 / Legiana Scale+ x 3 / Dragonvein Crystal x 4 / Novacrystal x 3
832
1
Cocytus
Daora Claw+ x 3 / Freezer Sac x 4 / Legiana Wing x 3 / Novacrystal x 6
936
1
Water Element Tree
Weapons
Materials Required
Base Attack
Jewel Slots
Aqua Hammer I
Earth Crystal x 3 / Jyuratodus Shell / Jyuratodus Scale x 3 / Aqua Sac
572
0
Aqua Hammer II
Dragonite Ore x 5 / Jyuratodus Fin x 3 / Jyuratodus Fang x 2 / Gajau Skin x 3
624
0
Aqua Hammer III
Monster Bone+ x 2 / Jyuratodus Fang x 4 / Coral Crystal x 3 / Gajau Whisker x 3
676
0
Water Basher I
Carbalite Ore x 5 / Gajau Scale x 5 / Jyuratodus Carapace x 2 / Jyuratodus Scale+ x 3
780
1

Water Basher II
Fucium Ore x 5 / Grand Gajau Whisker x 3 / Jyuratodus Fin+ x 4 / Torrent Sac x 3
832
1
Water Basher III
Elder Dragon Blood x 3 / Jyuratodus Fang+ x 5 / Jyuratodus Fin+ x 6 / Wyvern Gem
936
1
Great Girros Tree
Weapons
Materials Required
Base Attack
Jewel Slots
Girros Hammer I
Great Girros Fang / Great Girros Scale x 3 / Girros Fang x 3
624
0
Girros Hammer II
Diablos Fang x 2 / Great Girros Fang x 3 / Great Girros Hood x 2 / Paralysis Sac x 2
676
0
Malady's Fist I
Great Girros Fang+ x 3 / Great Girros Scale+ x 5 / Great Girros Tail x 2 / Girros Scale+ x 6
728
0

Malady's Fist II
Blos Medulla / Great Girros Fang+ x 4 / Great Girros Hood+ x 2 / Omniplegia Sac x 4
780
0
Malady's Fist III
Bird Wyvern Gem / Great Girros Fang+ x 5 / Great Girros Hood+ x 3 / Vaal Hazak Fang+ x 2
832
0
Pukei-Puei Tree
Weapons
Materials Required
Base Attack
Jewel Slots
Blooming Hammer I
Pukei-Pukei Quill x 2 / Pukei-Pukei Scale x 3 / Poison Sac
520
0
Blooming Hammer II
Coral Crystal x 3 / Pukei-Pukei Sac x 2 / Pukei-Pukei Shell x 3 / Pukei-Pukei Tail
624
0
Blooming Hammer III
Monster Bone+ x 2 / Pukei-Pukei Quill x 4 / Pukei-Pukei Sac x 2 / Poison Sac x 2
728
0

Buon Fiore
Pukei-Pukei Scale+ x 3 / Pukei-Pukei Wing x 2 / Toxin Sac x 2 / Quality Bone x 3
780
2
Buona Flora
Bird Wyvern Gem / Pukei-Pukei Sac+ x 4 / Pukei-Pukei Wing x 6 / Vaal Hazak Wing x 2
936
2
Thunder Element Tree
Weapons
Materials Required
Base Attack
Jewel Slots
Thunder Hammer I
Dragonite Ore x 5 / Tobi-Kadachi Electrode / Tobi-Kadachi Claw x 2 / Electro Sac
676
0
Thunder Hammer II
Monster Bone+ x 2 / Tobi-Kadachi Electrode x 2 / Tobi-Kadachi Membrane x 2 / Coral Crystal x 3
780
0
Lightning Bash I
Carbalite Ore x 5 / Tobi-Kadachi Pelt+ x 3 / Tobi-Kadachi Scale+ x 4 / Vespoid Innerwing x 3
832
1

Lightning Bash II
Fucium Ore x 5 / Thunder Sac x 3 / Tobi-Kadachi Membrane x 4 / Tobi-Kadachi Electrode+ x 2
884
1
Lightning Bash III
Elder Dragon Blood x 3 / Tobi-Kadachi Claw+ x 6 / Tobi-Kadachi Electrode+ x 4 / Wyvern Gem
988
1
Bone Tree
Weapons
Materials Required
Base Attack
Jewel Slots
Bone Bludgeon I
Monster Bone S
520
0
Bone Bludgeon II
Monster Bone S x 2
572
0
Bone Bludgeon III
Monster Bone M x 2 / Ancient Bone
624
0
Fossil Bludgeon I
Monster Bone L / Monster Bone M x 5 / Boulder Bone x 2
728
0
Fossil Bludgeon II
Monster Bone+ x 2 / Monster Bone L / Sturdy Bone x 4
780
0

Fossil Bludgeon III
Monster Keenbone x 2 / Monster Bone+ x 2 / Quality Bone x 2
832
3
Grandrock I
Monster Hardbone x 4 / Monster Keenbone x 6 / Quality Bone x 10
884
1
Grandrock II
Elder Dragon Bone x 4 / Monster Hardbone x 6 / Quality Bone x 20 / Dragonbone Relic
988
1
Vaal Hazak Tree
| Weapons | Materials Required | Base Attack | Jewel Slots |
| --- | --- | --- | --- |
| Hazak Vlafos | Deceased Scale x 6 / Vaal Hazak Fang+ x 5 / Vaal Hazak Membrane x 4 / Vaal Hazak Talon x 4 | 988 | 1 |
| Pandemonium's Root | Vaal Hazak Gem / Vaal Hazak Tail x 2 / Vaal Hazak Talon x 6 / Xeno'jiiva Veil x 3 | 1,040 | 1 |
Radobaan Tree
| Weapons | Materials Required | Base Attack | Jewel Slots |
| --- | --- | --- | --- |
| Bone Spike I | Wyvern Bonemeass x 2 / Radobaan Scale x 4 / Sleep Sac x 2 | 676 | 0 |
| Bone Spike II | Monster Bone+ x 3 / Wyvern Bonemass x 3 / Radobaan Oilshell x 2 / Radobaan Marrow | 728 | 0 |
| Baan Strike I | Coma Sac x 2 / Radobaan Oilshell x 3 / Radobaan Carapace x 4 / Monster Keenbone x 3 | 780 | 0 |
| Baan Strike II | Coma Sac x 3 / Monster Hardbone x 5 / Radobaan Medulla / Radobaan Scale+ x 8 | 884 | 0 |
| Baan Strike III | Coma Sac x 4 / Elder Dragon Bone x 5 / Radobaan Carapace x 6 / Wyvern Gem | 988 | 0 |
Uragaan Tree
| Weapons | Materials Required | Base Attack | Jewel Slots |
| --- | --- | --- | --- |
| Brazenbreak I | Uragaan Carapace x 4 / Uragaan Jaw / Uragaan Marrow / Uragaan Scale+ x 6 | 988 | 1 |
| Brazenbreak II | Teostra Carapace x 4 / Uragaan Jaw x 2 / Uragaan Ruby / Uragaan Scute x 4 | 1,092 | 1 |
Kulu-Ya-Ku Tree
| Weapons | Materials Required | Base Attack | Jewel Slots |
| --- | --- | --- | --- |
| Kulu Beak I | Kulu-Ya-Ku Beak / Kulu-Ya-Ku Hide x 2 / Kulu-Ya-Ku Scale x 3 | 624 | 0 |
| Kulu Beak II | Radobaan Scale x 3 / Kulu-Ya-Ku Beak x 2 / Kulu-Ya-Ku Plume x 2 / Boulder Bone x 3 | 676 | 0 |
| Kulu Beak III | Odogaron Claw x 2 / Kulu-Ya-Ku Beak x 2 / Kulu-Ya-Ku Plume x / Warped Bone x 3 | 728 | 0 |
| Crushing Beak I | Kulu-Ya-Ku Beak+ x 3 / Kulu-Ya-Ku Hide+ x 4 / Kulu-Ya-Ku Scale+ x 6 | 780 | 0 |
| Crushing Beak II | Brutal Bone x 3 / Kulu-Ya-Ku Beak+ x 4 / Kulu-Ya-Ku Plume+ x 3 / Odogaron Claw+ x 2 | 832 | 0 |
| Crushing Beak III | Bird Wyvern Gem / Kulu-Ya-Ku Beak+ x 5 / Kulu-Ya-Ku Plume+ x 4 / Nergigante Talon x 2 | 884 | 0 |
Diablos Tree
| Weapons | Materials Required | Base Attack | Jewel Slots |
| --- | --- | --- | --- |
| Diablos Sledge I | Twisted Horn / Diablos Fang x 2 / Diablos Shell x 4 / Monster Bone+ x 3 | 884 | 0 |
| Diablos Sledge II | Monster Keenbone x 4 / Diablos Ridge x 4 / Diablos Tailcase x 2 / Diablos Marrow | 988 | 0 |
| Diablos Shatterer I | Blos Medulla / Diablos Carapace x 6 / Diablos Ridge+ x 5 / Majestic Horn x 3 | 1,092 | 1 |
| Diablos Shatterer II | Black Diablos Carapace x 4 / Black Spiral Horn+  / ??? / ??? | 1,196 | 1 |
Barroth Tree
Weapons
Materials Required
Base Attack
Jewel Slots
Carapace Sledge I
Barroth Claw / Barroth Shell x 3 / Barroth Ridge x 2
676
0

Carapace Sledge II
Dragonite Ore x 3 / Barroth Claw x 2 / Barroth Tail / Kestodon Shell x 3
728
0
Carapace Sledge III
Diablos Shell x 3 / Barroth Claw x 4 / Barroth Scalp x 2 / Monster Bone+ x 3
832
0
Barroth Breaker I
Barroth Carapace x 3 / Barroth Claw+ x 2 / Barroth Ridge+ x 2 / Kestodon Carapace x 5
936
1
Barroth Breaker II
Barroth Carapace x 3 / Barroth Claw+ x 4 / Diablos Carapace x 3 / Gastodon Carapace x 5
988
2
Barroth Breaker III
Barroth Claw+ x 5 / Barroth Ridge+ x 5 / Nergigante Horn+ / Wyvern Gem
1,040
2
Anjanath Tree
Weapons
Materials Required
Base Attack
Jewel Slots

Blazing Hammer I
Anjanath Fang x 2 / Anjanath Scale x 3 / Flame Sac
780
0
Blazing Hammer II
Rathalos Marrow / Anjanath Fang x 4 / Anjanath Nosebone / Anjanath Tail
832
0
Anja Striker I
Anjanath Fang+ x 4 / Anjanath Scale+ x 5 / Inferno Sac x 3 / Anjanath Plate
884
0
Anja Striker II
Firecell Stone / Anjanath Fang+ x 5 / Anjanath Pelt+ x 4 / Rathalos Medulla x 2
988
0
Anja Striker III
Anjanath Gem / Anjanath Fang+ x 6 / Anjanath Nosebone+ x 2 / Teostra Mane x 2
1,092
0
Dragonbone Tree
Weapons
Materials Required
Base Attack
Jewel Slots
Dragonbone Basher I
Warped Bone x 5 / Coral Bone x 5 / Boulder Bone x 5 / Ancient Bone x 5
520
0

Dragonbone Basher II
Monster Bone+ x 6 / Monster Bone L x 8 / Sturdy Bone x 8
572
0
Dragonbone Basher III
Brutal Bone x 4 / Elder Dragon Bone x 10 / Dragonbone Relic x 2 / Wyvern Gem
832
0
Zorah Magdaros Tree
| Weapons | Materials Required | Base Attack | Jewel Slots |
| --- | --- | --- | --- |
| Magda Floga | Zorah Magdaros Heat Scale x 4 / Zorah Magdaros Carapace x 8 / Zorah Magdaros Magma x 4 / Zorah Magdaros Gem | 832 | 1 |
| Ragefire Magda Floga | Firecell Stone x 3 / Zorah Magdaros Ridge x 2 / Zorah Magdaros Pleura x 2 / Xeno'jiiva Shell x 4 | 1,144 | 1 |
Blacksteel Tree
| Weapons | Materials Required | Base Attack | Jewel Slots |
| --- | --- | --- | --- |
| Blacksteel Hammer I | Dragonvein Crystal x 10 / Earth Crystal x 10 / Coral Crystal x 10 / Lightcrystal | 520 | 0 |
| Blacksteel Hammer II | Firecell Stone / Fucium Ore x 5 / Carbalite Ore x 10 / Wyvern Gem | 572 | 0 |
| Icesteel Hammer | Daora Claw+ x 3 / Daora Tail x 2 / Daora Webbing x 4 / Nergigante Carapace x 5 | 988 | 1 |
| Daora's Colossus | Daora Claw+ x 4 / Daora Gem / Daora Horn+ x 5 / Xeno'jiiva Wing x 2 | 1,040 | 1 |
Xeno'jiiva Tree
| Weapons | Materials Required | Base Attack | Jewel Slots |
| --- | --- | --- | --- |
| Xeno Maph'agarna | Xeno'jiiva Claw x 4 / Xeno'jiiva Gem / Xeno'jiiva Shell x 6 / Xeno'jiiva Tail x 2 | 884 | 2 |